12 Best Ways You Can Soothe a Colicky Baby

The direct cause of colic is still a mystery, but here's help to calm your fussy baby.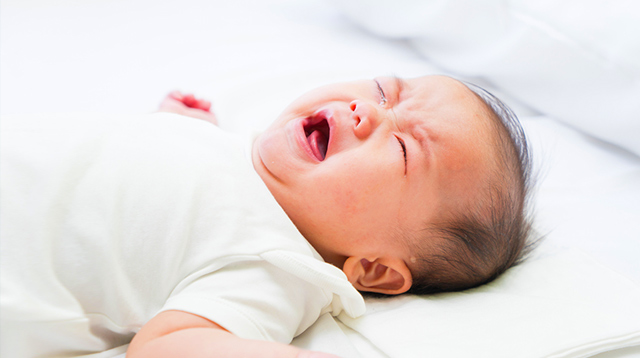 If you get rattled the moment you hear your baby cry, you are not alone. Moms' brains are wired that way. So when you hear him bawling, you almost automatically first check if the little one is hungry or his nappies might need changing. Next, you check if he needs burping, his temperature, or anything that could be mildly irritating him. But when he is crying nonstop for hours on end with little reprieve, it scares you because you have a pretty good idea what it is: colic.

A baby who has colic, which still has no known cause, "cries more than three hours a day, more than three days a week, for more than three weeks," and it can happen until the baby is 3 months old. Colic is often thought of like gas, but according to American Pregnancy Organization, "gas does not cause colic, but seems to be a symptom of colic from babies swallowing too much air when they are crying."

Here's a list of common reasons related to colic, according to the American Pregnancy Organization:

Baby has a sensitive temperament and needs more attention.
Baby's nervous system is underdeveloped or still continues to mature.
Baby is overstimulated or understimulated.
Baby is having an allergic reaction to some ingredients in his milk. 
Baby has acid reflux, a stomach and esophagus condition wherein stomach acid flows backward up to the esophagus because of a weak valve. This irritates the throat, lungs, and esophagus.
Baby has a premature and still-developing digestive system. It's still learning how food flows in the body or developing its own gut bacteria. 
Baby may be overfed. 

ADVERTISEMENT - CONTINUE READING BELOW

Other suspects for colicky crying that are related to gas are incorrect latching, wrong-sized or wrong-shaped nipple, not burping the baby properly, nursing mom's diet and even anxiety and stress. 

What other parents are reading

Colic is exhausting for both baby and parent, and the fact that babies typically outgrow colic won't serve much comfort when you're going through it. But the following can help you cope with an incessantly crying infant.

How to soothe your colicky baby

1. Hold your baby

The book The Womanly Art of Breastfeeding, published by the La Leche League International, suggests a magic baby hold that has been a helpful calming technique for just about every well-fed but fussy baby. But it doesn't have to be this kind of hold, though, but carrying your baby while walking, gently rocking him could help. 

2. Start babywearing! 

Kangaroo care is one of the first essential newborn care that helps infants thrive, so babywearing is always a boost to your baby's development. Holding your baby close all the time while having your hands free may keep colic at bay while you bond with your little one.

3. Correct your baby's latch

How do you know if your baby is correctly latching? Your baby's mouth should be wide open with her lower and upper lip flanged out (like a fish). Make sure your baby takes in his mouth as much of your breast tissue under your nipple as possible. Your areola — not just the nipple — should be inside your baby's mouth.  

CONTINUE READING BELOW

Recommended Videos

4. Trying new nursing positions

Breastfeeding your baby in a supine position (cradle, football, and cross-cradle positions) may unintentionally cause your baby to take in additional air in his stomach. Switching to upright or semi-upright positions, like the laid-back position, may remedy this. (See more breastfeeding positions here.)

5. Feed your baby before he's too hungry

"Hangry" babies may not latch correctly because they need a bit of time to calm down first they feed. Try calming techniques before you offer your breast to your baby. Read here how to be more attuned with your baby's hunger cues.

6. Change baby bottles or nipples

Some nipples and bottles claim to be anti-colic or mimic nursing. But finding a bottle that your baby will take without fuss and will not cause him to take in too much air is often a trial-and-error thing. (We've rounded good feeding bottle options for mixed feeding here!) When bottle-feeding, make sure you tilt the bottle a bit to ensure your baby gets milk rather than air. 

7. Swaddle your baby

Some doctors suggest that one of the best ways to soothe a crying baby is to recreate the environment of his old home, your womb. Perhaps it's that snug feeling, but make sure you don't wrap your baby too tight as well. (Here's a list of the dos and don'ts of swaddling!)




8. Play white noise

According to pediatrician and book author Dr. Harvey Karp, co-founder of Happiest Baby, a baby in the womb constantly "hears the nonstop sound of the blood flow, which is louder than a vacuum cleaner." Heartbeat sounds and music that you used to play while your baby is still in your womb also count. Be careful not to set the volume too loud though. 

ADVERTISEMENT - CONTINUE READING BELOW

9. Offer a pacifier

As long as you and your baby have established breastfeeding, you may offer your little one a pacifier. The American Academy of Pediatrics (AAP) recommends it because it has also been said to reduce the rate of SIDS in newborns. Still, you should check with your child's pediatrician. 

10. Modify your diet

Yes, yours, mom. Try to steer clear of food that causes gas.

11. Burp your baby

Don't forget to burp your baby after or in-between feedings, about every 10 minutes, even if he is breastfed. Bottle-fed babies may need to be burped after consuming an ounce of milk. Burp your baby by either holding him in your arms across your chest or lay him on his tummy. (Click here for a quick guide to burping your baby.)

12. Practice earthing of grounding

Earthing, which is also called "grounding," is the practice of reconnecting with the Earth or nature. One doctor swears that grounding like taking her baby outdoors was the only way to make her colicky baby stop crying.

Colic is tough, but it is relatively harmless. However, pediatrician Dr. Ginah Ramos, M.D., warns of red flags. Alert your baby's pediatrician if your baby develops a fever, is vomiting, losing weight, looking pale, having diarrhea and a distended stomach, or shows a presence of blood in his stool with persistent crying.

What other parents are reading

Celebrate your pregnancy milestones!


Enter your details below and receive weekly email guides on your baby's weight and height in cute illustration of Filipino fruits. PLUS get helpful tips from experts, freebies and more!

You're almost there! Check your inbox.


We sent a verification email. Can't find it? Check your spam, junk, and promotions folder.
Trending in Summit Network