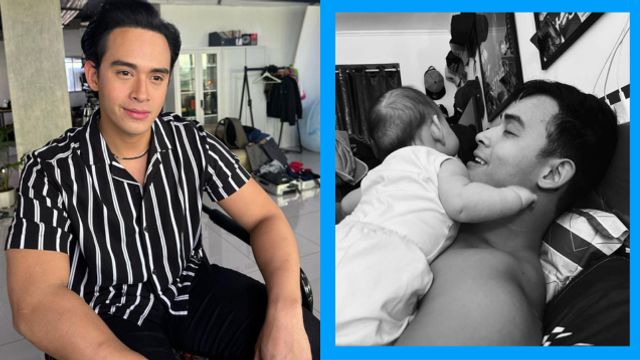 At 28, Diego Loyzaga is now a dad, and says he's willing to give up everything for his child, a baby girl.
Speaking with Toni Gonzaga, Diego opened up about his fatherhood journey. He admits experiencing struggles along the way, but he is focused on giving his daughter a better life than what he had. Diego, the son of actor Cesar Montano and actress Teresa Loyzaga, became a dad in Australia on May 22, just a day after his birthday.
He felt bad when the news about his baby leaked online, though he would've wanted to be the one to announce it first. 
"There's nothing in this life now that I want to do aside from if it's for her." —Diego Loyzaga
Diego clarified having a child has been part of his plans. "She was 100% planned," he exclaims. His mother knows it, and he has long been wanting to have a child because he's not getting any younger.
He then revealed his status as a dad in June, in time for Father's day.
"I promise to give her the things I didn't have," he told Toni.
He shared that it was his partner who told him the importance of a father figure during the formative years of a child. "I met my dad when I was 13 na, I was a different person kaya lagi kami nag-co-collide noon," he said.
Now that he's a father himself, he said he finally understands his dad and where he's coming from.
Diego Loyzaga on marriage
Although he wants his child to have a dad,  Diego expressed reservations about tying the knot with his partner.
"Hindi ko ipaparamdam sa anak ko yung naramdaman ko. When I was growing up, I never really thought I was looking for a father figure, but as I got older, I realized, "Ah, 'yun pala yung kulang, that's why there were sometimes like a question mark on how I should do things. I guess you pick that up from the dad."
He stressed, "I want to be there for my daughter."
However, he doesn't believe in marriage because he's seen couples separate, and not just his parents. "It's a piece of paper for me," he said. He added, "I don't think a kid would see any difference from a married couple's household and someone who's living together's household. You abide by the same rules," he puts it firmly.
Diego as a dad
"There's nothing in this life now that I want to do aside from if it's for her," Diego said.
The moment he saw her child for the first time, he bid goodbye to his old self, "This is now my vow to you: the rest of my life." He explained, "I saw that with my mom eh, how much she gave up. she gave up so much for my brother and I."
Diego revealed that he went through a challenging phase in his life where he struggled with substance use and suicidal thoughts. Having overcome these challenges, he now sees himself as a changed person, attributing his transformation to finding God during his time in rehab.
Diego's approach to parenthood is influenced by his mother's parenting style, emphasizing understanding and support, "She kinda look at what I wanted to do, she'll give her two cents, magbibigay siya ng payo, hayaan niya ako."
"She let me see life how it really is," he added.
Join us at the Smart Parenting Village, our Facebook group with over 100k moms and dads.