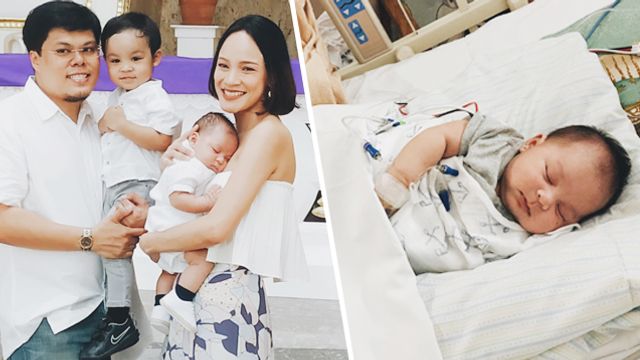 Patty Torres Igot, 34, had rushed her 6-week-old son, Manu, to the emergency room in late March 2019 after his temperature spiked to 39.4°C. Doctors were quick to diagnose he had the flu.
"[Manu] didn't exhibit any symptoms before his temperature just literally shot up. I took his temperature two hours before that, and it was 37.1°C," Patty shares in a post made on a Facebook group for moms.

But, according to Patty, Manu's reliever pediatrician, Dr. Nicole Perreras (his real pedia was out of the country) couldn't shake off a nagging feeling. The doctor ordered a chest x-ray, a complete blood count, and a procalcitonin test, which can help diagnose if Manu has sepsis and determine if he has a bacterial-related infection.
It confirmed Manu did not have the flu — he had pneumonia and sepsis. "His procalcitonin level was at 42 nanograms per milliliter (ng/mL). A value of more than 2.0 ng/mL means he is at high risk for severe sepsis or septic shock," Patty explains in an email interview with SmartParenting.com.ph.

Further tests, including a cranial ultrasound and spinal tap, revealed Manu also had bacterial meningitis — and the infection already reached her son's brain.
"The white blood cell count from his spinal fluid (an indicator of infection in his brain) was at 950 when the normal value was supposed to be 0, and his protein count (an indicator of bacterial presence in the brain was at 343 when the range was between 15 and 45," Patty writes in a blog post.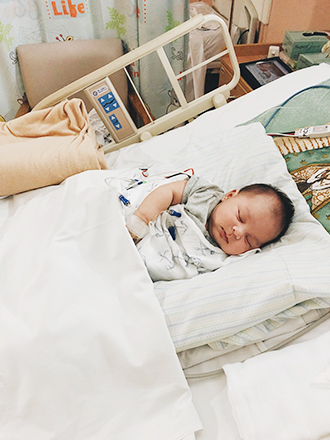 Patty and her husband, EG, were in a state of shock. They saw their son pricked and prodded by doctors and got told by the pedia neuro that Manu's scans showed cloudiness in the brain, which was a sign of infection. By the time a resident began explaining that their baby had meningitis, Patty could not help but break down.
"How could my sweet boy, who was perfectly healthy only a day and a half ago, be fighting an infection this severe in his body and brain?" —Patty Torres Igot
Patty worked hard to stay positive, but she also couldn't help but brace herself for the worst thing that could happen. "I read up about meningitis while we were in the hospital. This is a fast-acting disease that if ignored, can kill in as fast as 24 hours at the first onset of the symptoms," she told Smart Parenting. (Read more about the disease here.)

The bacteria that were present in Manu's body, Group B streptococcus (GBS), is not common in the Philippines but is common in Western countries. It means there is a strong possibility Patty had the bacteria and passed it to her son during childbirth.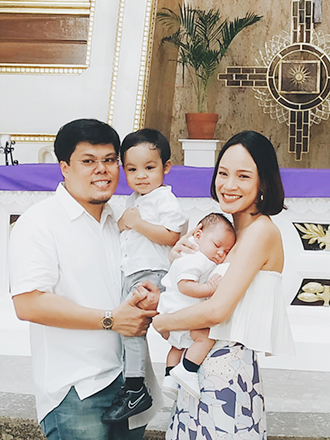 Group B streptococcus in pregnancy
GBS is usually harmless to adults but potentially life-threatening to newborns. The bacteria reside in the person's reproductive and urinary systems, and adults who have it rarely exhibit symptoms. 

Due to the infants' still-developing immune system, they are more vulnerable to bacterial infection such as GBS. If left untreated, GBS bacteria can cause severe "early- and late-onset sepsis and meningitis in newborns and late-onset infection in infants," says Dr. Jay Ron Padua, a pediatric infectious disease specialist affiliated with the University of Santo Tomas Hospital, the Philippine Children's Medical Center (PCMC), and San Lazaro Hospital, in an interview with Smart Parenting. 

The American Academy of Pediatrics recommends that all women who are at high risk for GBS be treated with antibiotics even before GBS infection is confirmed. Those at risk are women who have delivered an infant with GBS, had a fever during labor, had a bacterial presence in their urine or have UTI, or went through preterm labor before 37 weeks of pregnancy.

In Patty's case, the mom of two experienced spotting during her first trimester, which was ruled out as a vaginal infection (bacterial vaginosis) and treated with suppository antibiotics. "I could have had GBS while I was pregnant but would have never known because one, it's asymptomatic, and two, tests to determine if you have it aren't a protocol here because the bacteria is rare in this part of the world," Patty writes on Facebook.

"The only reason why I'm not beating myself up over my son's situation right now is nobody could have ever known I was a GBS carrier," she adds.
Taking Manu out of the woods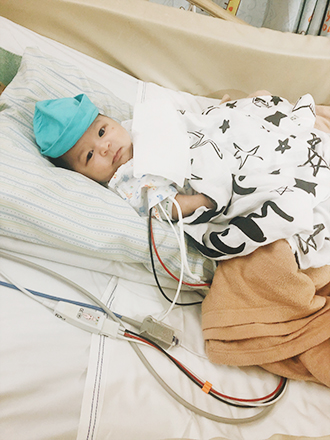 There was no time for Patty to dwell on the what-ifs. After the diagnosis, the following 21 days in the hospital involved bringing Manu's numbers "down to acceptable values, pray that he won't get the really bad effects of meningitis (like seizures and hydrocephalus) and hope that we caught it early before it could do any real damage to his brain."
Patty recalls that their three-week hospital stay "was always a constant one step forward, two steps backward kind of dance." Manu's condition improved on Day 3, one day after his meningitis was confirmed, but he was ordered to be transferred to the Pediatric Intensive Care Unit (PICU) on Day 4 "because he was hypertensive and [doctors] wanted to closely monitor his blood pressure and watch out for any brain swelling."
On her blog, Patty recalls the lowest point of their meningitis ordeal. "Immediately after Dr. Perreras, his infectious disease pedia, ordered the transfer [to the PICU], a group of residents surrounded him to get blood, insert a new IV line for Mannitol (his blood pressure medicine), [and to] poke and prod him.
"He alternated between crying and looking around as if wondering why everyone was fussing over him. Going to the PICU, they had me sit on his bed and carry him. I remember just holding him close to me and reassuring him that everything was going to be all right and that he was such a brave boy, the bravest I've ever known, the bravest in the world. He was quiet and looked at me earnestly with those big eyes as if to say, 'Don't worry Momma, I got this. I'm going to be fine."
"I'm never going to forget that look as long as I live. It was at that moment when I realized that my six-week-old son was braver than I ever will be."
Manu stayed in the PICU for four days, and his condition significantly improved over time. He was then transferred to a regular room so he could complete treatment.
The 6-week-old baby was a little warrior when you read what he had to go through for three weeks: intravenous antibiotics (Ceftriaxone, a broad-spectrum antibiotic, and Ampicillin, which was specifically for the Strep bacteria), numerous blood tests, two x-rays, four cranial ultrasounds, one 2D echo (to check for any heart infection) and four spinal taps.
Finally, on April 10, Manu had another lumbar tap — it would decide whether he was well enough to be discharged. His WBC count was at 44 (they needed 30 or less), but his bacterial antigen test showed a negative presence of bacteria in his spinal fluid.

After deliberating, Manu's team of doctors decided they wanted an MRI to see a clear and whole picture of his brain and to confirm that he didn't have subdural empyema (pus in his brain). Manu was cleared for discharge, but he would need to come back to the hospital for the scheduled MRI.

But 30 minutes later, the doctors told Patty that Manu didn't need to do the MRI anymore. "We just needed to do weekly cranial ultrasounds and check-ups with his pedia neuro to monitor his recovery," Patty writes. "No more sedation, no more ridiculously expensive procedure."
Lessons learned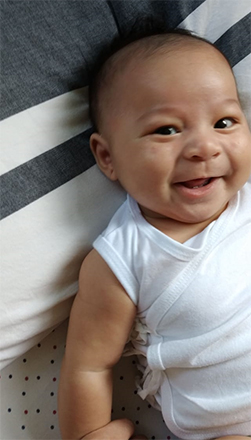 Despite everything they went through, Patty remains grateful for a lot of things, including trusting her mother's instinct to rush Manu to the ER when he had his fever and that the doctors gave him a broad-spectrum antibiotic for it.
"We were lucky that Manu's meningitis was late onset because the morbidity rate is higher for early onset of meningitis in newborns and infants. We were lucky that Dr. Perreras listened to her gut and didn't pass it off as a viral respiratory infection and ordered the Procalcitonin test. Meningitis, when not caught early, can almost always lead to death," Patty shares.

Though Manu still has a long journey ahead, Patty believes he will make it. "Meningitis is a messy disease that doesn't end when you get discharged from the hospital. The possible effects are long term and include (but aren't limited to) possible hearing loss, developmental delays, and learning disabilities. He's also still at a higher risk for seizures the next two years," Patty tells Smart Parenting.

Manu continues to amaze his mom, dad, and older brother. "He passed his auditory test, so his hearing wasn't affected. He's also constantly achieving all the developmental milestones that are appropriate for his age," Patty shares. "The monthly cranial ultrasounds have been put on hold because there's been a significant regression of the thickening and fluid in his brain. Our current neuro says that as long as he's developing well, which he is thank God, then we're on the right track."

If you are pregnant and want to check for GBS, you may be screened for GBS bacteria between 35 to 37 weeks into your pregnancy. Learn more about it here.