Pregnant? You May Want to Get Tested for Group B Strep, Which Can Be Fatal for Newborns

This bacterial infection may be harmless for pregnant women, but it can be fatal for newborns.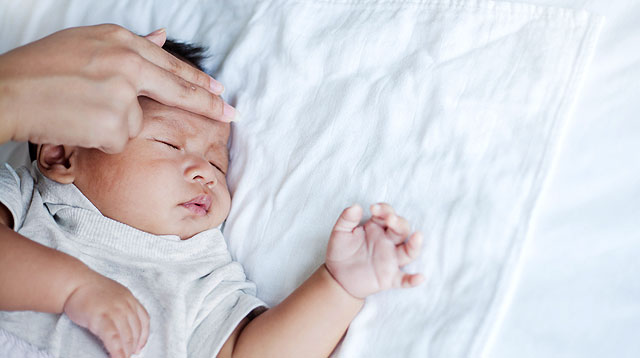 In 2017, the World Health Organization (WHO) released a study that showed the bacteria Group B Streptococcus (GBS) causes an estimated 150,000 preventable stillbirths and infant deaths yearly. More than 27 million women worldwide are carriers of the bacteria without even knowing it. And without routine screening, many preggos may be unknowingly endangering their newborn's life.

Dr. Jay Ron Padua is a pediatric infectious disease specialist affiliated with the University of Santo Tomas Hospital, the Philippine Children's Medical Center (PCMC), and San Lazaro Hospital. He has seen only one to two GBS cases a year in one of those hospitals, which can be seen as a good thing. But, "the exact prevalence of GBS infection in our country is not known as there may be under-reporting and no proper documentation, but it is rather low," Dr. Padua told SmartParenting.com.ph via email.

In a 2015 study on GBS infection in Thailand and the Philippines, there were only three recorded early-onset cases (or those that occurred in the baby's first week of life) among 11,768 live births at Philippine hospitals that participated during the study's six-month period. Two of the cases were fatal. There were no recorded cases for late-onset or GBS infection during the newborns' first three months.

What other parents are reading

What is Group B streptococcus?

The lack of routine screening has led to moms finding out too late that they are GBS carriers. And by that time they learn about it, they have unsuspectingly passed the bacteria to their little one. What is Group B Streptococcus that is "harmless" for preggos yet so often fatal to babies?

ADVERTISEMENT - CONTINUE READING BELOW

"GBS are gram-positive, aerobic organisms that are common inhabitants of the gastrointestinal and genitourinary tracts (the reproductive organ and urinary system)," Dr. Padua shared. 

Gram-positive is one type of bacteria that has a thick cell wall. Aerobic means the bacteria require oxygen to survive. According to Mayo Clinic, it is a common bacterium often carried in your intestines or lower genital tract.

In women, the bacteria is usually harmless but not to newborns. According to WHO, it can be passed on to the unborn baby via the amniotic fluid in the expecting mother's womb or as the little one passes through the woman's vaginal canal during delivery.

Due to the infants' still-developing immune system, they are more vulnerable to bacterial infection such as GBS. If left untreated, GBS bacteria can cause severe "early- and late-onset sepsis and meningitis in newborns and late-onset infection in infants," Dr. Padua reveals.

Babies who are exposed to GBS in the womb may result in stillbirth. Sepsis or infection of the blood and meningitis can happen as early as the first week of the baby's life or within the first three months after birth. Babies who survive it may face permanent health issues such as hearing or vision loss or cerebral palsy.

Signs and symptoms of Group B strep infection

Most adults who have the bacteria in their reproductive and or urinary systems will not show any specific warnings, except for symptoms of urinary tract infection (UTI), Dr. Padua said. If the person has other underlying medical conditions, severe GBS infection may manifest through the presence of the bacteria in the blood (bacteremia) or in the lungs (pneumonia).

CONTINUE READING BELOW

Recommended Videos

"A newborn or infant with GBS infection would show non-specific signs and symptoms of sepsis, such as fever or hypothermia, nausea, vomiting, a weak cry, signs of respiratory distress and poor activity," Dr. Padua shared. It is another reason that fever in babies younger than three months warrants a doctor's urgent attention.

Doctors may also suspect meningitis if the baby presents the following symptoms: the front fontanelle or the soft part of an infant's skull appears swollen, neck stiffness, and seizures, Dr. Padua added. They can only confirm it's GBS by isolating the bacteria on a culture of the baby's blood and or his cerebrospinal fluid (CSF), the clear, colorless body fluid found in the brain and spinal cord.

Preventing Group B strep in newborns

The American Academy of Pediatrics (AAP) recommends that all women who are at high risk for GBS should be treated with antibiotics even before GBS infection is confirmed. Those at risk are women who have delivered an infant with GBS, had a fever during labor, has a bacterial presence in their urine or has UTI, or are going through preterm labor before 37 weeks of pregnancy.

Group B strep is prevalent in the West. The U.S. Centers for Disease Control and Prevention (CDC) mandates all pregnant women to be screened for GBS bacteria between 35 to 37 weeks into their pregnancy. Other countries that have had a historically high incidence of GBS infection have enacted the same policy as well.

Though the screening is available in the Philippines, it is "not routinely done in our country because of very low incidence," said Dr. Padua. It costs Php3,000 to Php5,000 depending on the hospital or laboratory. The GBS screening test only entails a vaginal and rectal swab from the pregnant woman. The samples will be sent to a lab to culture it for any GBS presence. Currently, there are no vaccines to prevent GBS infection.

ADVERTISEMENT - CONTINUE READING BELOW

Treatment for Group B streptococcus

Adult men and women who are diagnosed with Group B strep may be treated with antibiotics. Dr. Padua says it's highly likely that they can get it again. It the person has underlying medical conditions and severe GBS infection, common symptoms such as sepsis and pneumonia are treated accordingly.

Preggos who are positive with GBS are "likely to transmit it to their newborn during vaginal delivery, but it does not necessarily cause infection to their babies," Dr. Padua explains.

For a pregnant woman who'll deliver via a C-section before her water bag breaks, the risk for passing GBS bacteria to the baby is low.

The main concern for moms who carry GBS and who will deliver vaginally is to lessen the likelihood that the bacteria is passed on to the baby. Doctors typically address it by giving a pregnant woman antibiotics intravenously as soon as she goes into labor or once her water bag ruptures or leaks and before the infant's delivery. The go-to antibiotic choice is Penicillin G, though Ampicillin is also an acceptable alternative.

While it does not guarantee that GBS infection will not manifest in the infant within three months after the birth, Dr. Padua stressed that the practice has significantly lowered the risk of infection during the first week of the baby's life.

UPDATE: This article was updated on May 22, 2019 at 8:21 a.m. to clarify that ampicillin is an alternative antibiotic but not for people allergic to penicillin.

What other parents are reading

Celebrate your pregnancy milestones!


Enter your details below and receive weekly email guides on your baby's weight and height in cute illustration of Filipino fruits. PLUS get helpful tips from experts, freebies and more!

You're almost there! Check your inbox.


We sent a verification email. Can't find it? Check your spam, junk, and promotions folder.
Trending in Summit Network