How To Obtain A Copy Of Your Child's Baptismal Certificate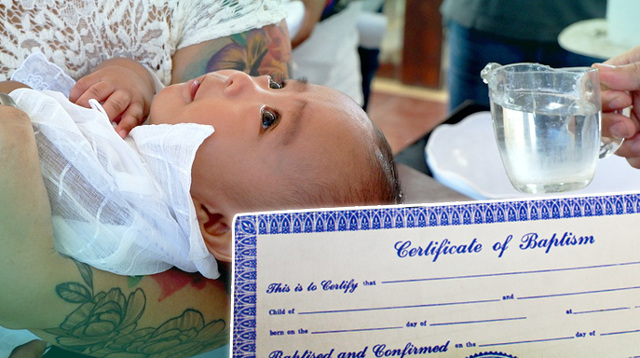 A baptismal certificate is a document that tells where and when a person was baptized, who the minister-in-charge (priest) was, and who your ninongs and ninangs are. It is not considered a public document, but a parochial record.

There are several institutions that require a baptismal certificate, such as faith-based schools, and, if you're getting married, the local parish where your marital rites will be held. You will also be asked to present a baptismal certificate if you decide to file for the dissolution of your marriage.

The Philippines has an estimated count of 84 million people born into families under the Roman Catholic faith. For faith-based schools, a baptismal certificate is required because the curriculum usually includes religious practices which require student participation. It is important for the school to know beforehand if a child's religious beliefs are aligned with the institution's, which will determine if he can take part in their activities. (Scouting for schools? Here's a tuition fee guide for preschools in Marikina.)

What other parents are reading

For example, in schools run by religious orders or by the parochial church, First Communion rites are usually held for 7-year old students annually. Also, their teachings include many studies leaning towards the Roman Catholic faith, which may confuse a child being raised in a different set of beliefs and practices.

When getting married, you will be asked to produce an official baptismal certificate different from the one given to your parents during your baptism. That one is more like a souvenir for the milestone of the baby. Your official certificate will have an updated notation of all the sacraments you have received throughout the years, and whether you had been married previously.

ADVERTISEMENT - CONTINUE READING BELOW

Where to request for a baptismal certificate

To get a copy of your official birth certificate, go to the local parish where you were baptized and submit a formal letter of request.

However, if your baptism happened so many years ago, they may no longer have your files as these may have been transferred to another office. In this case, you may ask your parish to direct you to the correct location where you can request for your baptismal records.

Parish churches usually hold important documents, including Baptism Registers. Otherwise, you may need to contact your local diocese to ask.

What other parents are reading

Requesting for a replacement copy of the baptismal certificate

If your records do not show any proof that you were baptized even when you are sure that you had, the next best step is to request for a replacement copy of your baptismal certificate.

To do this, you need to submit a formal request explaining why you need it. You will also need a notarized affidavit that carries the signatures of at least two witnesses at your baptism. Your godparents are the best candidates to ask signatures from, but if they are no longer living, you may request relatives who were present in your baptism to bear witness for you.

You may also need to present proof of where and when you were baptized (such as photos) and of your membership to the church you are requesting this record from.

It is important to note that your baptismal certificate can only be released to you, your parents, or your legal guardian. Anyone outside this list cannot file for a request of your records.

What other parents are reading

Requesting for your baptismal certificate from abroad

If you happen to need your baptismal certificate while you're living in another country, the most sensible thing to do is to ask any of your parents, if they are still residing in the Philippines, to do the legwork and make the request on your behalf; otherwise, you could try asking your local diocese if they can contact the church in the Philippines and file a request for your records to be forwarded to them.

What's important is that you know exactly the date and place where you were baptized so it will be easier for them to find a way to contact the church in the Philippines and help you secure your records. As long as you can produce proof that you are who you say you are, and have evidence of when and where you had been baptized, all you need to do is file a request at the proper parochial office or archive center.

If there is no baptism record

Some people assume that they had been baptized, but find out later on that they had not gone through the rites. According to Catholic layman James Hough, "adults cannot normally be baptized without a year or two of studying, praying, and learning the faith; although in a lot of dioceses the formal process can be completed in less than a year."

Hough continues, "At that point, any Catholic priest is permitted to accept an adult into the church, baptizing them with water in the name of the Father, and of the Son, and of the Holy Spirit (usually at the Easter Vigil), then promptly confirms him with Sacred Chrism and give him his first Holy Communion."

ADVERTISEMENT - CONTINUE READING BELOW

Once you have gone through the process, you may request for an official copy of your baptismal certificate from your parish.

Trending in Summit Network