For 4 Days, This Newborn Was Fine. Then His Spit-Up and His Skin Became Yellow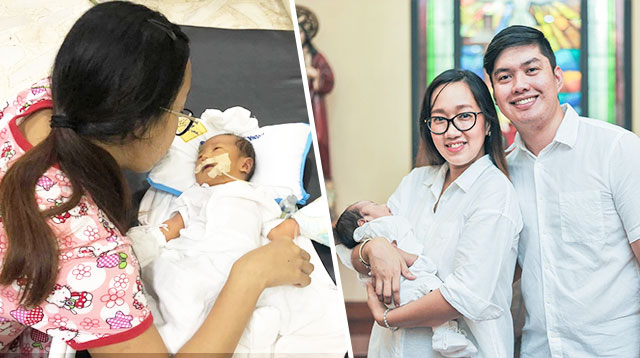 Everything went well during mom Anne Pauline Chosa-Burgos's first pregnancy — she never missed any checkups, and her ultrasound was normal. She only labored for an hour and gave birth to her son, RJ, on April 16, 2019, via spontaneous vaginal delivery. He had a healthy Apgar score, and mom and baby were discharged the following day. Little did Anne know that she and her baby would return to the hospital five days later for a harrowing ordeal — a battle against a condition called intestinal malrotation.

Anne, 29, and her husband Robbie Burgos, 26, were taking care of RJ round-the-clock when they brought him home after she gave birth. He was exclusively breastfed, and his suck was good. But Anne became worried because his spit-up (or paglulungad) was a yellowish color. She decided to observe for a few more days since nothing seemed out of the ordinary.

On his fifth day, April 20, RJ's skin color turned yellow and he vomited "yellow gastric content," according to Anne. She and Robbie immediately took RJ to the nearest emergency room in their hometown of Tanauan in Batangas.

What other parents are reading

Anne was heartbroken at the sight of her 5-day-old son connected to tubes.

PHOTO BY

courtesy of Anne Chosa-Burgos

ADVERTISEMENT - CONTINUE READING BELOW

RJ was diagnosed with neonatal sepsis and was prescribed antibiotics. Anne felt her world crumbling. "The moment I was told na icoconfine siya, my hubby and I cried a lot. [My son] was inserted with an IV line, and he was only five days old!" she told SmartParenting.com.ph in an interview via Facebook Messenger. "Little did we know start lang pala 'yun ng mas painful tests pa na gagawin."

"I was bargaining then kay Lord na ako na lang, huwag na ang baby ko."

RJ became well for a couple of days until he had episodes of vomiting again. This time, the vomit was dark yellow in color. He was then inserted with an orogastric tube (OGT) to decompress his stomach and to prevent him from vomiting.

At this point, RJ's doctor was now considering other conditions, but the baby's X-ray results showed nothing. Anne and her husband were then referred to a surgeon for further evaluation, and the couple decided to transfer their son to a bigger medical facility in Batangas.

What other parents are reading

Hoping for a clear diagnosis

During their hospital stay, RJ had to undergo phototherapy for his jaundice.

PHOTO BY

courtesy of Anne Chosa-Burgos

ADVERTISEMENT - CONTINUE READING BELOW

Recommended Videos

Their first stop was Batangas City Medical Center, a government hospital, on April 23. RJ got another X-ray. While results showed the gas formation in his intestines was all good, doctors wanted another test to rule out a blockage in his system. Doctors ordered an Upper Gastrointestinal (GI) Series but since the hospital was full, RJ had to be transferred again to another hospital.

In the third hospital, neonatal sepsis was ruled out after numerous lab tests were done on Anne's son. His attending pediatrician still considered a blockage, so the couple went to another nearby hospital that could perform the Upper GI Series procedure to determine if there was an obstruction in his digestive system.

In this test, a liquid called contrast was injected into RJ's OGT. The liquid would show up in X-ray and allow doctors to see its movement in his digestive system. Three hours later, the contrast was still in his duodenum (first part of the small intestine) — something was blocking the contrast from passing through.

The results of the Upper GI Series show that the dye stopped at RJ's duodenum.

PHOTO BY

courtesy of Anne Chosa-Burgos

ADVERTISEMENT - CONTINUE READING BELOW

What other parents are reading

Finally, a diagnosis

RJ had to spend nine days in the ICU following his operation.

PHOTO BY

courtesy of Anne Chosa-Burgos

The whole ordeal was painful for Anne's family, especially for RJ. "Habang tumatagal suka siya ng suka. Plus, bawal siya i-breastfeed, so super hirap sa akin as a mother na iyak ng iyak 'yung baby mo pero hindi mo mapadede kahit may milk ka naman," Anne shares.

On the night of April 24, 2019, RJ vomited bilious green vomit. "His pedia and surgeon told us there was no other way to save our son's life but to perform an operation to correct the position of his intestines," Anne wrote on her Facebook account detailing her son's medical journey. "Their diagnosis: intestinal malrotation, which is a medical emergency and fatal once left untreated."

Intestinal malrotation is an abnormality that can happen early in pregnancy when a baby's intestines don't form into a coil in the abdomen, according to KidsHealth. Malrotation means that the intestines (or bowel) are twisting, which can cause obstruction or blockage.

ADVERTISEMENT - CONTINUE READING BELOW

What other parents are reading

A look at RJ's meds during his hospital stay.

PHOTO BY

courtesy of Anne Chosa-Burgos

"The twisting can also cut off the blood flow to the intestine, and the intestine can be damaged. Most common in infants, it is usually manifested by bilious vomiting, crampy abdominal pain, abdominal distention, and in late cases, the passage of blood and mucus in their stools," Anne explains in her post.

On April 25, Anne and her husband transferred RJ to the Hospital of the Infant Jesus Medical Center in Manila. They arrived at 5 a.m., and the surgeon assigned to them immediately scheduled RJ to be operated on the evening of the same day.

What other parents are reading

Operating on a 10-day-old baby

The operation to correct RJ's intestines took two hours, but it felt like a lifetime for Anne and Robbie. Anne said she has hard time remembering what she did during that time except "pray and pray and pray." RJ was only 10 days old, and Anne did not know whether he would survive. "While we were in the room [before the operation], he was also under phototherapy because of his jaundice."

Finally, the surgeon went outside and signaled that the procedure was done. "[He] told us that we were just in time in saving our son's life," Anne says. "There was already a volvulus (twisted loop of intestines), but thank God that his intestines still had a good flow of oxygen after untwisting them. The surgeon did not need to cut [any of the parts]. He just performed Ladd's procedure to fix the position of the intestines, and appendectomy."

Right after the operation, RJ was transferred to the ICU for careful monitoring where he stayed for nine days. Each day that passed, however, green residue appeared in his OGT, which meant Anne could still not feed her son breast milk.

ADVERTISEMENT - CONTINUE READING BELOW

Only after his OGT was clear of residue was RJ was allowed to be fed breast milk via his tube, and eventually, he was could latch directly onto Anne's breast. Most importantly, he was able to feed without vomiting! Finally, Anne could breathe a sigh of relief.

What other parents are reading

RJ was baptized a month after birth and a few weeks after he was discharged from the ICU.

PHOTO BY

courtesy of Anne Chosa-Burgos

Though RJ's medical journey ends on a happy note, it made Anne appreciate her mother's instinct even more. Doctors told her that intestinal malrotation is a congenital defect. "During the first trimester of pregnancy, the intestines of my baby did not form properly," she shares. "An ob-gyn told me that it was possible to detect the malrotation through a congenital anomaly scan (CAS)."

But Anne's CAS was normal. Her ob-gyn did suspect polyhydramnios, or excessive accumulation of amniotic fluid, which surrounds the baby in the uterus during pregnancy. Her sugar levels were checked using an oral glucose tolerance test, and the polyhydramnios was ruled out eventually after results came back normal. Her water was also at normal level after two weeks.

Everything seemed okay on the outside, but RJ was obviously not because of his intestinal malrotation. That was why Anne was glad she took RJ to the emergency room the moment his symptoms started to show. It was a lesson she wishes all moms would take to heart.

ADVERTISEMENT - CONTINUE READING BELOW

"If your baby exhibits symptoms that is not the usual, consult a doctor immediately. Babies can't express how they feel, so it's better to be safe than sorry."

What other parents are reading

Celebrate your pregnancy milestones!


Enter your details below and receive weekly email guides on your baby's weight and height in cute illustration of Filipino fruits. PLUS get helpful tips from experts, freebies and more!

You're almost there! Check your inbox.


We sent a verification email. Can't find it? Check your spam, junk, and promotions folder.

Trending in Summit Network