Iya Villania's Reason For Potty Training Early Is So Relatable, 'Para Isang Pwet Lang 'Yung Lilinisin Ko'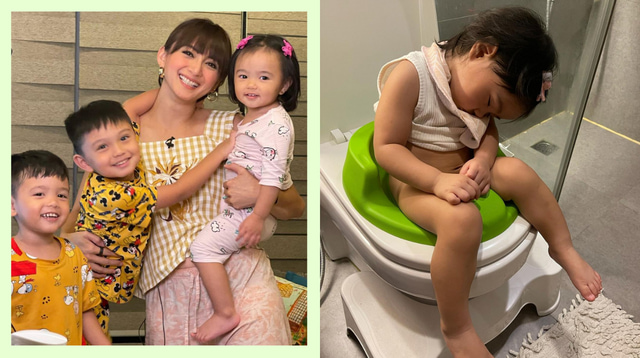 Back in 2020 and during the height of heavy lockdowns, Iya Villania went on a Facebook Live just to talk all about potty training. Her tips have since helped many parents who want to learn how to toilet-train their kids.

RELATED: Mula Kay Primo Hanggang Kay Alana! Mga Potty Training Techniques Ni Iya Villania

In their latest vlog episode of Life With the Arellanos, Iya once again talks about potty training but this time with her husband Drew. For the Arellanos, their kids start to potty train at about four months old. Iya says she was first inspired by Jennica Garcia.

But with Primo, Iya started later (at six months) because she admits that she didn't really know how to go about it as a first-time parent. 

"Potty training, when you're trying to familiarize and introduce the use of the toilet to the kid," Iya said.

Drew gives all the credit to his wife Iya, for potty training their three older kids, Primo, 6 years old, Leon, 4 years old, and Alana or Duday, 2 years old. Their youngest child, Astro, is 2 months old.

ADVERTISEMENT - CONTINUE READING BELOW

Iya said she chose to start early because it was in anticipation of the next child. "The reason I started early was that I did not want to have to change two diapers at the same time. Because this was in anticipation of the next baby."

Drew jokes, "Kasi parating may parating may next, parating may next [baby]."

RELATED: This Preggy Mom Comes To Iya Villania's Defense Against Those Who Say, 'Para Kang Pusa, Ang Bilis Manganak'

"Para isang pwet lang yung kailangan kong linisin, at punasan, at kailangan kong palitan ng diaper, Iya said. We hear you, Iya!

Iya's reminder to parents: it's a commitment

If you want to read Iya's previous tips, read our old article here. Here's her reminder about potty training: it's a commitment. Especially when you start early.

"I feel that when we start early, it's also a longer process because they're younger. Whereas if you wait if they're older, which a lot of other moms also choose, it happens faster, she said.

Iya added, "So the dirty period doesn't last as long. The accidents aren't as many. Compared to if we start early, of course, it takes a little longer for them to understand the process.

RELATED: Rica Peralejo Claps Back At Commenter Who Asks Why Her Toddler Son Still Wears Diapers

5 new potty-training tips from Iya and Drew Arellano

1. Know the two phases of potty training.

She segments the phases of potty training  in her experience: when they are younger, parents are helping kids to recognize their own cues that they are ready to go to use the toilet.

"You see it in their face," Drew said. "'Yung nag-tutubig na yung mata nila," Iya added.

For the Arellanos, their kids use tape diapers before they learn to stand up and when they're not so active yet. They then switch to pull-up diaper pants when they're standing and learning to move around more.

While they're still learning to potty train, the kids continue to wear diapers and only switch to just the underwear when they're confident and able to recognize their own cues and tell the adults that they need to use the potty.

That's the second phase of potty training: child telling the adult that they're going to potty, not the other way around (first phase).

2. Work at one business at a time.

"Pooping is easier than easing peeing. I try to work with one at a time," Iya said.

3. Try sign language.

Primo used sign language to communicate to his caregivers when he wasn't talking yet. But Leon and Duday did not, mostly because the two were no longer as exposed to media on how to use sign language.

The sign they used for pooping was a closed fist that is shaken.

4. Girl dads, remember this: front to back.

Drew underscores an important tip he wants all girl dads to remember: Front to back. If your daughter is learning to pee in the toilet, you must wipe from front to back and never from back to front. 

This is to avoid spreading dirt, especially if she had done number two as well. Drew recalled he used to ask Iya, "Saan ako pupunas, love?

ADVERTISEMENT - CONTINUE READING BELOW

"As a girl dad, it's something you need to know. It's front to back," he said confidently

5. Expect regression.

"There are times, and you have to be okay with it. That your children will regress, Iya said. 

"You think okay na sila and they're peeing in their pants or pooping in their diaper. It's okay. We're learning together and you're there to encourage and help your child.

Now Iya and Drew's older kids, Primo and Leon, can also help out training their younger sister Duday. Sometimes they don't even tell their parents that they notice she needs to go to the toilet, they bring her themselves!

Reward successful moments and don't shame

Iya and Drew's final reminder is that toilet training only works if the whole family does it together with the child. 
"It's really something that you need to work together to be able to succeed with the potty training. Take it a step at a time, she said.

Reward them when they're successful and don't shame them when there are accidents.

Trending in Summit Network