Kryz Uy Flies To Korea Alone, 'Setting Out On My Own Felt Kind Of Sinful'

The mom of two thanks her husband Slater Young for pushing her to pursue her work trip despite her feelings of dread over leaving her sons at home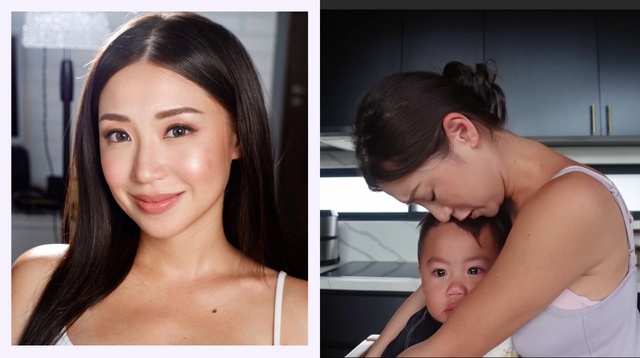 Leaving our kids behind even for just a few hours at a time can already make a parent emotional, especially after two whole years of being together all day long because of the hard lockdowns. What more a whole week as a parent's first time ever to be away from her family?

That's what Kryz Uy, mom of two, digital creator, and half of the famous Skyfam couple just did. For the first time in three years, she flew out of the country without her family for a work trip in Korea.

"Leaving Cebu without Slater or the kids felt so unreal. After 3 years, setting out on my own felt kind of sinful, she wrote in her October 2 vlog. 

"Sounds a bit dramatic but I felt torn between the person I have grown to be, and the person I've always known, she continued.

Kryz built her career as a blogger years back and has since transitioned into a digital creator, sharing her personal milestones with the public like getting married to Slater Young and becoming a mother to Scottie and Sevi.

ADVERTISEMENT - CONTINUE READING BELOW

 

Scottie tells his mom Kryz Uy to "Come here" while they were on a video call.

PHOTO BY

YOUTUBE /KRYZZZIE

 

Traveling alone for work was her norm but since becoming a mother plus the pandemic, Kryz's daily life and work engagements have changed. She said in her September 28 vlog where she shows how she packs for trips that she used to be a very confident traveler but because she hasn't done it in quite a while, she feels like she needs to brush up on it a little. 

But of course the biggest challenge is her mom guilt, leaving her kids for a week, worrying about how traveling might affect her milk supply, and just the overall question mothers ask themselves: "Am I not doing enough as a mom?"

RELATED: Sanayin Matulog Kahit Saan, No Pacifiers, And Other First-Time Mom Mistakes From Kryz Uy

We can so relate to Kryz's guilt over being away from the kids, whether it's work or me-time. Sometimes even a short errand out without the kids leaves us feeling guilty!

ADVERTISEMENT - CONTINUE READING BELOW

Recommended Videos

Allowing kids to feel sad

Kryz thanks her husband Slater for pushing her to fly out for work. "I'm grateful to Slater for pushing me to do this and allowing me to pursue my own passions, Kryz wrote in the YouTube description of her September 28 vlog.

At the end of the same episode, Kryz shows a clip of her talking to her older son Scottie and prepping him. "Tomorrow, mommy's going to ride airplane. I won't see you for a long time. I'm going to miss you. I'm going to miss you a lot, she told him.

 

Kryz also gets on a video call with her baby, Sevi, whom she still breastfeeds.

PHOTO BY

YOUTUBE /KRYZZZIE

 

Kryz goes on to ask, "Are you going to miss mommy? I'm going to be so sad without you and Shoti. I'm going to call you okay? I'm going to think of you every day, she said.

ADVERTISEMENT - CONTINUE READING BELOW

Prepping one's kids before a big change is important to help children cope emotionally. Kryz allows her son to feel sad and also doesn't shy away from showing her own sadness, although Scottie replied in the vlog that he didn't want mommy to cry. But allowing sadness, which is normal for a child who will be temporarily separated from a parent, is healthy for the child.

"Don't forget mommy, okay?"

In her October 2 vlog which shows Kryz's last few moments with her family and her first day in Korea, she said she cancelled all her last minute errands in order to spend more time with her sons. And she remembers rolling her eyes at her sister years back who told Kryz she cried during her first trip away from her then one-year-old.

"I remember thinking like, 'Omigosh. Mothers. But now I know it's true. It's really true. The feels. The mom guilt. Kryz plays with her youngest son Sevi and tells him the most relatable request: "Don't forget mommy, okay?

Pumping and workcation

 

Part of Kryz's hotel tour is her washing pumping station, because Mama life never ends.

PHOTO BY

YOUTUBE /KRYZZZIE

ADVERTISEMENT - CONTINUE READING BELOW

 

Of course the mama life doesn't end even if a mother isn't home with the kids. For Kryz, that includes a pumping station with all of her breast pump paraphernalia in her hotel room tour and also a pumping wash station by the bathroom sink.

"See, Mama life pa rin tayo kahit nandito tayo, Kryz said in her October 2 vlog.

RELATED: 5 Pumping Hacks to Help Working Moms Save Time and Effort

In order to keep her milk supply up while she is away from Sevi, Kryz brought pajamas that Sevi had already worn and stored it in a ziplock bag. Her lactation consultant advised her to smell this during her pumping sessions as well as looking at photos and videos of her son to stimulate her letdown reflex.

Kryz said, while pumping inside a car in Korea, that she was experiencing major sepanx. "I keep looking at videos of Sevi that yaya keeps sending over and I keep calling the boys. I'm super sepanx.

"But you know Slater was right, it is very refreshing to have a life outside of the Skypod so I'm very happy to be here, she said. It's nice to have a change of pace. Thank you for forcing me to go on this trip.

Parting may be difficult, but reuniting is always sweet. We're so happy for you, mama Kryz! Thank you for reminding us that time alone is also good for our parenting.

 

Hi SP Fam! We want to know you better! We're raffling off P5,000 Lazada vouchers to respondents who complete our 2022 survey. Click here to answer the survey and help us out!

ADVERTISEMENT - CONTINUE READING BELOW

What other parents are reading

Celebrate your pregnancy milestones!


Enter your details below and receive weekly email guides on your baby's weight and height in cute illustration of Filipino fruits. PLUS get helpful tips from experts, freebies and more!

You're almost there! Check your inbox.


We sent a verification email. Can't find it? Check your spam, junk, and promotions folder.

Trending in Summit Network