This Pretty Helmet Is Actually A Medical Gear

They are medical helmets to correct misshapen skulls, and the grandmother who paints them has helped change people's reactions.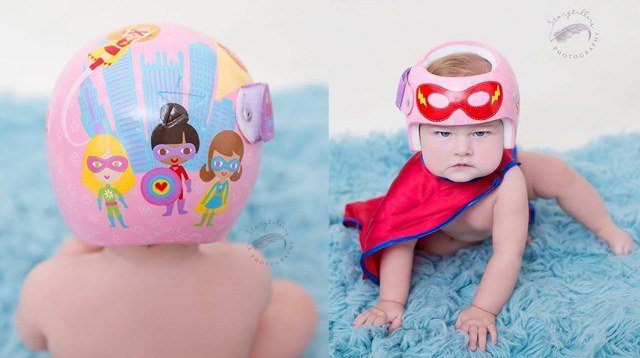 Paula Strawn has been making a huge impact in the lives of babies with cranial plagiocephaly, a medical condition where part of an infant's head becomes flattened, but she's neither a surgeon nor a pediatrician.

She is a 60-year-old grandmother from Washington who has been handpainting infant helmets since 2003, adding a decorative touch to a medical gear that corrects misshapen skulls. To date, she has done close to 3,000 helmet masterpieces.

Today.com interviewed Landee Tim, whose son Henry had to wear a corrective helmet for a few months for cranial plagiocephaly, and the mother revealed her frustration at the baseless comments she often hears from strangers and the incorrect assumptions they make regarding her child's condition.




She found Paula online and commissioned her to paint Henry's helmet to resemble a pilot's head gear. To her surprise, the public's reaction to her child drastically changed.

"Most of the time, Henry received playful smiles, waves and comments on how adorable his helmet was. Some even asked where they could pick one up for their children — not realizing it was a medical device."

ADVERTISEMENT - CONTINUE READING BELOW

CONTINUE READING BELOW

Recommended Videos

On her Facebook page, Paula shared a "before" and "after" photo sent in by one of her clients that shows the effect of the helmet, in this case after only one month of usage (23 hours a day, every day):

The personalized helmets cost between $200 and $350 each (about P9,800), and take a couple of days to finish. Here are a few of our favorites from Paula's designs:

ADVERTISEMENT - CONTINUE READING BELOW

Action motorcycle helmet

ADVERTISEMENT - CONTINUE READING BELOW

Junior space explorer

Flower helmet

Captain America Avengers Lego 

Paula says of her work, "I'm not curing cancer or feeding the poor or making breakthroughs in quantum mechanics, but I have the privilege of helping parents come to terms with their adorable baby having to wear this thing — and to me, that means I have the best job ever."

ADVERTISEMENT - CONTINUE READING BELOW

To see more of Paula Strawn's work, visit her Facebook page.
Trending in Summit Network