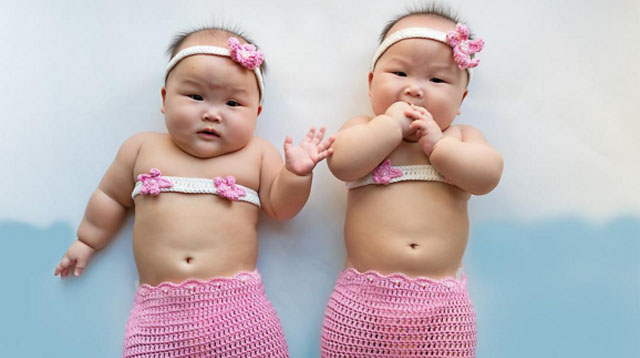 Photo from @leialauren/Instagram

Look out, world. Cute is coming your way!

At just 8 months old, twins Leia and Lauren have already amassed a following of 222,000 people on Instagram. Their Singapore-based parents Amber Yong and Peter Lok initially put up the account to share the photos of the twins to family and friends--except the rest of the world took notice. Much to the the happy surprise of mom and dad, they've become Internet celebrities. 

It's obvious why. The adorable matching outfits and squishy baby cheeks are absolutely irresistible. Leia and Lauren dress up in everything, from Batman, Superman and Wonderwoman onesies to mermaid tails, bunny ears, chef toques, and even as a pair of cup noodles! 

We wanted to know the preparation that goes through these shoots--we're imagining chaos! But Amber and Peter via an email interview told us that the behind-the-scenes is not as crazy as we like to think.   
Amber told Smart Parenting that she loves to play with quirky concepts and styling for her girls. She brainstorms with dad Peter for ideas, but "most of the time the ideas [happen] impromptu during a shoot," she says. 

"We start with the outfit and think what might be a suitable plot or story. Then we lay out some props before getting the girls ready for the final shoot," says Amber. "Daddy takes the photos." 

And, if you're interested to find out where they get the adorable outfits, Amber says they usually browse through online stores. "Though there are still the occasional shopping at H&M and Babygap," she adds. 

The shoots don't take long either with every session lasting around 15 minutes. "Leia and Lauren are very jovial babies and they're not camera-shy, so it's not tough for us to capture a moment!" Lok told US Magazine. 
Leia and Lauren are called "MoMo Twins," because they are a result of a monoamniotic-monochorionic pregnancy. They shared the same placenta and amniotic sac in the womb but had separate umbilical cords. They were actually born two months premature, weighing in at just 1.5kg and 1.6kg, respectively. Their high-risk condition required a full month in ICU.

But, now, "both are 11kg... certainly a far cry from the early days!" Lok told US Magazine. So much so that the twins even got the chance to visit Iceland recently. These bear-y cute snaps below were taken on location.

"We feel very blessed and humbled with the way others have shown love and support for Leia and Lauren," says Amber. "We have a lot of feedback saying the girls have brightened up their day so we hope to continue sharing their daily dose of sunshine and positivity with everyone."
Can't get enough of the twins? Check out their Instagram @leialauren.