How Miriam Quiambao is Weaning Baby Elijah From 'Breastsleeping'

Miriam has only started sleep training her 5-month-old son Elijah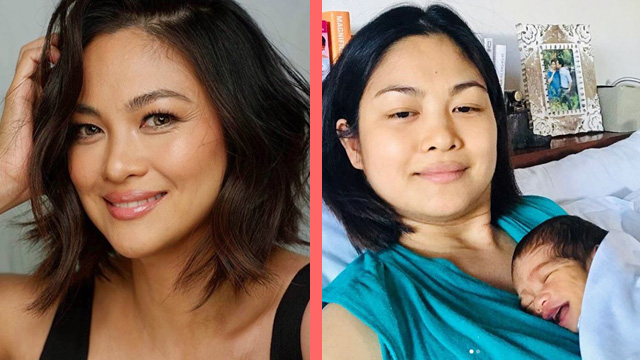 In her Instagram Stories, beauty queen and mom of two Miriam Quiambao used a term to describe a sleeping habit her 5-month-old son Elijah has acquired: "breastsleeping." 

"For the past 3 months, we have been breastsleeping. He wouldn't sleep unless he is latched onto my breast. It has kept me stuck in bed (sometimes even for up to 2 hours) until he is willing to let me go after he is deeply asleep and unlatched," she wrote.

She also mentioned that they are making progress — in sleep training, that is. Miriam told Smartparenting.com.ph that they had just started last Monday, and that it will take two weeks before the baby becomes well-adjusted to the new routine.

What other parents are reading

What breastsleeping is

Breastsleeping is not an entirely new concept. In December 2015, world-renowned sleep expert James McKenna, director of the Mother-Baby Behavioral Sleep Laboratory at the University of Notre Dame, coined the term which basically means sharing the bed with your baby while breastfeeding through the night.

McKenna says breastsleeping is a lot safer for mothers and their babies than if the baby is bottle-fed, during which "they move around a lot and have a much harder time waking up to breathe."

The sleep expert also claims that breastsleeping could give breastfeeding moms more sleep through the night than if they were sleeping separately from their babies. Says McKenna, "It's so much more convenient for mothers in terms of not getting up three or four times a night every time the baby wants to feed."

ADVERTISEMENT - CONTINUE READING BELOW

However, experts are divided in their opinion of whether breastsleeping is good for babies. Many still see it as an equivalent of bed-sharing with an infant, which is not recommended for safety reasons. The American Academy of Pediatrics advises parents to share a room, but not a bed, with your baby until he is 1 year old, or at least within the first 6 months of life.

What other parents are reading

Asked what made her decide to wean baby Elijah from breastsleeping, Miriam replied to Smartparenting.com.ph, "I often get nap trapped for up to 2 hours and totally throws off my day as well as time for the rest of the family.

"While night feedings and constant latching may provide comfort for babies, they also need the gift of a full night's sleep and the ability to go to sleep on their own.

"As early as now, I would like to give that to my Baby Elijah. It's a learned skill and at 5 months 3 weeks, he is already capable of self-soothing," she added.

CONTINUE READING BELOW

Recommended Videos

In addition, Miriam says sleep training baby Elijah is a way of "respecting my own boundaries as a woman, a wife, and a mother to another child." Miriam and husband Ardy Roberto have a 12-year-old son named Joshua.

"I also need the full night's rest as well as time with my husband at night," she explained. 

How to wean your baby from breastsleeping

1. Proper routine and quality nourishment

The mom of two says she applies the Eat, Play, Sleep cycle with baby Elijah. "I need to make sure that he gets a full feed on scheduled feeding times as proper nourishment is key to a healthful sleep. This routine will also help train his metabolism to get hungry at certain times," explains Miriam. 

2. Consistency

Because the bond between a parent and her child is very strong, there may be times when the parent's resolve may wane. But Miriam advises parents to be consistent and follow proper schedule and routine. "Changes in the routine confuse baby. Consistency in the routine allows him to know what's next, which leads to predictability."

ADVERTISEMENT - CONTINUE READING BELOW

3. Quality of nurturing

"Feeding time is when I must give my full attention to my baby. He needs to feel loved in our relationship in order to feel secure enough to be on his own," Miriam expounds.

4. Safety

In order to eliminate the risk of SIDS, Miriam adheres to safe sleep guidelines. "Baby needs a safe place to sleep on his own without any additional items that might cause him to suffocate and lead to SIDS."

5. Flexibility

It takes a while to sleep train a baby, so in times when it seems like you're back to square one, Miriam says parents should "respond to his hunger cues and other needs."

Miriam adds, a baby monitor and reliable diapers are a good investment during this stage. "[A good baby monitor will let you] check on the baby while allowing him space to learn to sleep on his own, as well as a good premium diaper that will not get in the way of your training, especially at night."

Miriam also shared their progress, small victories, and more tips on Instagram Stories.

Consistency is key, Miriam says about sleep-training baby Elijah — that means even when baby is left with dad. 

PHOTO BY @MIRIAMQ888/INSTAGRAM STORIES

ADVERTISEMENT - CONTINUE READING BELOW

Allow your child to self-soothe

Miriam shared on Instagram Stories that after bathing, dressing, and feeding Elijah one night, she read him a book and tucked him in his crib. "He fussed for less than 2 minutes and was asleep in less than 5 minutes" without being latched on to his mom.

Carry the baby only when necessary

As it is with sleep training, there will be good days and not-so-good days. Miriam shared that in one instance, Elijah cried for 25 minutes before his nap so she waited it out before carrying Elijah to soothe him. She then put him back in his crib before leaving the room to take a call. "After a couple of minutes, I went back to [a] quiet room and found him like this (sound asleep)," Miriam shared.

"Breastfeeding him during the day and bonding with him during his wakeful times will not take away the love and security that I give him by allowing him to sleep by himself at night," Miriam reiterated. She hopes that in a few weeks, both she and Baby Elijah will have settled into healthier sleeping habits.

Celebrate your pregnancy milestones!


Enter your details below and receive weekly email guides on your baby's weight and height in cute illustration of Filipino fruits. PLUS get helpful tips from experts, freebies and more!

You're almost there! Check your inbox.


We sent a verification email. Can't find it? Check your spam, junk, and promotions folder.

Trending in Summit Network