This Mom Started to Potty Train Her Baby at 5 Weeks Old!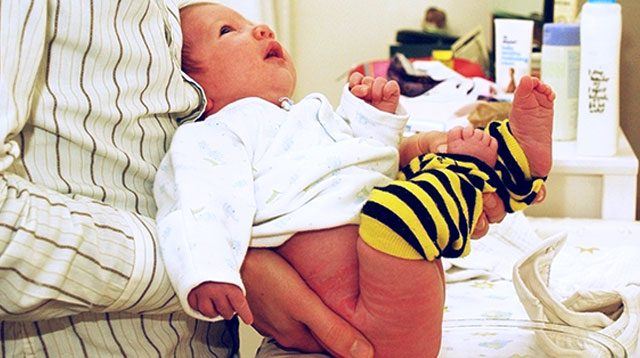 After hourly feedings and sleepless nights, one of the most challenging phases of parenting is potty-training. Think about all the leaks you'd need to clean up -- on the floor, on the bed, in the kitchen, anywhere -- when you're trying to teach your child to use the potty to relieve himself. Plus, all those soiled clothes!

Most experts recommend starting potty training at 18 months to 3 years old -- and it could take months of consistency to totally eliminate wetting accidents. But what if you could potty-train them while they're still babies? Imagine the money you'd save on disposable diapers!

While moms in Vietnam discovered their own trick to hasten up the process, there's another technique that's gaining ground in the parenting realm.

What other parents are reading

Amber Hatch, mom of two and author of Nappy Free Baby: A Practical Guide to Baby-led Potty Training from Birth started potty training when her baby was only five weeks old. In a blog she wrote for BabyCenter U.K., she described how she used the practice of elimination communication (EC), which uses timing, signals, cues, and intuition to address an infant's need to eliminate waste without the use of a diaper.

Hatch noticed that her daughter, then only 5 weeks old, was fussy. She was wriggling around the mattress and grunting. Amber kept trying to feed her but she wouldn't latch. Something was making her little one uncomfortable, and she remembered EC and thought the baby could be trying to relieve herself.

"I found an old ice-cream tub and crossed my legs around it. I stripped off my baby's nappy and held her above the tub, with her wobbly back resting against my chest. I didn't have to wait long; after a few seconds I could feel the tension in her body peak and then the unmistakable sound of a wee trickling into the tub. Wow! Then another grunt, and another peak of tension, and a minor explosion of poo vibrated through the tub," she wrote.

ADVERTISEMENT - CONTINUE READING BELOW




From that moment on, Hatch was inspired to keep holding her baby over a potty whenever she feels that her daughter was about to pee or poo. At first, she held her on the potty every time she changed her diapers and half the time she was able to catch something, noticing that the number of soiled diapers her daughter was using was getting fewer and fewer.

Soon Hatch was able to pick up her daughter's cues when she needed to go. "She slept better and seemed generally calmer. But the best thing was that it was really fun. We were really communicating about her bodily needs, and that made me feel so much more confident as a mom," Amber said. Admittedly, her daugther still needed diapers during the first year. But at 14 months, she was able to do away with diapers completely.

What other parents are reading

Research has found that in 1957, almost 92 percent of kids were toilet-trained by 18 months. Today, however, only 4 percent of kids know how to use the potty at that age; only 60 percent of children are potty-trained by age 3, according to a large-scale study in the U.S.

EC's concept is fairly simple and a bit old school. Offer the potty when you think your baby needs to relive himself; it's just a bit trickier how to prop her in a peeing or pooping position. According to Andrea Olson, mom of three and author or EC Simplified, Go Nappy Free, and The Tiny Potty Training Book, older babies could have gotten used to wearing diapers and relieving himself anytime anywhere. So, for Olson, the ideal time to start potty training is when the baby is under 4 months old.

Here are some guidelines to help you get started on baby-led potty training from Hatch and Olson:

1 Observe and take note of how often your baby pees or poos after walking and after eating. Signs include sudden fussiness or stillness grunting or bearing down, trying to escape from the carrier, or grabbing diapers or pants, kicking legs, popping on and off the breast, heavy breathing, and grunting.

2 Offer the potty in a calm manner and very matter-of-fact whenever you think your baby is going to pee or poo. "Babies pick up on our energy and will resist if we do EC with doubt, fear, or anxiety," Olson advises. You can also simply offer her the potty every time you change her nappies, says Hatch.

Here's how: With your baby's back leaning on to your hand and body for support, position your hands each under her thighs so she appears to be squatting. Hold her over a sink, a toilet, or a mini-potty or any container with a just-right-size opening for your baby's bottom. You can do this sitting down with the mini potty in between your thighs, standing up (if you're using the sink), or squatting (if you're in front of the big toilet).

ADVERTISEMENT - CONTINUE READING BELOW

3 Wait for 10 to 15 seconds to see if he's going to pee or poo. Remember you're not going to catch something every time you do this, but soon you'll get the hang of it. When you see your baby weeing or pooing, make a cue sound, for example "psssssss" or a grunting sound.

This helps "establish the connection between the potty, or the way you hold him, and pooing and weeing," says Hatch. "Babies go a lot, so it is relatively easy to catch a few wees and establish a connection," she added. Once you've established that connection, your baby will understand that this is the moment she can relive herself. You're not rushing your baby; she'd still be in control.

To encourage more moms to go diaper free, baby-led potty training advocate Jenn Philpott of Born Ready U.K. developed a diaper that makes going nappy-free easier, called Flaparaps, and they've started a campaign to be able to mass produce it. It's waterproof, adjustable fit (fit for a growing baby), and easy to put on and off for when you're helping your baby pee or poo or easy changing during naps. 

For more information, you can visit  NappyFreeBaby.co.uk or GoDiaperFree.com. Willing to try baby-led potty training? Tell us how it went via sending us a message on Facebook.

Trending in Summit Network