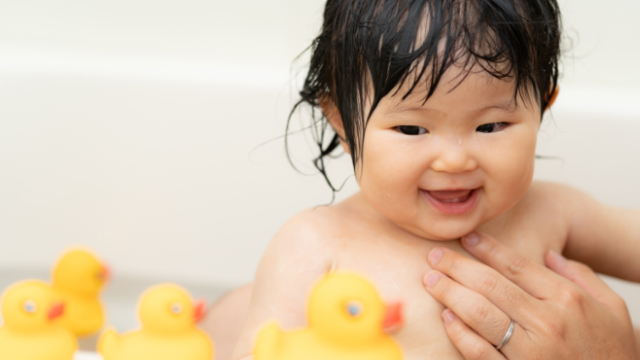 Once your baby is born, there are so many firsts to experience for both you and your little one. The first bath is one such milestone. It can be a little daunting and stressful, because the sensations of water, the temperature in the bathroom, and the light reflecting in the mirrors can be overwhelming to this tiny human you need to keep clean.
Don't worry, there ways to ease your baby into a bath routine — which you don't even have to do every day.
No need to bathe your baby right away
During the first few days at home, warm water and a gentle cloth to wipe your baby clean can make up his bath routine. In a Smartparenting.com.ph article, it was explained that parents are advised to do sponge baths until after the umbilical cord falls off, which happens between 7 to 10 days. That means the first bath is done sometime in your baby's second week.
Until then, try to do the sponge bath at the same time every day, usually when your baby is alert and during a time when you won't be rushed. Wipe off dried milk or saliva from his face and in the crevices of his neck.
Once you start bathing your baby, the next session doesn't need to happen until a couple of days after the first. One expert also told Smartparenting.com.ph, that babies need to take a bath only thrice a week, allotting 5 to 10 minutes per bath time.
The timing of a baby's bath shouldn't be a big concern. Whether you bathe your baby in the afternoon or at night has no direct connection with him getting sick.
Prepare your baby's bath essentials beforehand
Here are some of the items you may need for your baby's bath:
Baby bathtub: Choose one that is sturdy, which your baby can lean or, later, sit in with his head higher than the water level to ensure his safety.
Warm water: Check the temperature of the water in the tub using your elbow before you put the baby in. If it is too hot for the skin inside your elbow (or your wrist), the water will definitely be too hot for your baby's delicate skin.
Baby cleanser: Pick a mild cleanser that's specifically formulated for babies. Be careful with your baby's eyes, nose, mouth, and ears when you're washing his hair and face.
Try Baby Dove Rich Moisture Hair to Toe Baby Wash or Baby Dove Sensitive Moisture Hair to Toe Baby Wash. They gently cleanse baby's hair and body while helping keep his skin moisturized.
Towel: Wrap your baby up in a soft towel to dry him. Don't forget to sneak in some cuddles!
Clean diaper and clothes: Prepare his change of garments before the bath so you don't have to literally leave your child out to dry.
Lotion: Applying moisturizer helps prevent dry skin in babies. According to The Royal Children's Hospital Melbourne, baby's skin is 'thinner, more fragile, and more sensitive than adults' skin." Moisturizing your baby's skin can help keep it protected.
Try Baby Dove Rich Moisture Lotion or, if your baby has extra-sensitive skin, the fragrance-free Baby Dove Sensitive Moisture Lotion. These products help nourish baby's skin to keep it soft and moisturized.
Follow these steps for your baby's bath
Step 1: Prepare everything you need, making sure the essentials are on hand. Undress your baby and carry him securely to the tub.
Step 2: Place your baby's feet first into the tub.
Step 3: Scoop water with your hands and gently pour it on your baby. Apply baby cleanser and scrub softly, beginning from the head to the feet.
Step 4: Rinse your baby. Towel-dry him in your arms.
Step 5: Apply lotion on his arms, back, and legs.
Step 6: Dress your baby.
Treasure these moments, mom! Remember to get some cuddles in after your baby's bath and enjoy his sweet, "amoy baby" smell!
Baby Dove products are available in Lazada and in leading groceries, supermarkets, personal care stores nationwide. For more information about Baby Dove and its products, go to the Baby Dove official website or follow its Facebook page.