How Do I Treat My Newborn's Hiccup?

Does your baby's 'sinok' worry you?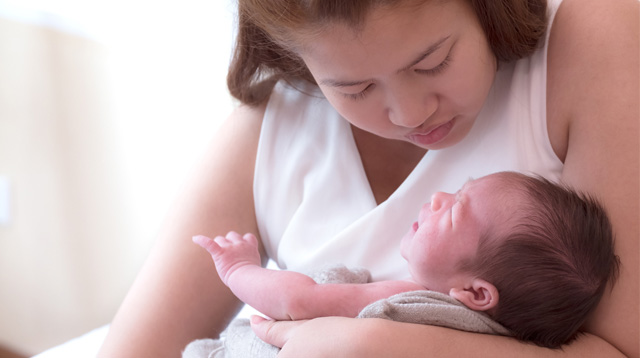 Hiccups, or "sinok" in Filipino, are normal for people of all ages, even newborns. In fact, you may already start feeling your baby's hiccups in your womb starting on your 32nd week of pregnancy.

In the Philippines, we've come up with many creative ways to make hiccups go away, such as drinking water while holding our breath for 10 counts or more, or with the help of a friend jumping on us to surprise us. Then there is also the practice of placing a wet piece of thread on babies' forehead to "cure" the hiccup. 

These remedies are questionable (though they may sometimes be effective for older people), and results may not be consistent. But is there really a need to do anything about a hiccup at all?

More from Smart Parenting

In an article, licensed pediatric nurse Chaunie Brusie wrote that hiccups are reflexive and cannot be controlled, just as you cannot control sneezing or coughing. 

ADVERTISEMENT - CONTINUE READING BELOW

Unlike adults, giving newborns water to get rid of the hiccups may do them more harm than good since they cannot regulate their breathing nor their water intake. The safest, and still the most recommended remedy is no remedy at all. You just wait it out until it's gone. 

CONTINUE READING BELOW

Recommended Videos

For most part, it's the mom or the baby's caregiver who are more concerned about the hiccups than the baby feeling distressed about it. However, if you feel that it's making your baby uncomfortable, there are a few things you can do to alleviate the discomfort. 

For instance, you can try making the baby burp. Try hoisting your baby vertically onto your chest or putting her on her belly on your lap to help her burp. The pressure may also help push out the extra air. Some say that rubbing the baby's back helps, too. (Here's a step-by-step guide to burp your baby.)

ADVERTISEMENT - CONTINUE READING BELOW

More from Smart Parenting

Although no one has figured out the real cause of hiccups, theories suggest that overfeeding, swallowing excess air, or eating too quickly can trigger them. 

If your baby is bottle-fed, try shortening her feeding time and making her burp more frequently in between feedings to see if this prevents the hiccups. You may also want to make sure that the baby is holding the bottle properly to avoid letting in excess air. 

Speaking of bottles, you may need to check your baby's feeding bottles because some designs aren't made to keep the air out. This may cause not only hiccups, but also "kabag" in the long run. Read the label the next time you buy one, and look for brands that have this special feature that keeps air out. If necessary, change the brand of the bottle you're letting your baby use. (Check out this buying guide for feeding bottles.)

ADVERTISEMENT - CONTINUE READING BELOW

If you're breastfeeding your baby, check if she's latched on correctly when she feeds. If she's not properly latched on, she could be swallowing air that is causing her to hiccup. 

Remember, too, that it is not wise to feed a fussy baby. An agitated baby has a tendency to swallow more air that may trigger tummy aches and hiccups. Wait until she is more relaxed before feeding her.

More from Smart Parenting

Check, too, if your baby is colicky. If this is the case, gripe water may help. Gripe water is a traditional remedy that combines herbs in water. The most common mixes include chamomile, cinnamon, ginger or fennel. 

There are also some brands like Mommy Bliss and Woodwards that sell bottled gripe water. You can purchase them from popular online shops like Lazada and Shopee.

There is no scientific proof that shows gripe water is an effective means to stop hiccups even though it's used by many moms in the U.S., but the risk is low to none, so trying it out won't harm your baby. 

ADVERTISEMENT - CONTINUE READING BELOW

Dr. Gina Posner, a board-certified pediatrician, shares with Insider that hiccups are rarely a cause of concern for newborns. It's particularly normal for a baby to have hiccups. However, there are rare cases when you may have to consult your pediatrician. 

For example, if the baby shows symptoms of distress, like spitting her milk out all the time, arching her back and crying because of it and you can't make her calm down with the usual solutions, then it's time to seek an expert's advice on it.

More from Smart Parenting

Frequent and continuous hiccupping, especially after 12 months, may be a symptom of GERD, or gastro esophageal reflux disease. 

GERD is when acid and poorly-digested food flow back up to the person's esophagus. It is important for kids who suffer from GERD to be treated properly to avoid developing health complications. 

There are theories that when your unborn baby is having hiccups in your tummy, it could possibly mean cord entanglement, although there is no strong evidence that backs up this claim. 

ADVERTISEMENT - CONTINUE READING BELOW

A baby having hiccups inside her mom's belly is perfectly normal, but if your maternal instincts kick in and you sense that your baby needs medical attention, by all means, go to your trusted physician and consult him about your child's concerns. 

Trending in Summit Network