Preemie Twins Weighed Less Than 4 Pounds Each When They Were Born

Their mom was scheduled for CS, but the twins couldn't wait.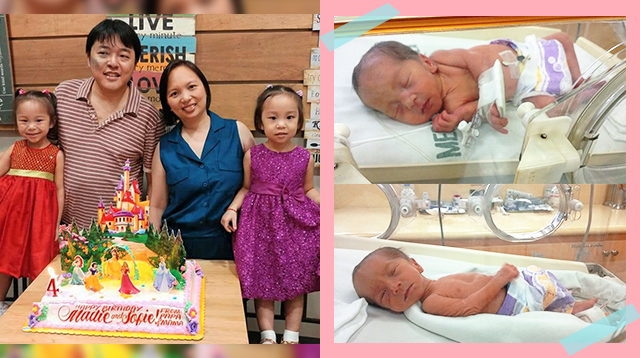 From the moment Jadie Tan knew she was carrying twins, her ob-gyn told her she would be scheduled for a C-section at 36 weeks. "I'm petite with a height of 4 feet 11 inches. The doctor told me my body might not be able to hold the pregnancy until full term stage," the licensed pharmacist and SPED teacher tells SmartParenting.com.ph.

Jadie didn't make it to 36 weeks. On April 14, 2014, when Jadie was on her 31st week, her twins signaled that they were arriving early. "I woke up at 4 a.m. to go to the restroom, and peeing took longer than usual. Then, as I was walking back to bed, a sudden gush of water came out — my water bag broke," Jadie shares.

She and her husband rushed to the hospital where a resident checked if her water bag was totally ruptured. "My OB wanted to postpone the delivery and wanted to see if they could still suture the water bag. They were worried that at 31 weeks, my twins' lungs would not be mature enough," she recalls.

What other parents are reading

The longest 15 minutes

But her water bag had gone, and the doctors had no choice but to prep her for surgery. They tried to delay the delivery as long as they could. Jadie stayed in the delivery room for four hours since the doctors gave her steroid shots to help her babies' lungs. They also placed a Doppler on her stomach to monitor the twins' heartbeats and oxygen levels since there was no more fluid inside her uterus.

ADVERTISEMENT - CONTINUE READING BELOW

Jadie was only mildly sedated during her C-section, so she could clearly hear her OB saying, "Cut! Cut!" a few moments after her stomach was sliced open. It turned out the umbilical cord was coiled on one of the babies' necks, and she was already bluish and unresponsive for almost 15 minutes.

"It was the longest 15 minutes of my life," Jadie recalls. But eventually, she heard her baby cry and was able to breathe a sigh of relief.

What other parents are reading

After the surgery, Jadie's OB told her that her water bag breaking earlier than expected was actually a blessing — if it hadn't, one of her twins might have died inside the womb. Jadie thought that it would be smooth sailing from thereon, but there were still trials ahead for her twins, Madeleine and Matilda.

Madeleine weighed 1.3 kg or around 2.9 pounds upon birth.

PHOTO BY

courtesy of Jadie Tan

CONTINUE READING BELOW

Recommended Videos

Madeleine, the twin who was unresponsive for 15 minutes, was born with weaker lungs. On her third day, she experienced apnea, and both she and her sister had complications with the breast milk substitute given to them. "Doctors thought they might have had an enlarged liver, but the results were negative." Finally, on the seventh day, the babies were cleared, and a month later, they graduated from the hospital's neonatal intensive care unit (NICU).

Matilda weighed 1.6 kg or around 3.5 pounds upon birth.

PHOTO BY

courtesy of Jadie Tan

Though preemies needed extra love and care, Madeleine and Matilda continued to grow without any more health complications. But when the twins turned 2 years old, another test came their way.

What other parents are reading

Overcoming trials

Matilda had just recovered from the flu and was playing with Madeleine in their room when the yaya noticed her left hand was shaking. Matilda started crying. After a few minutes, it happened again, and Jadie decided to take her to the hospital.

"While we were there, the pedia said everything was okay, and it might just have been jerk movements," Jadie shares. But after they went out of the pedia's office, Matilda had another attack. She was confined in the hospital, and the attacks increased for the next 24 hours.

ADVERTISEMENT - CONTINUE READING BELOW

After an EEG and MRI, Matilda was diagnosed with focal seizure epilepsy, and it affected the left side of her body. Jadie was devastated.

What other parents are reading

"I kept thinking, what went wrong? Did I not take care of them properly?"

"I thought it was going to be okay because we've already survived two years. To think, Matilda was the bigger twin with no complications at all in the NICU," Jadie says. The pediatric neurologist also couldn't pinpoint the root cause but theorized that it was hereditary or an effect of being premature.

Matilda undergoing video EEG monitoring.

PHOTO BY

courtesy of Jadie Tan

Matilda's focal seizure epilepsy is for life, but Jadie remains positive that she will overcome it. After her diagnosis, Matilda began taking anticonvulsants. She needs to avoid anything that will cause her to experience extreme fatigue or stress. She also cannot take caffeine, chocolates, and too many sweets in case it triggers a seizure.

What other parents are reading

The Tan family: Madeleine, Marc, Jadie, and Matilda.

PHOTO BY

courtesy of Jadie Tan

ADVERTISEMENT - CONTINUE READING BELOW

"We do routine EEG every six months, but last July, we had our video EEG, and everything was normal. Her doctor slowly tapered the dose and temporarily stopped the medication in September to see if she has outgrown the illness," Jadie shares. "There is hope that she might overcome it as long as no seizure will recur."

And Matilda is not fighting the battle alone. Aside from her mother and father, she also has her big sister Madeleine looking out for her.

"Madeleine is very gentle towards her sister. She's the timid one and ate-like siya talaga," Jadie says. "Though they may be young now, they continue to be strong, and I consider it a blessing that they are growing healthy, active, and intelligent. I thank God that He gives us miracles every day."

What other parents are reading

Celebrate your pregnancy milestones!


Enter your details below and receive weekly email guides on your baby's weight and height in cute illustration of Filipino fruits. PLUS get helpful tips from experts, freebies and more!

You're almost there! Check your inbox.


We sent a verification email. Can't find it? Check your spam, junk, and promotions folder.
Trending in Summit Network