Babies Need to Have Their Alone Time (Just Like You, Mom!)

Experts suggest it's never too early to introduce independent or solo play to your baby.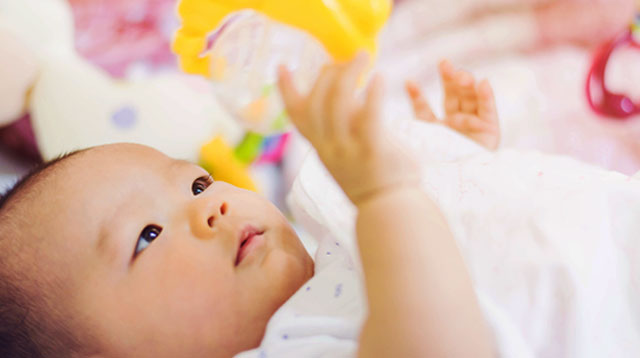 It's natural for moms to be all over their little bundle of joy. You want to cradle your baby, watch him sleep, and talk to him. And you should continue doing so, but don't forget that giving your baby his  "alone time," benefits him as well in the long run. 

By alone time, we mean leaving your baby to play by himself. And we highly encourage you to make solo play an essential part of his daily routine. "It's the time your baby can learn and explore at his own pace — without pressure from grownups," explains family physician Dr. Beatriz Padua-Bautista, M.D.

It is through play that your little one learns best. During solo play, a baby is able to explore his environment at his own pace, develop focus, discover independence, and learn from his mistakes. It builds confidence, critical thinking, and creativity, says psychologist Dr. Kathy Hirsh-Pasek, author of Einstein Never Used Flash Cards.

Solo play also helps him get to know himself and get comfortable and confident, according to Claire Lerner, a child development specialist at Zero to Three, an organization devoted to promoting healthy development in young children.

When can you start letting your child play alone?

It's never too early to start your baby's solo play routine, but you have to consider his or her developmental stage and age. For example, a 6-month-old baby can play for five minute tops, while a 1-year-old can extend playing alone up to 15 minutes. The older the child, the longer he can play alone.

ADVERTISEMENT - CONTINUE READING BELOW

Your child's temperament is another factor. Some babies can lay by their crib staring and reaching for their mobile longer before they cry to get your attention. Other babies will cry for you to pick them up the moment they wake up from their nap. Try to find a balance between your child's age and personality.  

How can you start your baby on an independent play? 

In case you're worried, it's definitely possible to leave your child alone, provided that he is in a secure and child-proof area in your home, and you are within an arm's length or within earshot of your child. "Independent play doesn't necessarily mean your child should be alone," notes Linda Acredolo, Ph.D., author of Baby Minds: Brain-Building Games Your Baby Will Love, told Parents. 

Introduce your child to solo play by playing with your baby for a few seconds and then walking away from a few seconds before returning to play with him. Keep this up while gradually lengthening the time your baby plays alone. Eventually, he will be more occupied with his own play exploration than your presence. 

Whenever you engage your child, give him your full attention, so he can differentiate what playing with you looks like versus playing solo, and eventually, playing with his peers. When his heart is full after bonding with you, he may be more open to playing on his own. 

If your child is still clingy, let him initiate solo play. When his attention is captured by a toy, slowly move away from him and leave the room until he notices you're not by his side anymore. It's also good practice to assure your baby that you'll be back in a jiffy. Soon enough, he may not even notice that you left his side. 

CONTINUE READING BELOW

Recommended Videos

Based on experts tips and tips from Zero To Three, here are more guidelines to help you get your baby started on learning and having dun independently.

Make sure your baby is ready for play. 

That is, your baby isn't sleepy, hungry, tired or needs a nappy change, so he can just play. A good time to schedule solo play is a few minutes after your baby wakes up from his nap or after a feed. "Keep him active during the peak of his awake time to maximize learning on his own," Dr. Padua-Bautista suggested. 

Provide him or her with several playthings. 

Not all have to be toys; in fact, you can incorporate everyday objects in your child's toy roster. Offer toys that cater to your child's interests, but don't dump everything in his playpen all at once. Once in a while, have something new for your baby. Rotate your child's toys every so often. 

Always follow your child's lead. 

You can show your child how a toy works, but try not to. Let him discover it. Remove from his playspace anything that you don't want him to get his hands on to minimize you stepping in. If you find yourself tempted to correct how your baby plays with a toy, go and busy yourself with another activity. 

Adapt to your baby's play needs.

Solo play isn't just about leaving your child to play by himself. Your baby could be so occupied by just having tummy time on a colorful activity mat or lying down with a mobile or play gym over him at first. As he grows, though, provide more playthings that stimulate the senses and promote motor skills development.

ADVERTISEMENT - CONTINUE READING BELOW

Read your child's signals.

When your think child is getting cranky of frustrated, always tell yourself to give it another minute or two before you attend to your child. Independent playtime is the perfect opportunity for you to learn to let go, which you would need to eventually as your child grows. Think of it as an exercise for self-soothing for your baby, as well. 

It's hard not to pick up your child the moment he cries, as much as it's hard to let your child play on his own when you've wanted to spend time with him after errands or work. Remember, though, that playing alone is as necessary and as beneficial to his development as you and your baby playing together. 

What other parents are reading

Celebrate your pregnancy milestones!


Enter your details below and receive weekly email guides on your baby's weight and height in cute illustration of Filipino fruits. PLUS get helpful tips from experts, freebies and more!

You're almost there! Check your inbox.


We sent a verification email. Can't find it? Check your spam, junk, and promotions folder.

Trending in Summit Network