A First-Time Parent Survival Guide for the First 7 Days With Baby

Here's how to get through the roller-coaster ride of having a newborn at home.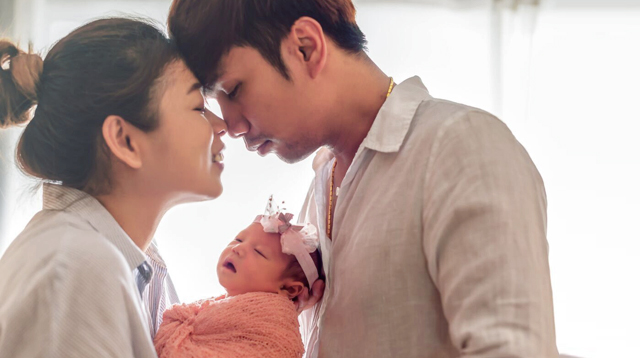 Coming home from the hospital after giving birth can be daunting, especially for new parents. For most of you, it is probably the first time you and dad will be alone with your newborn. There is no button to push to instantly alert a nurse that you need help. Let that sink in for a while. Now, gather your wits and arm yourself with the basic things you need to know and remember. Your goal is to get through the next seven days alive, with your baby unharmed, fed, and loved. Once you've survived the week, you'll be set for motherhood and parenting for a good while.

When you start packing your three (yes, three!) bags for the delivery day, start thinking about the changes that will happen at home. Decide beforehand who will do everything else as you focus on caring for your baby after birth. Creating a postpartum care plan is as essential as making your birth plan. And don't forget to prepare the newborn essentials that need to be at home when your baby arrives.

What other parents are reading

These guidelines will help you gear up and prepare for your first week of parenthood. 

Arm yourself with correct information.

After giving birth, you and your baby will stay in the hospital for at least two to four days. During that time, your baby will be roomed in with you after your little bundle of joy is checked and is in the pink of health. 

Take note of everything the nurses, lactation counselor, and doctors tell you, especially the going-home reminders. Feel free to ask any question about newborn care, breastfeeding, and postpartum care. These are the typical topics discussed at many pregnancy and new-parent seminars or workshop, so it would be helpful to attend one before you give birth. 

ADVERTISEMENT - CONTINUE READING BELOW

There will be a lot of well-meaning advice that will come your way whether you ask for it or not. We suggest keeping a tight "circle of advisers" — people whose opinion you trust implicitly. As you will find out soon enough, you will get so much unsolicited advice it can get overwhelming. We highly recommend having your doctor and your baby's pediatrician in that circle. Have them on speed-dial. A Facebook group can help, too (check out our Smart Parenting Village).

Make safety a priority.

Safety is a big word but often overlooked. This involves knowing how to properly carry or hold your baby (there are many ways to safely hold your baby.), transport them (car seats saves lives!), and arrange their sleeping space is safe (just a firm mattress, fitted sheet, and no more!). It's also for your peace of mind, moms and dads. 

What other parents are reading

Do kangaroo care as often as you want.

Kangaroo care is prolonged skin-to-skin contact that can be done by any member of the family, not just mom. It has proven to help calm baby down. Do not underestimate the power of touch therapy, so go ahead and hold your baby, cuddle and cradle him as often as you can. You're not going to spoil your baby. 

Breastfeeding may be challenging.

As natural as the act it, breastfeeding does not come automatically to all moms and babies. You have to prepare for it. Learn how to start your breastfeeding journey right, but don't be too hard on yourself if it does not go smoothly for the first few times. Practice is the key to getting better at it. You will get lots of it since you'll be nursing your little one every two to three hours.  

CONTINUE READING BELOW

Recommended Videos

Brace yourself, though. It's not just nursing challenges you need to deal with, but also noting down your baby's eating and sleeping patterns, even pee and poop frequency and consistency. Make sure you have your essentials (e.g., nursing bra, breast pump, nipple cream, breast pads,  etc.) so you can just reach for it when you need it.

Yes, there will be crying.

The first week of motherhood is like breaking in a pair of shoes — it will be uncomfortable sometimes, it may hurt (hello, improper latch), and there will be tears and not just from your baby.

There many reasons why babies cry. It's one way they can get your attention and try to communicate what they need: to be fed, have their nappy changed, or cuddled (swaddling can be their wsh, too). Perhaps the room temp is too cold or hot, or a clothing tag is irritating your little one.

Sleep when you can.

The only advice that every mom-to-be gets from parent-friends is to sleep before the baby arrives. When you're home with baby, the advice "sleep when the baby sleeps" may not be that easy to follow (but try!). It's better for you and your baby in the long run. 

Resist the urge to watch your newborn sleep no matter how adorable and angelic he looks. Using baby's snooze time — and he'll be sleeping a lot, by the way — to do more around the house is okay, but it's better if you use those precious minutes for some de-stressing and give yourself well-deserved self-care.

ADVERTISEMENT - CONTINUE READING BELOW

Don't neglect yourself.

We all heard it before: The hardships in being a mother are all worth it — yes, we get it. But it doesn't mean that you should just bleed yourself dry. You need to take care of yourself, new momma. Nourishing your baby can be overwhelming in itself, but it's not going to be like that forever. You'll cry, yes, and it may not just because of physical pain and exhaustion. (Check yourself for perinatal mood and anxiety disorders.)

So, take it easy. Have your postpartum kit ready — binder, maternity pads or disposable panties, vagina care, or wound care essentials. Whether you delivered your baby via natural spontaneous delivery or a C-section, your body needs to rest and recuperate. You can better care for your baby when you're well rested.

What other parents are reading

Ask for help.

You've heard the saying, "It takes a village to raise a child," right? That is so true. Dad should be involved (he'd better be!). Delegate baby care tasks to him, so you can get a decent shower.

Welcome the help, be it from your mom, mother-in-law, a friend — trust us, you'll need it. If there's no one, you'll be relieved there are many helpful services you can avail of for a fee. Talk to other moms for support. Having someone to talk to during the first few days into motherhood can work miracles.

Having a baby is a daunting task, yes, but it's doable and manageable. The first seven days will be filled with a lot of adjustments and many trial-and-error lessons, so try to limit visitors until you've survived your first week as a parent. Follow your instincts. When in doubt, refer to your doctors' orders, and you'll do just fine.

ADVERTISEMENT - CONTINUE READING BELOW

Don't forget to enjoy the newness of it all, too. You've waited nine months to have your baby in your arms. Play with your baby — love and cuddle him. You're going to do great!

What other parents are reading

Celebrate your pregnancy milestones!


Enter your details below and receive weekly email guides on your baby's weight and height in cute illustration of Filipino fruits. PLUS get helpful tips from experts, freebies and more!

You're almost there! Check your inbox.


We sent a verification email. Can't find it? Check your spam, junk, and promotions folder.

Trending in Summit Network