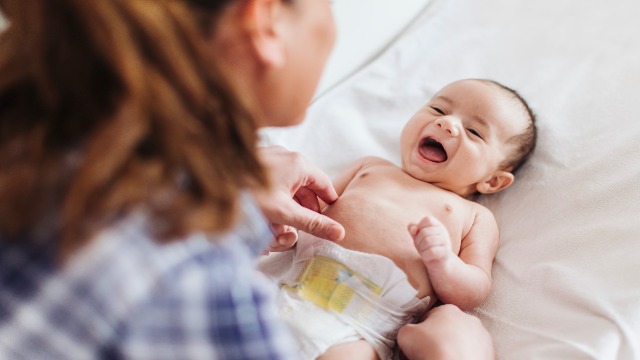 It can be overwhelming to choose baby products nowadays because of the numerous options available. But what is easy is knowing the essentials to prioritize. The number one on the list: the right diaper.
Choosing the right diaper for your newborn can be a trial-and-error process. Babies have unique and different needs that moms need to decode as they grow. So before you head on over to the grocery and buy in bulk, let the answers to these questions guide you in choosing the perfect fit for your baby. Remember: The end goal is to keep your newborn healthy and comfortable at all times. 
Does the diaper address my baby's sensitive skin needs?
Newborn skin is 10 times more sensitive than adult skin, so make sure to choose a diaper that can keep Baby dry but can still lock in moisture. The right diaper can reduce the chances of your little one developing allergies, rashes, or atopic dermatitis.
Is my baby comfortable with it?
Did you know that diapers are also crucial for your baby's milestones? Uncomfortable diapers restrict your baby's movements and also affect his development when he starts to crawl, reach, or sit on his own. Choose a diaper that is not too tight on the thigh area and has a soft cottony material that will allow your child to move around.
Is it cost-effective?
Remember to choose a diaper that will cater not only to your baby's comfort but also to the family's budget. Until they are potty-trained, babies can use up a lot of diapers. You want to get a budget-friendly brand that will not compromise your baby's comfort. Performance value is also very important. Some diapers cost less but do not have strong protective features against rashes and may require you to change more often. Make sure you spend just the right amount on a diaper that will take care of your baby's skin and protect him from wetness.
How long can it hold wetness?
Babies wake up in the middle of the night because of two things: They are either hungry or wet. You can avoid late-night diaper changing if you choose a diaper that can keep your baby dry throughout the night. It's also a plus if the diaper has a wetness indicator that will not leave you guessing and checking on your baby all the time, giving both of you a good night's sleep.
Pampers Premium Care allows your baby to have uninterrupted sleep with its Magic Gel feature that absorbs up to 7 wettings. It has an improved top sheet, ultra cottony softness, and two stretchy sides, making it feel more natural to move for babies in action. Plus, the urine indicator that turns blue as a signal for urine makes it easier for moms to change nappies regularly, leaving baby fuss-free. That's why it's the premium choice for your newborn, not to mention it's also the budget-friendly choice.
More tips on how to choose the best for babies will be revealed in SmartParenting's "The Smart Moms Birth & Baby Workshop" this coming October. Check it out here!
This article was created by
Summit Storylabs
in partnership with Pampers Premium Care.