Every parent wants what's best for their baby, especially when boosting their little one's brain development. That's why it's easy for books and toys to accumulate in the house because we all know that reading and playing jumpstart learning. The problem is it does create a bit of an issue when it comes to space. 

That was the reality check Faith Buenaventura-Alcazaren, M.D., a pediatrician and a mom to two kids ages 2 and 6, got when she and her family moved into a condominium unit. She had to start curating her kids' toys and the de-cluttering process, so to speak, made the doctor realize there were a lot of toys that her kids didn't need. In fact, the toys she threw out didn't serve their purpose; Dr. Faith felt they didn't allow her kids to imagine and create.

"I found the toys [in local stores] very busy, design-wise. Visually, they are over-stimulating and made of plastic," she explains.
ADVERTISEMENT - CONTINUE READING BELOW
Many of the toys are also "close-ended" — once the child is finished, the tendency is to move on to the next activity. Puzzles, shape sorters, and push-button toys can be considered close-ended toys.
Dr. Faith didn't want toys that will do the thinking for her kids and give them a specific objective to a pre-determined task. "I wanted something that would last longer. Toys that will evolve in its use as the child grows," she says.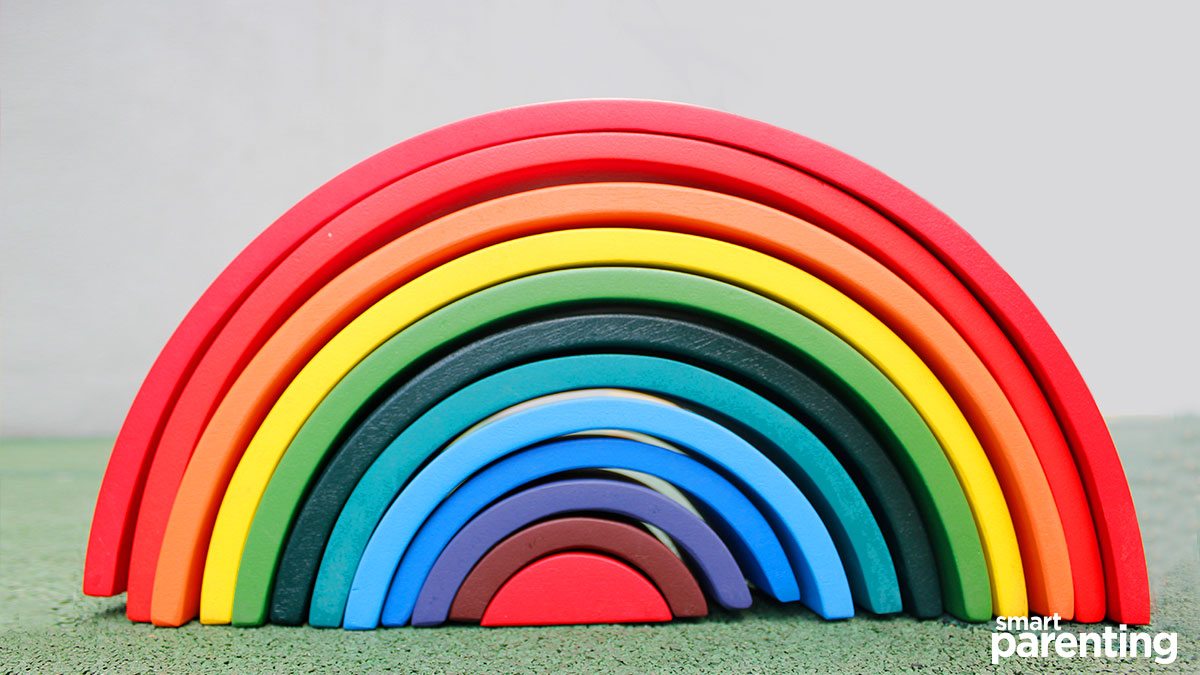 The Classic 12-Arc Rainbow.
PHOTO: Natz Bade
Dr. Faith was looking for "open-ended" toys that she believes offer a lot of possibilities for the child. One of the open-ended toys she fell in love with was the Steiner Rainbow Stacker, inspired by the educational ideas of Austrian philosopher Rudolf Steiner, who founded the Waldorf School system.

"He believes that imagination is the take-off point of learning. Once the child is allowed to imagine and create, that's when the child begins to engage with his surroundings and initiate learning." It's also why the toy is made of wood — so kids can handle naturally-made materials and be able to engage with nature, another aspect of Waldorf education.

The Rainbow Stacker has differently-colored arcs that can be placed on top of another. "The kids can put arcs together and turn it into a tunnel where another toy can pass. They can make a maze, a cave, a house — you will be surprised at how creative the children can be," Dr. Faith says.

The most popular version is from Grimms, a European company that makes wooden toys aligned with Waldorf education, which Dr. Faith wanted to buy for her kids. But it wasn't available locally, and the shipping price was too high.
MORE FROM Smartparenting.com.ph
So, Dr. Faith decided to design a rainbow stacker herself. She scouted for possible craftsmen and found a carpenter in Pampanga. When she posted it on social media, fellow moms expressed their interest. She then thought of creating more stocks so other moms could also have their stackers.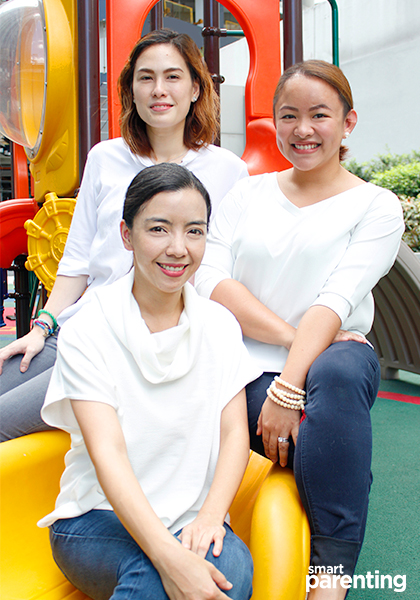 ADVERTISEMENT - CONTINUE READING BELOW
But, with her limited knowledge of business, Dr. Faith knew she needed help. Her cousins-in-law, Kris Ynares-Pineda, and Bea Gomez-Dey, both moms and entrepreneurs, reached out and offered their expertise. That's how their shop, Manila Wooden Toys (MWT), was born.

Apart from the fact that each toy is made by hand, MWT toys are designed to align with a child's natural progression and development, and Dr. Faith's medical background comes in handy for this part. "In my clinic, I do monthly developmental surveillance, because the general pediatrician is at the frontline in detecting red flags," she explains. "Also, with a mother's instinct, my team and I can pretty much pinpoint what will fascinate the kids."
Currently, MWT only offers four kinds of toys — the Classic Rainbow Set, Little Treasures Coin Set, Rainbow Village People, and the most recent addition, the Go Build Blocks. They are designed for babies who are 10 months old or when they can sit up. Each toys takes around two to four months to make, from prototype to release. "Because of Faith's background, it's important to us that it's really learning-driven," says Bea. MWT toys are non-toxic, water-based, lead/phthalate/formaldehyde-free and with antibacterial properties to prevent the growth of molds and other microorganisms. "It's made to last," Dr. Faith adds.
ADVERTISEMENT - CONTINUE READING BELOW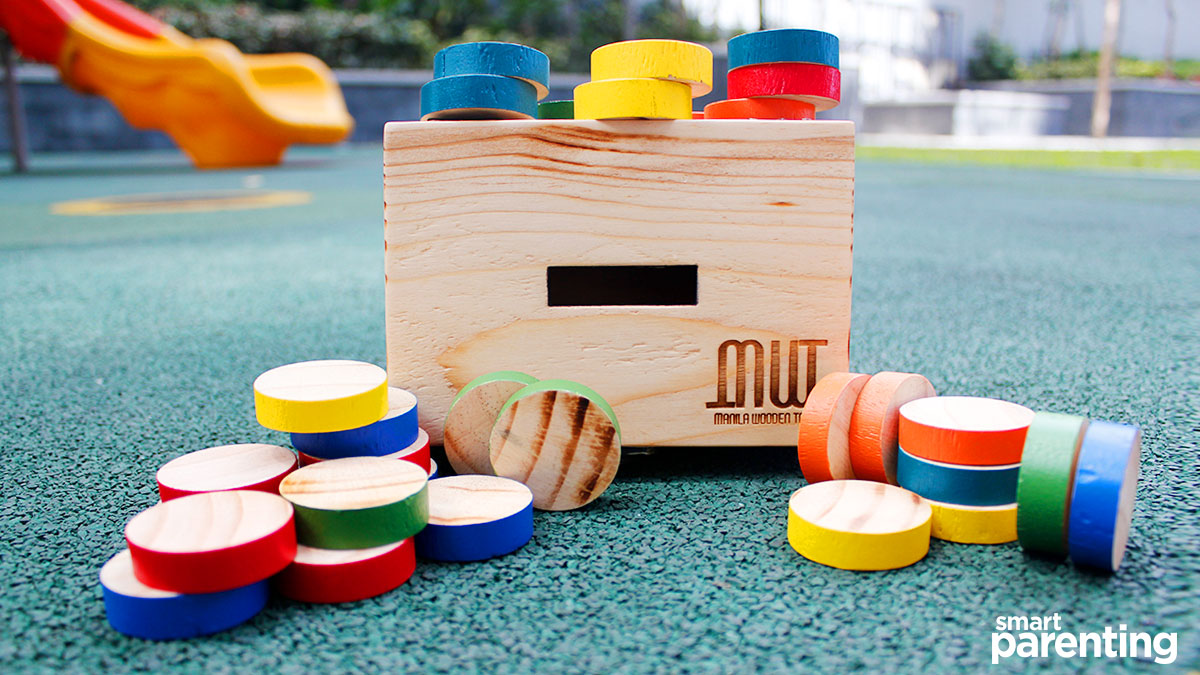 Little Treasures Wooden Coin Set
PHOTO: Natz Bade
The Classic Rainbow Set (Php2,800) consists of a 12-arc rainbow and comes in a wooden box with a round hole and a coin slot on a slide-out top lid. "Right from the box, the child can already play by shooting the wooden ball through the hole and sliding off the lid to discover where it went," Dr. Faith explains as she demos the toy. "Then, he'll see that the ball is still inside. That already develops his object permanence (or the stage when infants begin to develop an awareness that an object continues to exist even when one cannot see them)."
The Little Treasures Coin Set (Php900) comes with six colors that are great for basic color recognition, counting, and sorting. It can be stacked, rolled, and used for pretend play. It's also great for travel!
MORE FROM Smartparenting.com.ph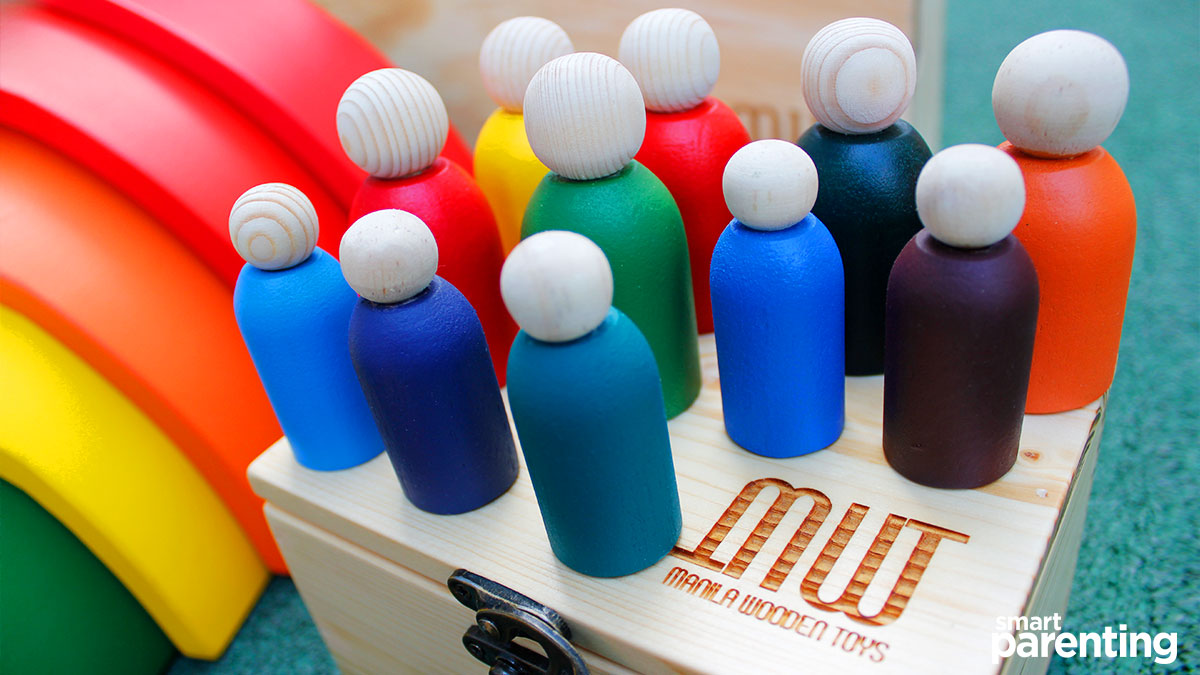 Rainbow Village People
PHOTO: Natz Bade
The Rainbow Village People (Php900), which consists of 12 wooden dolls in two sizes, encourages children to open up their imagination. Dr. Faith deliberately designs the toy not to have any facial expression or detailed body parts. "This teaches kids not to rely on preconceived facial expressions or preassigned characters," she explains. "Toys with scarce details will help the child build her vocabulary and speech (when doing pretend play)."
ADVERTISEMENT - CONTINUE READING BELOW
The Go Build Blocks (Php1,700) is MWT's version of the classic building blocks. Each block has a peg hole in one face of the cube and can fit two sizes of the Rainbow Village People (or any other object that can fit through the hole).

Each toy may look simple at first glance, but it is designed to grow with the child. "At the earliest, a 10-month old infant who can sit without support will be able to appreciate the wooden ball (from the Rainbow Set), the box, and the smallest arcs," Faith explains. "As the child grows, he will be able to appreciate the bigger arcs. We've had stories of teenagers enjoying the stacker because they're able to create complicated structures."
ADVERTISEMENT - CONTINUE READING BELOW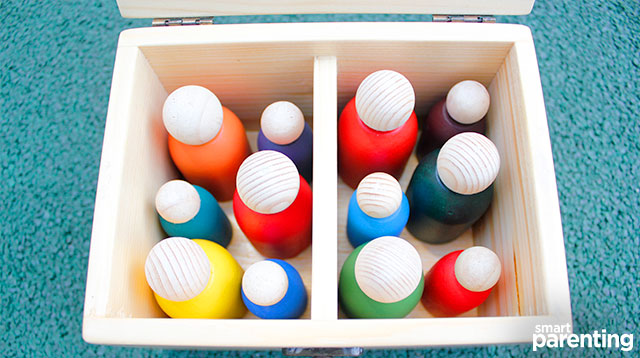 The toys are designed to complement each other. Dr. Faith had also made the conscious decision to pack the toys in wooden boxes so the children are encouraged to stow and sort the pieces away and then close the latch — a step-by-step system that will teach them order.
ADVERTISEMENT - CONTINUE READING BELOW
Because of the toys' open-ended nature — there's no fixed or single way of playing with it — they've become a hit with moms who want the Montessori education method for their kids.

"In Montessori, it's always child-led play. You only prepare the environment, and your child chooses," Dr. Faith shares. "You have open shelves, and you rotate the toys appropriate for the development of the child. You can put the rainbow stacker on an open shelf, and you add materials that can enhance your child's learning. It's the child's decision how to play with it."
Dr. Faith, Kris, and Bea's children go to traditional schools (though Dr. Faith has been introducing Montessori at home), but their children can mix MWT's open-ended toys with more structured play. "As a mom, you're the teacher at home so that you can offer our toys for sorting activities. It will strengthen your child's color recognition," Dr. Faith says.

"The material itself is not structured, but you have the freedom to turn it into a close-ended system, depending on the activity that you have planned for your child. For example, you can have a basket of toys with different colors; then you can ask your child to get all the red toys and match it with the red arc. That's already structured play," she adds.
ADVERTISEMENT - CONTINUE READING BELOW
It's a testament how MWT appeals to all learning styles. "We want to engage with parents with different styles because we believe our toys have a universal appeal and should be available for every child," she says.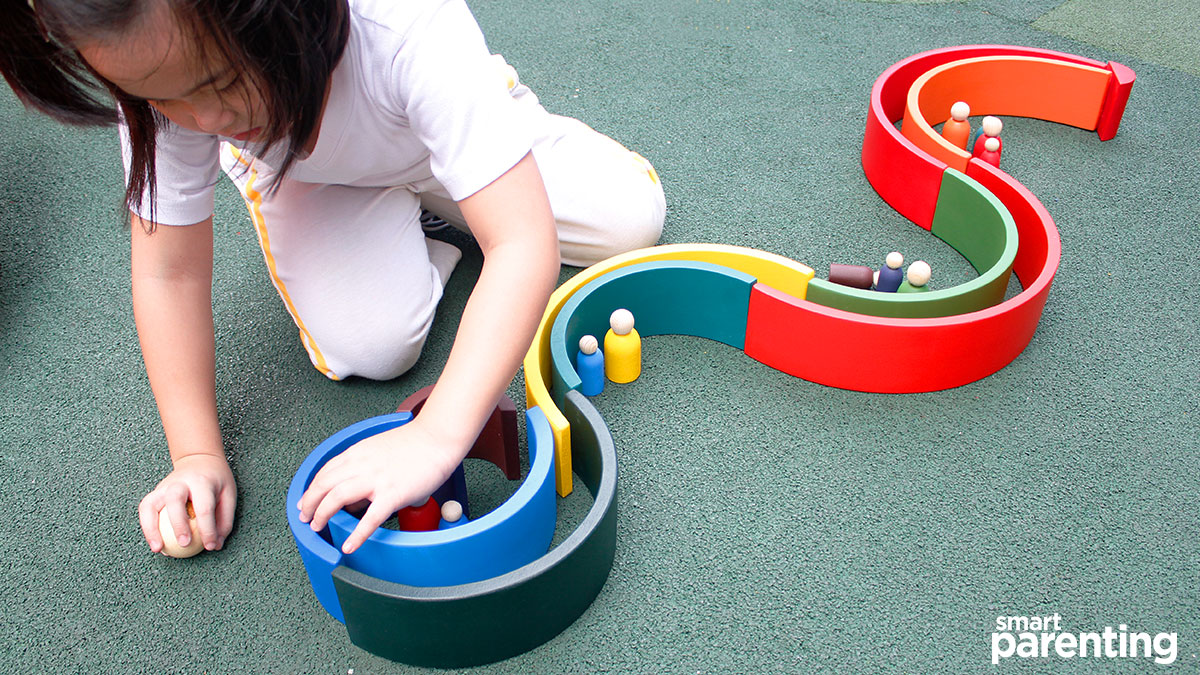 A maze created using rainbow arcs.
PHOTO: Natz Bade
It's also attractive to kids with learning disabilities. Dr. Faith shares they have clients who are therapists and who order the toys for their patients. "It's because our toys are fail-safe. There are no rules, no stressors," she says. "It tells your child you cannot fail with playing at this. It has no limits, and you can't commit a mistake. There's no right or wrong answer. We want the kids to decide how to play with it freely."
In an age where gadgets take hold of a child's attention, open-ended toys like these will allow them to re-focus and engage. "You'll be surprised with kids' imaginations," Bea says. "If there's a proper balance of the technology now and learning tools like this, you'll see how fast your kid will develop. They have access to information, but they'll have toys like these in their homes that they can manipulate to stimulate learning and creativity."
ADVERTISEMENT - CONTINUE READING BELOW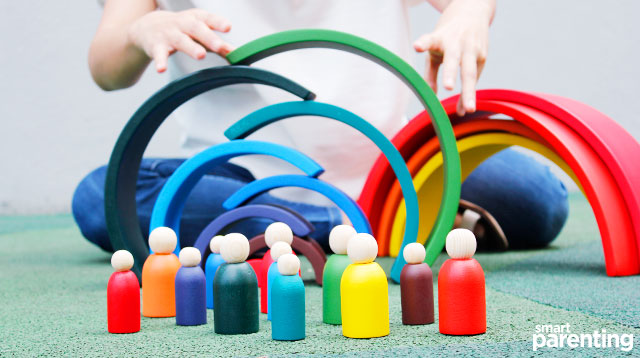 It's a lesson that Dr. Faith has to remind the parents of her patients consistently. "They tell me their kids will learn English from watching English cartoons. No, your kids have to see you talk. They have to hear you talk," she says. "You want to teach your kids what an apple is? Show them an apple. Make them taste it, touch it. It's the same way with toys. These are things they manipulate by hand. They see it; their senses are engaged more. That's how learning is improved.

"Our toys don't have too much detail in it because we trust the children. We leave the rest to their imagination."
ADVERTISEMENT - CONTINUE READING BELOW
MORE FROM Smartparenting.com.ph