Your Child's Milestones (9 months): Baby Can Now Stand Up!

Plus, how to boost the development of your little one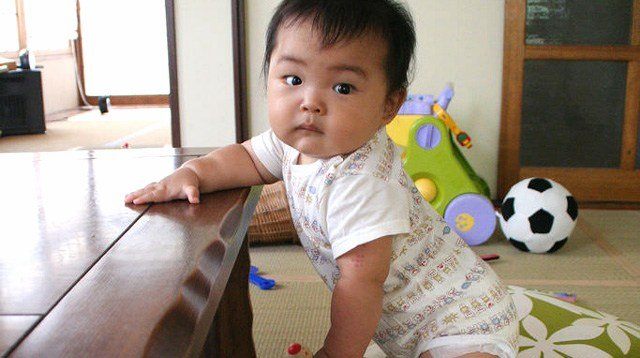 More and more every day, you'll notice your baby doing things he couldn't do before. Once he turns 9 months old, you'll see him pull himself up to a standing position. He'll do so by gripping to the side of his crib or by holding on to your hands, but before you know it, he'll be testing out his wobbly knees with a few steps! 

But first, take note:

Wait until the end of 9 months before observing your baby for his 9-month-old milestones. Every child is different. Some reach their milestones earlier, and others a little later.
Make sure your baby is well-rested and fed. Some of the items on this list may require you and your baby to engage in simple activities. Fussiness may make it harder to get accurate observations. 
Talk to your child's doctor at every well-baby visit about the milestones your child has reached. Always consult with a pediatrician who will address your concerns and be able to inform you on what to expect next. 

What other parents are reading

With guidance from Special Education teacher Joji Reynes-Santos, and based on guidelines from the Centers for Disease Control and Prevention (CDC), the American Academy of Pediatrics (AAP) and the Ages and Stages Questionnaires (a tool used by pediatricians for screening a child's development), below are developmental milestones most babies reach by 9 months old: 

Physical development 

can pull herself up to stand
stands on her own while holding on to something
sits without support
can get into a sitting position on her own
crawls 

ADVERTISEMENT - CONTINUE READING BELOW

Cognitive or mental development

looks for things she sees you hide (e.g. a toy placed inside a box)
passes a toy from one hand to the other
can pick up a small object with her thumb and pointer finger
plays peek-a-boo
pokes objects
likes to bang objects (e.g. bangs spoon on his plate) 

Social and emotional development

has favorite toys
may be afraid of strangers
may be clingy with familiar adults
may offer you a toy when you hold out your hand to ask for it

Language and communication development

makes a lot of different sounds like "ba-ba-ba" or "da-da-da"
tries to copy sounds and gestures of others
points at things using his finger
understands "no" and may be able to follow simple commands like "come here"


Red flags
Children develop at different rates, says the AAP. There may be nothing to worry about. However, it's important you still bring up any red flag concerns with a pediatrician. According to the CDC, talk to your child's doctor if your 9-month-old baby:

doesn't babble
doesn't look where you point
doesn't sit with help or bare weight on legs with support
doesn't respond to own name
doesn't show interest in games like peek-a-boo
doesn't recognize familiar people
doesn't transfer toys from one hand to the other  

What other parents are reading

Playing with your baby to boost development


1. Talk to your baby and have "conversations"
Narrate everything you do with your baby -- when you're giving her a bath, preparing her food, dressing her up, etc. She loves listening to you talk. Have conversations too. Say or ask her something (don't be limited to yes or no questions) and wait for her to babble back. Sing songs together as well! 

2. Use a lot of gestures
As young as 9 months old, babies can already understand gestures. When you extend your pointer finger, your baby already knows that you are trying to show her something. Other common gestures you can do include: holding out a hand to ask for an object, nodding, shaking (which means "no") and waving (as a greeting for "hello" and "goodbye"). 

3. Make up games
You've probably already exhausted playing peek-a-boo and the itsy-bitsy spider, so, make up your own games. Take cups to play with at bath time. Stack blocks and let your baby knock them down. Find more great ideas here. 

4. Teach cause and effect
By now, your baby might be able to understand cause and effect or how a few things work. When you press a button on her toy, music comes on and you can dance to the tune. Show her that when you squeeze a stuffed doll's tummy, it giggles. "Self-confidence will grow as your baby realizes he or she can make things happen," says the Mayo Clinic.   

5. Keep reading
"Reading aloud is one of the simplest ways to boost your baby's language development," says the Mayo Clinic, so keep at it! Make sure there's always a time in your day when you and baby have storytime. It's not just the words that help either. The act of reading aloud -- using different emotions and expressive sounds -- fosters social and emotional development too.

Sources: CDC, AAP, Mayo Clinic, Ages and Stages

CONTINUE READING BELOW

Recommended Videos

What other parents are reading

Celebrate your pregnancy milestones!


Enter your details below and receive weekly email guides on your baby's weight and height in cute illustration of Filipino fruits. PLUS get helpful tips from experts, freebies and more!

You're almost there! Check your inbox.


We sent a verification email. Can't find it? Check your spam, junk, and promotions folder.

Trending in Summit Network