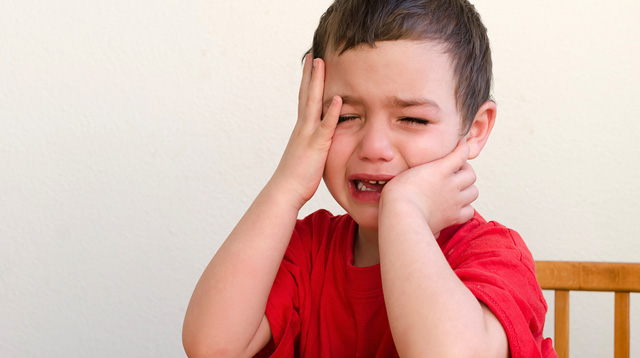 In your mind, it all looks so easy. You and your kids are strolling peacefully in a mall. You pass by each store and look at the clothes together. Your kids choose one toy each at the toy shop; everyone is patiently  waiting for his turn. At lunchtime, looking for a restaurant is the easiest task in the world. And after eating, everybody is clean and peaceful. No one even has to go to the washroom to clean up! Once home, the children kiss you on the cheek and exclaim, "Thanks, Mom! We had a wonderful time!"
    
In truth though, family outings rarely look anything like this ideal scene. More often than not, it can make you feel like you've entered a war zone, with the tantrum being the most common ammunition children use. Stuck in a public place with a screaming child on your hands, you scurry to buy what he wants. Then you leave the store angry with your child, and angrier with yourself for having given in.
    
Children will have tantrums. But for family life to be fun and fulfilling, you need to take charge! As in all things related to parenting, however, addressing a tantrum is not as easy as following a list of things to do. More often than not, you will have to address the bigger picture of practical parenting.

What other parents are reading

Tantrum triggers
First, it's important to understand why children have tantrums. Knowing what motivates your child to use this method might be the best preventive medicine.

1. A child may throw a tantrum because he does not have the language yet to communicate his feelings.
If this is so, it is essential to teach him how to express himself appropriately. In the beginning, you might have to provide the words yourself. After all, feelings can never be wrong. It is the manner of expression that can be problematic. If your child is angry, he is entitled to that anger. He is, however, not entitled to kicking and screaming on the floor.

2. It is also possible that the tantrum might be triggered by physical concerns.
According to Dr. Rhea Lopa-Ramos, school psychologist from the St. Luke's Neuro-Development Center, "if a child is tired, stressed, or hungry, this raises the possibility of having a tantrum."

3. A child might also choose to have a tantrum because he knows it works, because it has worked before.
If this is so, you might have to work on your own consistency so your child knows you cannot be manipulated. This is often a key issue especially if your parenting style has relied on quick fixes. Children are smart and they know which buttons to push to get what they want. You need to be smarter and to lessen the number of buttons that can be pushed. Negotiating is long and tedious, but it is often the best method.

ADVERTISEMENT - CONTINUE READING BELOW

What other parents are reading

4. Lastly, a child might have a tantrum because he is confused, overwhelmed, or unprepared for the task at hand.
Going to a public place might seem the most normal thing in the world to you, but not so to a young child. If he is small, going to the mall might overload his senses, making him unfocused. The number of people present might trigger his fears, such as the fear of getting lost. If this seems silly to you, pretend to be the same height as your child and imagine what it feels to be swimming in a sea of strangers.

Managing tantrums
Personally speaking, I wasn't able to take my kids out productively until only recently. I started by taking them to smaller public places, practicing their skills on such things as crossing the street and handling merchandise in the bank or at the sari-sari store. In time, we've managed to increase the number of hours they can be in a public place. I am proud to say that now we are all able to go out as a family to the mall or to a restaurant. On weekends, one child chooses one place for dinner as well. It is quite fulfilling, and revelatory!
    
Let's say then that you are planning an outing to the mall. What can you do to make sure everyone has a good time? The answer lies in good preparation. This might seem tedious at first, even boring, but once you've set up a good working system, your chances of having a peaceful, productive time in a public place increase. Here then is a suggested step-by-step guide you can follow or adapt to head off those tantrums before they can even begin.

1. Prepare for the big event.
Casually mention to your children a plan to go to the mall. For certain they will be excited and will want to do a thousand and one things. Now is a good time to brainstorm on what you all might want to do once you get there. A good rule is to allow one choice per child. All members of the family will have to respect those choices.

What other parents are reading


    
For Non Lerer, mother of three, this is a most useful method. Her eldest Yaki, 12, will normally choose to go to a bookstore. Her second child, Aviva, eight, often chooses the pet store. Her youngest, David, six, will likely want to go on rides. The mutual respect for each other's choices minimizes complaints, and the constant reinforcement of this basic rule has allowed all the children to enjoy their siblings' enjoyment as well.

2. Have safety rules.
When you have decided on a good day to go and have more or less come up with a list of things to do, you can all brainstorm on the nonnegotiable rules of safety. Lopa-Ramos says that brainstorming allows your children to be part of the family activity. They are not just incidental and therefore will feel respected. It is important to know your children's abilities, after all. "If you intend to shop till you drop, your toddler might not be the best companion," adds Lopa-Ramos. Basic rules might include:

* Always hold hands with a grownup.
* No running around and touching merchandise.
* Don't talk to strangers.
    
You can always refer to these rules when your children begin to disobey them when you get to the mall.

3. Set an agenda.
The pre-mall phase might be a good time to decide on what to buy, as the act of choosing itself often sets up a tantrum. Be honest enough and tell your child what you can afford. If he's undecided, think of at least two options. Most of the time, the tantrum occurs because of the sheer number of things that one can buy once inside a toy store. Those two choices will keep him focused and in control.

ADVERTISEMENT - CONTINUE READING BELOW

What other parents are reading

4. Make sure everyone is ready and dressed comfortably.
And finally, the big day arrives. Make sure your kids wear comfy clothes. Party clothes or formal clothes might not be the best, as you want to maximize their energies. Choose a time when everyone is well rested. Avoid bringing children who are under the weather as you also jeopardize the health of the others. Make sure you have all the important items within easy access.
    
To head off boredom in the car, play I-Spy or 20 Questions. You may also review what you've decided to do for the day. Begin thinking of what you might want to eat for lunch or merienda.

5. Assign individual tasks.
Giselle Santos, mother of three, spends this time in traffic assigning her different children different "jobs." Her eldest son Teej, six, will be in charge of counting all family members before they leave an establishment. Her daughter Marty, four, will keep tabs on the baby bag so it doesn't get left behind. Giving children jobs allows them to feel important and proud of themselves.
    
Because you've already planned ahead, all you need to do when you get there is to get going. If any of the rules are disobeyed, simply stop, assume a position that puts  you on a level with your child, and gently remind him what rules you've agreed on. Try not to be too heavy-handed about infractions. Children will always try to bend the rules.

What other parents are reading

Coping with a meltdown
As an involved parent, you will soon know that a tantrum doesn't just happen; it normally happens in phases. You can try to catch it between phases.             

Sometimes it's just as simple as your child being hungry or thirsty. Boredom might also add to the restlessness. A quick diversion might just do the trick. If things aren't going your way and you've more or less accomplished half of what you set out to do, it's not a bad idea to just call it a day, at least while everyone's still happy.
    
Let's say a meltdown or a tantrum occurs. What then? This might seem difficult, but when it happens in a public place, it is important for your child to feel that you are on his side. I cannot overstress this: Do not be on the side of the public (whom you think is judging you, but deep down probably empathizes with you) but rather on the side of your child. A tantrum can be scary to the child because it is a moment which he cannot control.
    
If your child is beyond communication, the best form of communication is action. Take your child and leave. Do not use physical punishment. Do not scold him or berate him or call him names in public. These leave scars on children. Taking them away is fast -- and effective.

ADVERTISEMENT - CONTINUE READING BELOW

What other parents are reading


    
It is what happens after a tantrum that is most pregnant with learning possibilities. Once your child has calmed down, sit down together and go over what happened during the day.                 

Congratulate him on the small successes. Perhaps he did a good job of obeying you. Maybe he was able to respect his siblings' choices. Those are small steps that must be celebrated. Let him speak about what caused his distress. If he cannot enunciate the reasons, continue by brainstorming what more effective choices he could have made. Point out to him that his actions caused the family to go home early. Then plan when the next event might be. This tells your child that you have faith in his capacity to do better.
    
After all, the whole idea, Lopa-Ramos says, is to empower your children. "If you give them the skills they need to problem-solve, they will be better adults when they grow up," she adds.

What other parents are reading

When you lose it
Grown-ups have tantrums, too! Here's how to put a lid on it

It's understandable to want to blow up when the kids get unwieldy. When I was a brand-new parent, I thought it was wrong to be angry. The longer I've been a parent, however, the more I realize that I also need to be angry sometimes. If I teach my children that it is okay to be angry, then I must allow myself that emotion as well.
    
Dr. Rhea Lopa-Ramos suggests some strategies to try if you feel your own meltdown coming on:

1. Explain to your children why you are angry.
If your anger has no context, they might take anger as an arbitrary feeling. Concretize your feelings with words like, "I am angry because you disobeyed me."

2. Call a timeout.
Timeouts for you might be helpful as well, especially when you are seething. If you are truly angry, chances are you might not be equipped to speak anyway. Tell your child that you need time away first before you can deal with him again. Just make sure that you do come back and thresh out your argument.

ADVERTISEMENT - CONTINUE READING BELOW

What other parents are reading

3. If your anger is linked to tiredness or sickness, inform your children that you are not angry with them, but that you need to take a rest.
This is better than taking your anger out on the children, who might not be equipped to read the signs and presume they have done something wrong.

4. Lastly, ask help from your partner.
You don't always have to play heavy. Your partner might want to take on this particular war and give you some peace, at least for the meantime.    

Trending in Summit Network