10 Best Nintendo 3DS You Can Play With Your Kids

Nintendo has the most child-friendly games.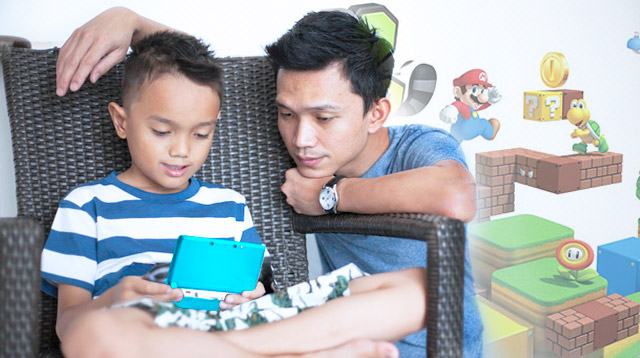 When it comes to handheld gaming consoles, Nintendo has been at the forefront for decades. The 3DS, although not strictly limited to the younger set, have an all-ages appeal and functionality that even a 5-year old can figure out, which makes it one of Nintendo's best-selling handheld systems ever.

The Nintendo 3DS uses two screens: the bottom utilizes touch screen features while the top screen has stereoscopic 3D, but you don't need 3D glasses to appreciate. The New Nintendo 3DS, released in Japan in 2014, introduced head tracking technology, using cameras that tracked your eye movements and adjusted the stereo 3D effect accordingly.

You can also turn the feature off if you're iffy about 3D, especially if your kid is under age 6. Nintendo recommends that only children over age 6 should use the system in 3D mode, and if little kids use it, parents should restrict the display of 3D images using the Parental Controls feature. It doesn't take away the gaming experience when you play it in 2D mode.

What other parents are reading

Aside from being a gaming system, the Nintendo 3DS also features a 3D camera, which makes it a great companion for long road trips and out-of-town travels. Did we mention it's cheaper than the Switch and much more compact? Here are the top games we recommend.

Super Mario 3D Land

ADVERTISEMENT - CONTINUE READING BELOW

No Nintendo console is complete without a Mario game, and Super Mario 3D Land showcases the system's 3D feature quite well. The game follows the traditional Super Mario gameplay of running, jumping, and stomping enemies, with the option to fly over them or scorch them with fireballs. The game also has several challenges within each level, giving the game a very high replay value.

Mario Kart 7

Racing can be a high-octane adrenaline rush, but who says it can't be fun, too? Mario Kart 7 is one of the most enjoyable racing games around, with a Grand Prix mode, Time Trials, Balloon Battle, and Coin Runners. The Grand Prix mode has three levels of difficulty, plus a Mirror level where the courses are flipped, just to shake things up. You also have the option to customize your kart to race in eight different Cups, each cup composed of four circuits, for a total of thirty-two various courses!

CONTINUE READING BELOW

Recommended Videos

Lego Star Wars III: The Clone Wars

Comic book fans might love Lego Marvel Super Heroes or Lego Batman 2: DC Super Heroes, wizarding fans will love Lego Harry Potter, and for Star Wars fans, we have this. There are a lot of levels, side quests, and hidden objectives that give it a lasting gaming life. Even non-believers of The Force will find this game enough of a challenge that defeating the dark side will be such an achievement.

Adventure Time: Hey Ice King! Why'd You Steal Our Garbage?!!

ADVERTISEMENT - CONTINUE READING BELOW

Kids who love the popular animated television series will enjoy this mix of top-down exploration and side-scrolling action game. On the surface, the influence of role-playing game (RPG) from the likes of The Legend of Zelda is quite evident, but after a few minutes of playing, you'll be completely immersed in the digital Land of Ooo, with almost all the characters from the show, whether you're playing as Finn or Jake.

Minecraft: New Nintendo 3DS Edition

Minecraft is probably the most popular building game ever created, despite being released in 2009. Using different types of blocks, players can create characters, weapons, and structures. The 3DS hardware is obviously not as powerful as the consoles (read about it PlayStation 4 version here), so there are limitations to the size of the world and the number of characters that can exist at any one time. But despite those, kids can still get lost in a creative flurry while having fun.

ADVERTISEMENT - CONTINUE READING BELOW

FIFA 15

Too bad that the 3DS doesn't have a license for the popular sports games such as basketball or tennis, but EA Sports has been gracious enough to license football out. Granted, of course, that it is one of the world's most popular sport, but too bad they discontinued it in 2015. FIFA 15 is the last of the great sports games for the 3DS, and it still remains a beautiful game for both kids and adults alike.

The Legend of Zelda: Ocarina of Time

ADVERTISEMENT - CONTINUE READING BELOW

Ocarina is not an original 3DS game – it was originally released for N64 game console but was remastered for the 3DS. But it is one of the best 3DS games of all time. It has action and adventure in the familiar third-person RPG mode, and has an enormous, sprawling open world. Even just riding your horse to explore how big the world can be an enjoyable activity in itself.

Pokémon X

There are several Pokémon titles for the 3DS, such as X, Y, Omega Ruby, Alpha Sapphire, Sun, Moon, Ultra Sun, and Ultra Moon. They are basically the same, with only slight variations between them. If your child followed Ash's journey to becoming a Pokemon master (he recently just did it!), this game lets your child create their own customized character. Travel around different regions trying to catch as many Pokémon as possible, just like Ash, and the online feature (with supervision, of course) allows you to battle other players from all over the world.

ADVERTISEMENT - CONTINUE READING BELOW

Professor Layton and the Miracle Mask

The Professor Layton games (yes, there are a lot to choose from) win a place on this list for the beautiful character designs, engaging narrative, and the cutscene videos that look awesome in 3D. The gameplay is a bit long even for adults, and some of the puzzles are admittedly quite advanced for young kids. The upside is it makes playing the game a great bonding activity with you and your child, working together to solve the puzzles!

Donkey Kong Country Returns 3D

ADVERTISEMENT - CONTINUE READING BELOW

Donkey Kong Country Returns is originally a game released for the Nintendo Wii game console and was eventually ported to the 3DS because of its popularity. It is basically exactly the same as the Wii version, except that the graphics aren't as good because of the hardware limitations of the 3DS. In this side-scrolling adventure, you play as Donkey Kong off to find the thieves of his stolen banana trove.

Video games are not necessarily evil, especially when done in moderation. Check out recommended screen time limits here.

What other parents are reading

Celebrate your pregnancy milestones!


Enter your details below and receive weekly email guides on your baby's weight and height in cute illustration of Filipino fruits. PLUS get helpful tips from experts, freebies and more!

You're almost there! Check your inbox.


We sent a verification email. Can't find it? Check your spam, junk, and promotions folder.

Trending in Summit Network