Experts Say This Digital-Related Invisible Load Is Burning Moms Out

What is unpaid digital care work and can moms share the load?

by

Em Cruz

.

Published Sep 25, 2023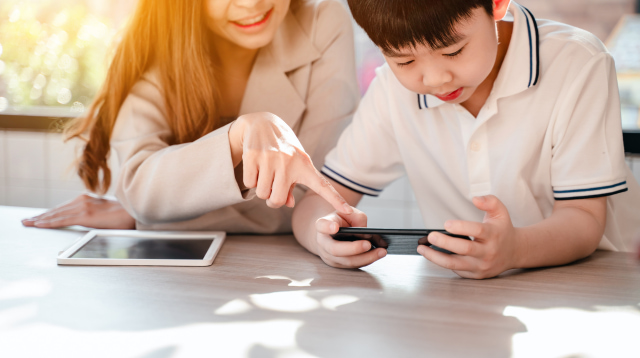 If you're a mom and you're feeling more rundown and tired in the last 2-3 years, you're not alone. A recent study has found that mothers are carrying another "invisible load" since the pandemic: unpaid digital care work.

But before delving into the study, let's first understand what "invisible load" means. In recent years, terms like "invisible load," "mental load," "default labor," and "emotional labor" have gained popularity. These terms imply that one parent, often stereotypically the mom, becomes responsible for doing or thinking about various small tasks, such as scheduling and keeping track of doctor's appointments, meal planning, and managing school-related forms. It is considered as the behind-the-scenes work that goes into being a parent. The small, yet important and necessary tasks.

Studies consistently show that moms tend to bear this "invisible load" – they become the "default parent," or the "first in line" for childcare and home responsibilities. It's no wonder that most moms are exhausted.

What is unpaid digital care work?

According to the study published by Fae Heaselgrave, unpaid digital care work involves the desire to "protect, guide, and educate children in their media use."

This includes tasks such as educating kids about online safety, monitoring their online activity, managing their screens and devices, configuring parental controls, staying informed about digital trends, knowing their child's online friends, and controlling their family's digital footprint.

It's understandable why unpaid digital care work became even more crucial during the pandemic, a time when most activities shifted online.

What other parents are reading

What did the study on unpaid digital care work find?

Heaselgrave, a lecturer in communication and media at the University of South Australia, conducted interviews with mothers for the study. These mothers described unpaid digital care work was "intense, constant, and unyielding." The work takes a "physical and emotional toll" on mothers. The interviewed moms disclosed that "they spent time and energy stressing about the risks of digital media use, potential scams, and setting rules and boundaries on content consumption, such as computer and phone use and parental controls." The moms further said that they saw it as their responsibility to mold their kids into "responsible digital citizens."

ADVERTISEMENT - CONTINUE READING BELOW

The mothers interviewed had children aged 9 to 16 years old, and their answers highlighted the importance of digital care work.

For instance, a mom of a 10-year-old boy shared her anxiety when she discovered that her son had downloaded inappropriate content due to her forgetting to set up permissions on his device for app downloads. She explained, "I had his account set to 'don't need permission for free apps' and so he just went in and downloaded some really inappropriate adult content. Of course, I'm panicking thinking 'Oh my God my child is looking at this sort of stuff and he's too young,' but it didn't take too much searching to find out that's exactly the age when they start becoming curious."

Why does "unpaid digital care work" typically fall on mothers' shoulders?

Another key finding from the study is that unpaid digital care work often falls on mothers because male parents tend to underestimate its importance. Some even view social media or technology use as a "reward" for good behavior.

One mom admitted that her husband is "disinterested" in digital media and holds"old school" parenting attitudes. While she acknowledges her own limited digital literacy, she takes on the responsibility of digital care work and encourages her husband to update his approach.

Another mom, Kitty, mentioned having to reaffirm her primary role in her child's media use when her partner occasionally bent the previously established rules as a reward for good behavior. She explained, "He [husband] would say things like, 'Josh has been a really good boy lately and we're all very tired, perhaps he is allowed to have the iPad in his bed tonight,' so I had to re-educate my husband because he would reward him by bending the rules and that would make it harder… So I'm trying to reinforce, you know, reward him absolutely but don't reward him by bending the rules because the minute we do, tomorrow night will be a carry on."

ADVERTISEMENT - CONTINUE READING BELOW

What other parents are reading

Is the additional load worth it?

Furthermore, the study found that most mothers are comfortable with the additional load of managing their kids' digital care. Allowing children to use media or mobile phones enables moms to express their care even when apart. Additionally, it can make their lives more manageable, facilitating school pick-ups and providing reassurance that he kids are safe. This is evident in the moms saying they "had to give" their kids a phone:
"I had to give them a phone so that if I was running late, I could just send them a message." – Pat, 15-year-old son

"My daughter recently started catching the bus home, so we'd given her a phone so that we know she was okay." – Jemina, 10-year-old son, 12-year-old daughter

However, the fact that the kids have access to mobile phones can also add anxiety, especially when children forget their phones or fail to answer messages immediately.

ADVERTISEMENT - CONTINUE READING BELOW

"The unpaid digital care work mothers do is vital for children of all ages' physical, cognitive, and emotional health. But it shouldn't just be on mothers. Both parents should play a role." -- Beth Ann Mayer

Is there a way to share the load of unpaid digital care work?

Parents writer Beth Ann Mayer says it best: "The unpaid digital care work mothers do is vital for children of all ages' physical, cognitive, and emotional health. But it shouldn't just be on mothers. Both parents should play a role."

So how do moms share this yet another invisible load to their husbands or partners?

Advocate for yourself. Ask help from your partner and parent as a team.
Decide on set guidelines for your household's digital use and safety. Since you're working on this as a team, it's best to sit down with your partner and discuss the rules and limits especially concerning the children's tech and digital media use and enforce it. Assign accounts or tasks o manage and keep track your family's digital footprint.
Use research and available resources to your advantage. Keep up to date of the latest studies on digital media use and use it as basis in coming up with your family's digital media use. You can also use the American Academy of Pediatrics (AAP)'s Family Media Plan and Common Sense Media to help you make joint and informed decisions on media consumption.
Involve your kids. Allow your kids to have some say in some aspects of your family's digital media plan or their use. Doing so will set their expectations and minimize any tantrums or issues later. It will also help you and your husband in filling out your family plan as your child recommends the shows he wants to watch and when.
Set an example. Use this as a chance to work on yourself to become a better digital citizen and even perhaps minimize your digital media use.

ADVERTISEMENT - CONTINUE READING BELOW

Parenting should be a team effort, and this should include all the invisible loads that come with it. Discuss it as a team, implement, and share the load.

Trending in Summit Network