Practical Guide To Talking To Your Kids About Gender, Sexuality, and Condoms

'The only mistake we make as a parent with regards to gender is refusing to accept our child for who they are.'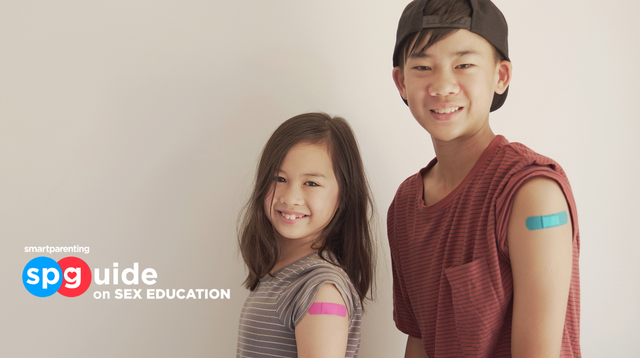 Smart Parenting Guide on Sex Education seeks to empower parents in raising informed tweens and teens who understand their body and their rights with the goal of protecting them from all kinds of sexual abuse. Smart Parenting resident sex education expert, Dr. Rica Cruz is a US-board certified sexologist, a sex and relationships therapist. Together with tween daughter Caia Miella, Dr. Rica, navigates the realities of sex in the eyes of today's teens and tweens and aims to foster honest and healthy conversations between parent and child. 

The following story is the second part of a series by Dr. Rica Cruz and Caia Miella on practical tips for teaching kids about sex. It includes puberty and periods, loving your body, crushes, and this last installment talking about sexuality and condoms.

Why do we want to teach our kids about sex? Because studies tell us that kids and teens who have regular conversations and constant guidance from their parents about sex and relationships have less tendency to engage in risky sexual behaviors and are more likely to be safe and responsible when it comes to their sexual health. 

Research also says that these conversations actually help them delay their sexual debut until they feel that they are rightfully ready to make informed decisions about sex. So if you're a parent and you don't know where to start here are practical tips on teaching your tweens about sex.

It's never too early to talk sexuality 

Rica: The concept of sexuality being fluid may still be hard for some of us parents to grasp as there are many new terms we are unfamiliar with. However, what's most important is for us to understand that our children may have a different sexual orientation or sexual preference than we want, and that's okayyyyyyy. 

'The only mistake you make as a parent with regards to this is refusing to accept your child for who they are.' –Dr. Rica Cruz

Sometimes communities make it seem like parents made a mistake that caused their child to choose a different sexual orientation, but the only mistake you make as a parent with regards to this is refusing to accept your child for who they are. There is nothing wrong with your child coming out and telling you how they feel about themselves. 
In fact, it shows that they trusted you and felt comfortable enough opening up to you about it.

On her 10th birthday, while we were having spaghetti, Caia blurted out that she feels that she's bisexual, and we all high-fived it! Instead of questioning your child, learn to accept that they're born to explore who they are and not who you want them to be.

Caia: I believe that your sexuality can be important in identities, and things that can define you. Exploring your sexuality is normal, and also healthy. Sexuality has an impact on lives. I think of myself as bisexual, because I have crushes on girls and boys. And I think that's okay. 

'I think that as parents, you need to provide a safe environment for your children to be open to be who they are.' –Caia Miella, 11 years old

I have a friend who's aromantic, meaning he has little to no attraction to others, and that's okay too. I never thought that there must be something wrong with me, unlike some of my friends who have confused feelings. Sometimes my friends ask me about sexualities, with questions like if it's ok if girls like girls, or boys like boys and I do not judge them for it.

I'm also grateful that my parents accepted my sexuality, and grateful to live in a healthy environment. Sexuality is an important part of your life, and can change your perception of things. And I think that as parents, you need to provide a safe environment for your children to be open to be who they are.

Condoms are your friends!

Rica: Condoms shouldn't break but they might help break the tension you feel explaining sex to your kids. LOL! Bring out a condom and blow it up into a balloon to break the ice, or start demonstrating how to use it over a phallic object (banana/cucumber/etc) while explaining that male condoms are thin sheaths placed over an erect penis. It's used to reduce the risk of passing and getting sexually transmitted infections, and also prevents unwanted pregnancies. 

Condoms work by blocking semen from being shared with another person. When condoms are used perfectly, they are 98% effective. But reality can bring it down to 85%. Explain to them that condoms are always the safest option during a sexual encounter as contraceptive pills only protect against pregnancies and still leave them vulnerable to STIs. 

If your child wants to start oral contraceptive pills in the future, it's best to bring her to an ob-gyn and have a proper consultation to determine which pill will be best for her to use. It's also important to ensure that your daughter receives her HPV vaccine (preferably before her sexual debut) to decrease her risk of getting HPV and developing cervical cancer. 

(Ed's note: Very Well Health reports that sex ed doesn't encourage sex. "Comprehensive sex education doesn't encourage kids to have sex," writes Elizabeth Boskey, PhD. When talking to your child about sex, including the discussion of safe sex equips them with knowledge. Obviously safe sex is also an age-appropriate conversation--not one to have when they're toddlers learning the proper terms for their body parts. But it is information you may consider being the first to explain to your child in order to frame it properly, rather than having peers or the Internet explain safe sex.)

RELATED: Magulang O Internet Ang Magtuturo Ng Sex Sa Anak? Expert Says Sex Ed Starts At 2

Talking to kids about sex earlier makes it less uncomfortable

Caia's: I remember Mama and Baba taught me how to put on a condom when I was 8. I think condoms are a great invention because it can keep us safe from disease, and it can also be contraception, plus they also make good balloons for my little sister, Kiki! 

You should teach kids about condoms. They can also be used for water-proofing, especially during the rainy season, when there are calamities, or maybe even a zombie apocalypse!

When parents start teaching kids little things about sex at a younger age, instead of talking to them when they are already teenagers with a REALLY BIG talk on sex ed, it would (for me,) make conversations less uncomfortable. 

If the child is already growing up and would've already received some information about sex, and also the myths and misconceptions about it, it would help a lot for kids not to feel awkward or shameful about asking and talking about sex if parents talk to their kids earlier.

And I really think that that should be on YOU, the parent. 

Love, Caia

READ MORE FOR SMART PARENTING'S GUIDE ON SEX EDUCATION:

What other parents are reading

Celebrate your pregnancy milestones!


Enter your details below and receive weekly email guides on your baby's weight and height in cute illustration of Filipino fruits. PLUS get helpful tips from experts, freebies and more!

You're almost there! Check your inbox.


We sent a verification email. Can't find it? Check your spam, junk, and promotions folder.

Trending in Summit Network