Good Manners Matter, and These Moms Want to Help Fellow Parents Teach It

"Etiquette and social graces are essential life skills."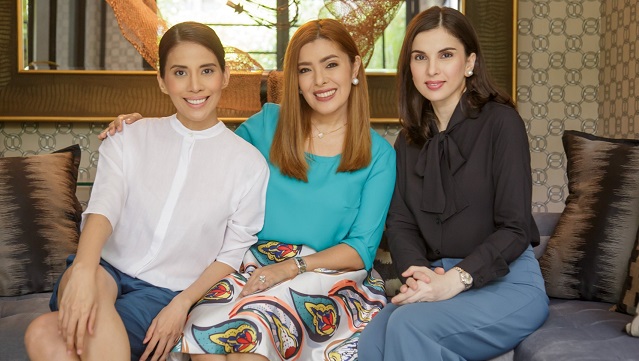 Working moms China Jocson, Happy Ongpauco-Tiu, and Ana Roces have turned their shared parenting values into a business venture, one that addresses the need to learn good manners and right conduct.

It's called Mini Manners, and China describes it her as a "finishing center offering 'mini' or capsule programs in dining etiquette, social graces, personal and professional image enhancement and other customizable courses for kids and adults alike."

China, Ana, and Happy explained how they got involved and what roles they play in Mini Manners through an email interview with SmartParenting.com.ph.

 

What other parents are reading ADVERTISEMENT - CONTINUE READING BELOW
China, a former news and lifestyle TV reporter and now government official, served as the link between Ana, an actress since the late 1980s, and Happy, a restaurateur who has showbiz connections through her mother, Liberty Ilagan, a popular actress in the 1960s. China and Ana used to be neighbors, while China and Happy are old friends. Over the years, China hosted gatherings with both Ana and Happy as guests. And it was after one such lunch get-together in 2015 that they began to hatch the idea of Mini Manners.
China, a mother to a now 10-year-old girl, was inspired by New York's The Plaza Finishing Program's Children's Etiquette Course. Boys and girls, ages 5 to 9, learned the "fundamentals in both dining and social etiquette, including, but not limited to basic table manners, greeting adults with respect, making friends and positive body language and eye contact," according to its website.
China recalled, "I thought that locally, if the curriculum and setting were tailored to be more attuned to our participants, then we could also offer such programs. 
"We studied my proposal, dedicated time on research and development, which took more or less a year. Please note that before the 'mini' or capsule programs, the group had already been doing corporate runs for almost two years, spearheaded by Ana as a trainer."
What other parents are reading ADVERTISEMENT - CONTINUE READING BELOW
Aside from acting, Ana, who's a mom to Mela, 14, and Mateo, 8, has built a career as a mentor on professional development and corporate image. In 2011, she completed Image Mastery at the International Image Institute, Ontario, Canada. Two years later, she took a trainer certification program on Etiquette at The Etiquette School of New York.
Happy's initial involvement was through her company, Happy Concept Group, which provided food and service for the seminars organized by Ana and China. "It served as preparation because my team became familiar with what was being taught in terms of setting, curriculum and the seminar proper," she pointed out. ADVERTISEMENT - CONTINUE READING BELOW
Mini Matters holds classes for 10 children at a time. Two of Happy's sons, (she has four: Renzo, 15, Francesco, 7, Nico, 6, and Mateo, 3) had been part of the first class when Mini Matters opened.
Happy said, "I really believe in instilling manners. I want [my sons] to grow up to be gentlemen and to treat others right. Boys can be a challenge, but with programs like this, it makes it easier for moms to enforce social graces and etiquette."
China says good manners "must be religiously exercised until it becomes a habit, especially nowadays when children are more exposed to multi-cultural settings with school and travel. Their manners should be intact in dealing with this variety of situations.
What other parents are reading ADVERTISEMENT - CONTINUE READING BELOW
Ana, who primarily teaches at Mini Manners and whose daughter assisted her in classes over the summer, says "Etiquette and social graces are essential life skills. When children learn, develop, and practice these skills, it helps shape their character until they become adults. Our world today has become digital and gadget dominated. We connect with people on a personal level much less now. At times, we do not realize that our behavior towards others is rude and insensitive."
Ana went on sharing details on the courses offered at the finishing center. "Mini Manners programs for kids have two main capsules, Mealtime Manners and Social Manners. These capsules are short courses that run for three hours. Social Manners are subtopics like greetings, first impressions, posture and gratitude, communication, among others."
Happy recalled briefly partnering with China on another business venture years ago, but they had to discontinue it because their other partners went abroad. Mini Manners is their first entrepreneurial undertaking together with Ana.
ADVERTISEMENT - CONTINUE READING BELOW
"We have different personalities, so we don't clash," Happy said. "I'm the relaxed one in the group they say I'm almost zen, Ana from what I noticed is very organized, and China is very, very, very strict."
Ana agreed, saying that the main advantage is having their own strength, duty, and responsibility for Mini Manners. "As friends, we are fully aware of this, and we respect each one's contribution to the venture," she noted.
"It is always fun working with friends," China observed. "Our meetings are probably 90% social and 10% work. We come from different backgrounds and are still very much involved with our profession outside Mini Manners; thus, we also see this business as a welcome break from our 'regular programming.' I don't feel any disadvantage right now and do not look forward to one."
What other parents are reading

Trending in Summit Network