10 PlayStation (PS4) Games for Your Weekend Date With the Kids

Playing video games need not be detrimental to your child's overall well-being.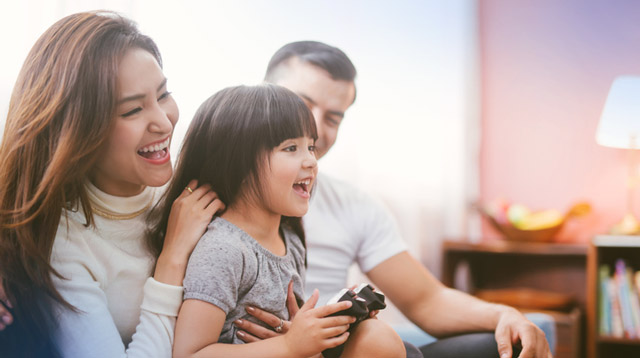 Is it okay to let kids play games on smartphones but not on consoles like the Playstation? Video games have always gotten mixed reactions from parents. We worry the if we allow our kids to play video games, they'll end up violent (this is debatable) or addicted. Too much screen time is now considered a disorder, one that has adverser effects on kids' physical and mental health. It can also be detrimental to their socialization and academic performance.

But playing video games offer some advantages. It can help develop hand-eye coordination, devise strategies, among other skills. Or, your child could also get so good at it they learn to code and design games.

For some households, it's almost impossible to tell kids never to play video games, especially when you let them play already. The key is to choose quality educational and fun games, but limit the time spent playing them. Make sure that you and your child agree on your gaming rules.

10 PlayStation 4 games kids can play

The first PlayStation console came out in 1994 and was such a hit that it has practically become synonymous to gaming. Playstation 4 is a video game console that's worth an investment. There are a lot of great games for adults (ahem, moms and dads) and a lot of fun and educational games for kids of all ages. It has solo games and multiple-player games so everyone in the family can join in!

Here are a few of the most popular PS4 titles all ages can enjoy.

ADVERTISEMENT - CONTINUE READING BELOW

Lego Harry Potter

There is a lot of Lego video game titles, and choosing one can be difficult. There's Lego Batman, Lego Marvel Super Heroes, Lego Star Wars, and Lego Lord of the Rings, so it's up to you to choose a fandom your kid will enjoy. The Lego titles have simple gameplay. They also have a lot of levels, objectives, and side quests, giving this game a very high replay value.

Minecraft: PlayStation 4 Edition

CONTINUE READING BELOW

Recommended Videos

Minecraft is to computer games what Lego is to real life. With a variety of different blocks, players can create almost anything they can think of. Minecraft's normal mode includes traditional gaming activities such as exploring, gathering resources, crafting items, and fighting other players. Kids love the creative mode, where they have access to unlimited resources to build their world. The only limit is creativity.

NBA 2K20

The NBA 2K series boasts of one of the best graphics of any computer game ever, and it appeals to all ages! The plus factor is Filipinos love basketball so much that some kids are shooting hoops the moment they learn to run and jump. Player names and looks are customizable. Choose to play single games, a finals series, the playoffs, or a regular season, and even how long you want each quarter to be. The best part is the two-player competition, allowing parents to bond with their kids. (NBA 2K20 comes out on September 6, 2019, but if you can't wait, it has a 2019 version.)

What other parents are reading

ADVERTISEMENT - CONTINUE READING BELOW

FIFA 2020

Another classic sports video game, FIFA 20 is the best football experience you can have in the comforts of your own home during non-World Cup years (it's every four years). Choose to play different tournaments, from the World Cup to the Champion's League to the other leagues around the world. There's also Street Football, which as the name suggests, is played on the streets with five players each team. It's a plus that FIFA soundtracks are always excellent. (FIFA 20 comes out on September 6, 2019.)

Team Sonic Racing

ADVERTISEMENT - CONTINUE READING BELOW

The kart racing games look simple, but they are so fun! Choose your character and your kart — each one has its own unique abilities. Race on colorful tracks where you avoid obstacles, gather rings, and collect power-ups. There are other kart racing titles on the PS4, but whether in single-player or multiplayer mode, Team Sonic Racing takes out all the danger of high-speed racing and replaces it with fun.

Rocket League: Collectors Edition

This game combines cars and football, like "soccer but with rocket-powered cars." What you basically do is drive cars while trying to hit a huge football to drive it into huge goalposts. Play an exhibition match or a full season, with single-player or multiplayer gameplay, and some recently added modes based on basketball and hockey. The best part? You can play this offline!

Little Big Planet 3

ADVERTISEMENT - CONTINUE READING BELOW

Do your kids have a knack for creating stuff? If your child loves Minecraft, then he or she will definitely enjoy this. Little Big Planet 3 plays like a side-scrolling game rendered in cute 3D, and it comes with its usual missions and stages. What adds to this game's fun factor is the ability to design your own levels, as well as customizing the characters, power-ups, vehicles, and decorations.

What other parents are reading

Plants vs. Zombies: Garden Warfare 2

In the original Plants vs. Zombies game, the good guys are the plants, and your mission is to stop a horde of zombies from reaching you. The roles are reversed in Garden Warfare, and you can play the role of different types of zombies, each type with a different skill,, against an incoming attack of plants. The game is set in a 3D world similar to first-person shooters, and the levels are colorfully and beautifully designed, large enough to explore but not large enough to get lost in.

ADVERTISEMENT - CONTINUE READING BELOW

Overcooked

In this game, each player plays the role of a chef in a kitchen. With different ingredients and cooking methods, they create their signature dishes, which must be prepared, served, and cleaned up within a specific time limit. Completing each order correctly earns the chef rewards, and each kitchen's different layout adds to each level's difficulty. There's a single-player mode, but it is best played with a team of up to four players, just like a real Michelin-star restaurant.

Crash Bandicoot N. Sane Trilogy

ADVERTISEMENT - CONTINUE READING BELOW

What Mario is to Nintendo, Crash Bandicoot is to the PlayStation. Crash is the console's mascot, although his popularity has dwindled over the years. The game is a compilation of the first three games of the series, namely Crash Bandicoot, Cortex Strikes Back, and Warped. They were released in the 1990s, giving this game a nostalgia feel. The entertaining gameplay combines 3D open-world exploring with side-scrolling, and you can see the gradual evolution of the graphics from the original rough polygons of yore.

What other parents are reading

Celebrate your pregnancy milestones!


Enter your details below and receive weekly email guides on your baby's weight and height in cute illustration of Filipino fruits. PLUS get helpful tips from experts, freebies and more!

You're almost there! Check your inbox.


We sent a verification email. Can't find it? Check your spam, junk, and promotions folder.
Trending in Summit Network