This TikToker Is Begging Not To Prank Kids For Content: 'Do Other Trends'–And We Agree

Nana Silayro, with 4M followers on TikTok, explained why a recent TikTok trend can cause trauma in children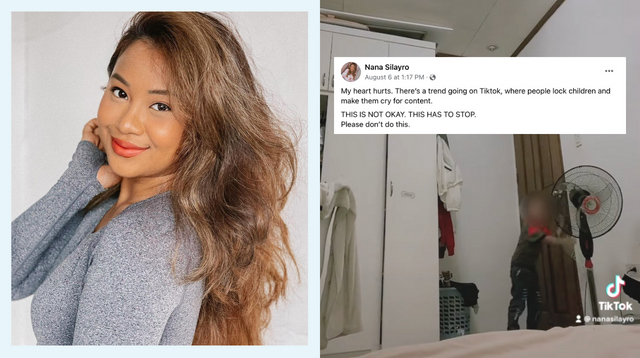 Content creator Nana Silayro, who has 4M followers on TikTok posted on August 6 a short video begging parents not to continue the content trend she's seen on the platform. The prank involves adults locking children in a room while their mobile phone records the whole incident from inside the room. 

Her video starts with actual content of a woman locking a boy inside the room and leaving him in it despite his panic and obvious objections of being locked in a room alone without his knowledge. The faces of both the woman and child were blurred in Nana's video.

"First of all, I don't want you to attack the person who posted this. This has nothing to do with her but this is just my opinion. And this is me speaking as an early childhood educator," she says at the beginning of the video.

"This is not okay," she says clearly and firmly. "I'm not sure if people are aware of the consequences of the trend they're doing. It's really sad kasi people are doing it for content. I hope you are aware that whatever you're doing, if you're planning to do this in the future, this will cause long-term trauma sa bata," she says.

'I'm begging you. Ako nalang po yung representative ng lahat ng bata who are not able to express themselves. Please stop doing this.' –Nana Silayro

Nana goes on to say that the video she is posting was already her second take because the first time she tried to film, she was too emotional and was crying.

"Don't don't ever do this," she says. "A lot can happen in those few seconds na you're locking the child inside the room."

ADVERTISEMENT - CONTINUE READING BELOW

She goes on to run down a list of things that could happen while a child is locked alone in a room: a child can bang their head, pull wires, have convulsions, faint, were some of her examples.

"The child will have very very bad trust issues. The child will stop talking. The child will never trust you," she says.

"I'm begging you. Ako nalang po yung representative ng lahat ng bata who are not able to express themselves. Please stop doing this," says Nana. 

"Do something else. Do other trends. I know you like it because people think it's funny," she says. Nana pulls up a few comments of TikTok users from the prank contents and some of the comments were request for a second part of the prank. Others were giving tips and ideas on how the prank could be "improved", such as turning off the lights before leaving the room.

"Kawawa po yung mga bata," says Nana.

Prank or trauma? Here's what a child expert says

A number of users thanked Nana for speaking up about the trendy content. Some shared that they were locked in a room as children as a form of punishment, and recognize today that they were traumatized as children.

Others commented that those who say this prank is traumatizing are taking it too far. It's just an innocent prank. A commenter said that she's been told "ang lungkot siguro ng buhay mo" because she identifies the TikTok trend as traumatic for a child.

ADVERTISEMENT - CONTINUE READING BELOW

Recommended Videos

The particular video shared by Nana shows that the child who was locked inside the room is not a preschooler or toddler. However, the same video also shows that the child panicked and banged at the door upon realizing the adult he was with locked him alone inside.

'Locking kids in a room is a type of emotional abuse. In those few minutes of being left alone, the children can feel intense panic, fear, and anxiety.' –Gail Galang, PhD

Child and Family Studies expert Gail Galang, Ph.D. says "Locking kids in a room is a type of emotional abuse. In those few minutes of being left alone, the children can feel intense panic, fear, and anxiety." 

Dr. Galang echoes Nana's thoughts, that many things can happen when a child is left unsupervised in a room alone. "It is dangerous because they can trip, fall, hit their head, jump out of an open window or balcony, among many other possible reactions."

"As a result, children can feel very angry and violent, hitting the caregiver upon returning to the room. The child can also develop severe separation anxiety and may not adjust well when being left in school, she says. 

Dr. Galang says that this activity can work against the efforts at helping a child grow more confident. "Instead of being confident, the child can feel insecure in a birthday party, for instance, always glancing if mom and dad are still there." 

"In the long run, these children can grow into teens and adults with trust issues," she says. "They can be too clingy or too suspicious of other people's motives and intentions." Additionally, "the video can also cause vicarious distress to those viewing it," says Dr. Galang.

ADVERTISEMENT - CONTINUE READING BELOW

Can't a joke just be a joke?

When is it just a joke? There are a number of content trends that are clearly light and funny. Perhaps what we might not be considering, when we are joining in on trends, are the child's experiences. If a child is already afraid of being left alone or experiences separation anxiety from her parents, a prank such as locking her alone in a room even for a few seconds will not be productive for the child.

This is not to say that performing this prank on a child will automatically create trust issues for all children. The message of Smart Parenting's expert is to say that it can be harmful for the child. And the question that we raise is are we willing to risk creating a negative impact on the child for our content?

The call to attention, coming from a content creator, shows that proper judgment must be exercised at all times and that the hearts and likes are no reason to put children in harm's way, or in Nana's words "cause trauma".

In the US, social media users have called the attention of parent content creators whose content borders on abusing their children through pranks and jokes. While not all parents or adults maliciously prank children, we must also be ready to take a step back to reassess our actions. Particularly for parents, we must be more careful about our actions toward our children because we are our child's authority figures and they may feel an imbalance of power, unable to properly express that they did not like how they felt because mommy or daddy instigated the joke.

ADVERTISEMENT - CONTINUE READING BELOW

For many families, jokes and pranks are a way to bond together. In the same way that we think twice or thrice if a prank is borderline hurtful when it is not content, the same critical thinking–or even more–must be applied to jokes for online content.

Tips for posting funny videos of your children

Tracy S. Bennett, PhD, a clinical psychologist and mom wrote on Get Kids Internet Safe site a few tips for parents on posting prank videos on social media:

Ask your child before posting.
Anticipate how that video will be received by other adults and peers. Ask yourself, how will your child feel in a year or two if the video is still online? Think about who can watch the video–are you comfortable with your friends and your child's friends laughing at the punchline which may be your child?
Will it target your child for bullying? If your child's schoolmates–someone who may not personally know your child sees the video, will they be laughing with your child or at your child?
Will copycat behavior be unkind or cruel? What are the consequences of creating and posting your video prank of your child?

READ RELATED STORIES:

What other parents are reading

Celebrate your pregnancy milestones!


Enter your details below and receive weekly email guides on your baby's weight and height in cute illustration of Filipino fruits. PLUS get helpful tips from experts, freebies and more!

You're almost there! Check your inbox.


We sent a verification email. Can't find it? Check your spam, junk, and promotions folder.

Trending in Summit Network