'May Kurot Every Episode': Parents Of Children With Autism Are Finding Hope In Extraordinary Atty. Woo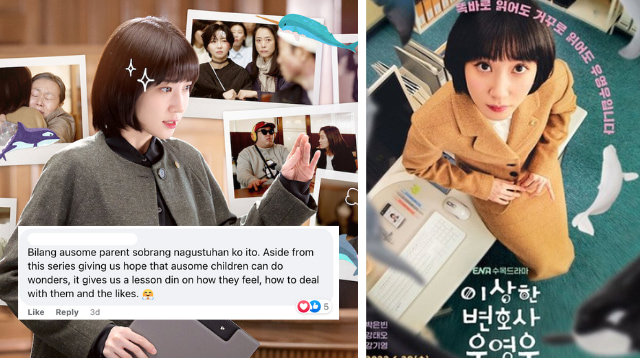 Netflix's latest series Extrarordinary Attorney Woo is making waves everywhere–and not surprisingly, it's instantly become a favorite of Filipino parents. Especially our 'ausome' parents, as they call themselves.

'Ausome' is a play on the two words awesome and autism and is a term many parents of children with autism prefer to use these days. It's no surprise that ausome parents are enjoying this new K-drama that centers on a brilliant young new lawyer Woo Young-woo and her courtroom challenges. Atty. Woo is also Korea's first lawyer on the autism spectrum.

Atty. Woo Young-woo is portrayed by Park Eun-bin.

What parents are saying

"My son has ASD (autism spectrum disorder). May kurot every episode. Nakakrelate ako sa mga quirks ng bida, says one mom on Smart Parenting's Facebook page. She says the show gives her hope because it gives her a possible picture of what her child's future can be.

"I wonder kung magkakacareer ang anak ko in the future. It helps spread awareness about autism. I like how they put emphasis that it is a spectrum therefore every individual is different."

Another parent said, "Bilang ausome parent, sobrang nagustuhan ko ito. Aside from this series giving us hope that ausome children can do wonders, it gives us a lesson din on how they feel, how to deal with them and the likes."

'I wonder kung magkakacareer ang anak ko in the future. It helps spread awareness about autism. 

Some of the signs of autism like avoiding eye contact or having a keen interest in certain subjects or activities are portrayed immediately in the first episode. Another one ausome parents would be familiar with is a person with autism's need for the same routine every day, yet another detail Extraordinary Attorney Woo takes care to portray well.

ADVERTISEMENT - CONTINUE READING BELOW

What other parents are reading

Receiving a diagnosis

When a parent receives a diagnosis from the developmental pediatrician that his or her child is on the autism spectrum, it isn't easy. 

As Troy Montero explains in this article, even if he and wife Aubrey Miles noticed something was different with their daughter Rocket, hearing the diagnosis felt like they were "punched". 

RELATED: 'My Son Was Diagnosed with Autism. I Wanted to Fix Him'

For most parents, learning to accept their child's diagnosis is a process. Nicole Zahiry, MA, BCBA, a behavior analyst specialist, autism spectrum therapies wrote in 'The Autism Journey: Accepting vs Resisting A Diagnosis' published on March 3, 2022 online at Learn Behavioral that "Accepting a diagnosis is not the absence of grief, but rather, an acceptance of it.

She adds, "It is an acknowledgement that things will look different because of autism but also an understanding that different is not less. Different is important and valuable. Differences are necessary."

Understanding the plight of others

The show is also eye-opening for many parents whose children are not on the spectrum. Vivianne Tan Bediones, a mom of two said "I love watching it too. Made me realize how hard it for someone with autism tapos kukutyain ng tao… Sana mag-stop na ang stigma kapag may autism ay sinto-sinto at nananakit.

She adds, "Hugs to all parents with ausome child. Saludo po ako sa inyo."

Others have dubbed it as a "must-watch para mas maintindihan ng marami ang ganitong kondisyon!"

RELATED: Raising Two Sons With Autism: Small 'Champagne Moments' Give Us Strength

What's heartwarming in the comments section of Smart Parenting's post is how supportive parents are becoming to their co-parents, minus the toxic positivity. They are not diminishing the very real challenges their families may go through but they are also willing to see children with ASD in their uniqueness. 

One parent said, "Each episode has a moral lesson. Children with ASD are unique and genius (in their own way). We just need to patient and be more understanding. In the series, I have learned to appreciate them more."

Park Eun-bin on playing Atty. Woo

The actress recently revealed that she was hesitant to take on the role of Woo Young-woo. "I was a bit afraid if I'd be able to pull it off without hurting or offending anyone," she said to Allure Korea as reported by Soompi.

"It's my first genius-type character, and Young-woo is also on the autism spectrum. I think I thought about what is considered to be normal when taking on this role. What it is to be weird, what it is to be abnormal, and are normal people really normal?"

RELATED: 'My Son Maybe Different, But It's Never A Disability': Mom Shares Her Son's Autism Journey

Parenting and empathy

As parents, we are happy to see a show with representation of people on the spectrum. But we're also glad that it's eliciting acceptance and empathy from other parents. 

Because parenting is hard enough, isn't it? We hope that fellow parents, ausome or not, will be the first to empathize with other parents than be the first to judge.

ADVERTISEMENT - CONTINUE READING BELOW

You can watch new episodes of Extraordinary Attorney Woo every Wednesday and Thursday on Netflix.




Trending in Summit Network