7 Filipino Celebrity Parents With Children On The Autism Spectrum Disorder

Thanks to these high-profile celebs who honestly share their autism journey, more people are understanding atypical and neurotypical means.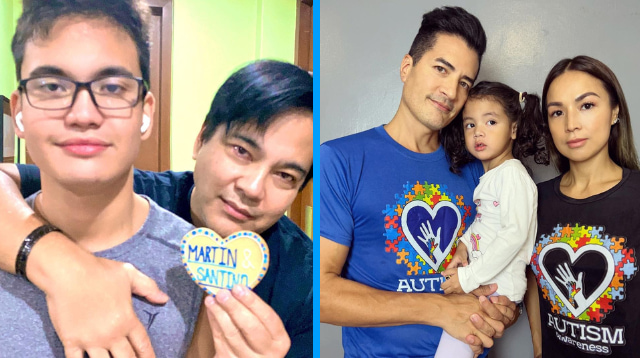 Being a parent of a child with disabilities can feel like a lonely journey which is why any time a high profile parent or proper media representation comes along, parents feel seen and validated.

Recently, Korean dramas have recently started including characters who have special needs. Secondary characters at first, and now, an on-going series has a main character who is on the Autism Spectrum Disorder.

It may not be groundbreaking news for some, but for people who have loved ones with special needs, this can feel like man's first steps on the moon. Special needs and disabilities are being normalized now, and the sitgma surrounding it is slowly being removed.

RELATED: 'May Kurot Every Episode': Parents Of Children With Autism Are Finding Hope In Extraordinary Atty. Woo

People are more open now in sharing their "ausome" stories, lessons and realizations.

A number of Filipino celebrity parents have championed inclusivity, hoping to spread awareness on ASD and creating a kinder world for all children.

Below are a few celebrirty parents who have shown us the beauty of being different and the lessons we've learned from them:

7 Filipino Celebrity Parents of Children with Autism

1. Troy Montero and Aubrey Miles: Every small step is progress

The celebrity couple shared on April 26, 2022 that their youngest daughter, Rocket, has ASD, or Autism Spectrum Disorder. Since then, they have openly shared her therapies and progress. In an interview, they shared that they are thankful that the times are changing now, as they can openly talk about their daughter's situation, "I'm crying because we can say it, kasi before parang it was so hard."

ADVERTISEMENT - CONTINUE READING BELOW

One month after her diagnosis, Rocket learned to call Aubrey "Mama", improved eye contact with other kids, and learned more about routine.

RELATED: Aubrey Miles Blamed Herself For Daughter's Autism: 'What Did I Do?'

"What's life without a purpose. We all have one or more. This little person here gave us a whole different meaning to life. What's more important and what truly matters," Aubrey wrote in an Instagram post.

They realized that each step they take as a family is progress, and what matters most is that they stick with each other and stay happy.

2. Candy Pangilinan: Always moving forward

From afar, Candy Pangilinan's situation can be considered as difficult–a single mom raising a special child. But that did not stop the comedienne, who even published a book entitled Mommy Dear: Our Special Love sharing her and son Quentin's story.

ADVERTISEMENT - CONTINUE READING BELOW

Recommended Videos

"You can cry but you are not allowed to shout and give up," is her famous line from the book. Quentin was diagnosed with Attention Deficit Hyperactivity Disorder (ADHD) and autism.

In an interview with Boy Abunda in 2017, she encouraged parents of special children to refrain from blaming themselves. "Punta tayo sa solusyon. If we dwell on the problem, walang mangyayari," she said.

RELATED: Candy Pangilinan Recalls When Son Was Not Allowed To Graduate: 'Paano 'Pag Nagwala?'

That's why as soon as her son was diagnosed, she never stopped looking for the right therapies needed for his development, from occupational, swimming, speech and voice therapy. She also made sure Quentin is exposed socially in a community that supports him and encourages him.

Just this month, Candy shared a great milestone for her and Quentin, he graduated from Junior High!

3. Melanie Marquez & Michelle Dee: Lifelong Mission

The power Mama and daughter are popular as beauty queens, but unknown to most of us is that they are an Ausome mother and sister.

ADVERTISEMENT - CONTINUE READING BELOW

Little is publickly known about Michelle Dee's siblings, as they live away from the limelight. But during her introduction video for the Miss World 2019 competition, she introduced her two siblings, Mazen Marquez and Adam Lawyer for the first time in public. "Having grown up with two autistic siblings taught me the concept of purpose. Autism awareness isn't just an advocacy for me, but a lifelong mission.

"I embarked on this journey driven with purpose and motivated by my heart knowing that this is bigger than myself. It is for my siblings, my family, my advocacy, and the Filipino people," she said in the video.

Michelle Dee's passion for Autism awareness is not only an advocacy, but became a lifelong mission for her.

4. Kris Aquino: Staying graceful above bullies

Popularly known as the queen of all media, Kris Aquino's life is like a television series that unfolds under the public eye. Aside from her family background, her own personal stories become hot topics of talk shows and news sites.

ADVERTISEMENT - CONTINUE READING BELOW

Living under the scrutiny of the public eye comes the double-edged sword of comments–some good, some bad. The worst is that her children are not free from it.

Her eldest son, Josh Salvador is diagnosed with Autism Spectrum Disorder (ASD). She mentioned in an exchange of comments on her Instagram account, "And people, who are our political enemies, or just the plain, mean-spirited ones, have bullied Josh enough. Try mong mabasa na 'mongoloid', 'abnoy', 'karma ng buha niyo', every time may political issue na walang kasalanan si Josh, and you'll understand me."

RELATED: Kris Aquino Reveals Bullying They Endure Due To Son Josh's Autism

Kris knows how to dodge the bullets being thrown at her and her children, and have stayed graceful in handling these situations.

5. Martin Nievera: Becoming a better man

The veteran singer never made it secret that his son Santino is diagnosed with Autism Spectrum Disorder (ASD). While his son is staying in the US and attending a special needs school, Martin goes back and forth for singing gigs and fundraisers.

ADVERTISEMENT - CONTINUE READING BELOW

In an interview in 2019, Martin shared that having Santino made him a better man and father. "He has really changed me a lot. I'm definitely more patient nowadays than I am with my elder sons," the singer shared.

Even his view about parenting has changed–their distance does not affect their relationship as father and son. "I find myself going to the States more often. Because of Santino's condition, I feel like he needs to have that 'family atmosphere'. The first thing he says when we are together is, 'Look, we're a family!' His quips sting sometimes! So I try to be really hands-on," says Martin.

6. Karen Davila: Inclusion and Involvement

The seasoned news anchor shared in the recent May 2022 elections that her son David voted for the first time. It is a great leap of progress for Karen and her son as he is diagnosed to be in the Autism Spectrum Disorder (ASD).

ADVERTISEMENT - CONTINUE READING BELOW

She shared in her Instagram post that David asked her via text message if he was registered to vote, and she was really surprised that the election mattered to him.

RELATED: Karen Davila Proudly Shares How Son On The Autism Spectrum Voted For The First Time

Maybe this is a routinary activity for some, but the fact that David wanted to be 'involved' and 'included' in the election is a sign that he is slowly progressing and developing. His social skills are being honed, too.

Karen and her husband supported their son all the way, registered him and accompanied him to vote.

7. Anne Clutz: Diagnosis & Assessment are important

The beauty vlogger shared in 2019 that their youngest son, Joo, is diagnosed with Level Three Autism Spectrum Disorder which requires substantial support.

She never hesitated to seek the opinion of another specialist to assess Joo's development, where they learned that aside from having ASD, he is also dealing with Social Anxiety Disorder. This came as a surprise as Joo used to perform in front of an audience pre-pandemic, which also led them to conclude that the pandemic might have triggered his social anxiety.

ADVERTISEMENT - CONTINUE READING BELOW

RELATED: 'Pag Nafu-Frustrate Siya, Nangungurot Siya': Anne Clutz On Prepping Son With Autism For New Baby

She further added, "Ang ASD, hindi siya 100 percent pare-pareho sa bawat case. Iba-iba 'yan. Sobrang lawak nito.. Kaya nga spectrum, e, kasi malawak talaga siya, so iba-iba case."

The key in finding the right therapy is having the right diagnosis and assessment.

As mainstream media starts to include children with special needs as main characters, may this also serve as a reminder that every child is special in their own way, and has all the right to enjoy every opportunity thrown in their way.

If you need support about Autism, please contact Autism Society of the Philippines.

What other parents are reading

Celebrate your pregnancy milestones!


Enter your details below and receive weekly email guides on your baby's weight and height in cute illustration of Filipino fruits. PLUS get helpful tips from experts, freebies and more!

You're almost there! Check your inbox.


We sent a verification email. Can't find it? Check your spam, junk, and promotions folder.

Trending in Summit Network