'My Poop Is Complete!' Mom Shares Special Needs Son's Struggle—And Triumph—With Constipation

It sounds funny or even simple to most but for a child with autism and his family, it can be quite the challenge. Here's how a family overcame, and what they want other families to know.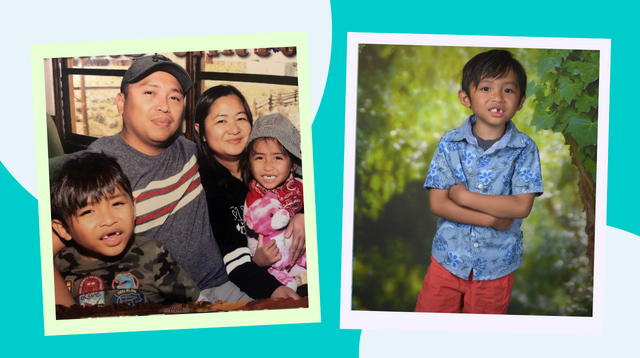 How would you react when your child says, 'my poop is complete!' out loud? At the most you will give out a hearty laugh. At the very least you will smile. 

This anecdote happened to stay-at-home mom, Glendale Coloma, whose seven-year-old son on the autism spectrum, Zander, let out a triumphant scream after days having difficulty with bowel movement. 

Glendale, who is based in San Diego California where her husband is on active duty in the Navy, says she wanted to share her story "so we can enter and understand the world our kids with autism go through."

Diagnosing Zander

The mother of two shares that Zander was diagnosed with autism when he was four years old. Zander is a bright child who can already read at three years old so it was no surprise that the pediatrician told the Colomas that all seems okay with their son. 

However, their instinct told them otherwise. Seeking the help of a child psychologist, Glendale shares that Zander had difficulties in:

communication where he talks but just to answer yes or no questions or whenever he wants something, like food. "He can't tell nor share what and how he feels that day nor make much eye contact."
learning, although he is quite advanced and can easily identify objects, knows his colors and numbers, and is a fast reader at three. "He skipped the basic learning steps and went advanced and wanted to do things independently."
self-care where he can be very picky with his food and on how it should be prepared. "He was also on diapers until he was almost 6."
self-direction where he doesn't have safety initiative. "He also chooses those who he interacts with and he is more comfortable with adults than with kids."

ADVERTISEMENT - CONTINUE READING BELOW

Because Zander is particular with the texture of his food, he is prone to encountering toilet issues. Once, they've had to proceed to the Emergency Room for help.

PHOTO 

COURTESY OF GLENDALE COLOMA

Constipation is a big deal

"I think it is common for kids with autism to have constipation problems because they are picky with their food," says Glendale. In the case of Zander, smell, texture, taste, appearance matter to him, adds Glendale. 

"For example, my son loves pizza. He can finish an entire box of large pizza by himself but there's a twist--you have to take off all the toppings and wipe the pizza sauce or else he will not eat it." 

Zander also has very specific taste. One time, Glendale gave him two identical but different brands of hash browns and by smell alone, her son could tell which hash brown he always ate. "He just smelled it and got the correct one," says Glendale. 

ADVERTISEMENT - CONTINUE READING BELOW

Recommended Videos

Constipation can be a big deal for kids with autism and 'poop' time has always been a challenge between mom and son. "Zander usually does 'it' everyday but it takes a lot of bribing, practice, and crying." 

RELATED: Kapag Constipated Ang Bata, Ito Ang Payo Ng Mommies

Laxatives twice a week helped, says Glendale, but it simply isn't that simple for children with autism. "I was able to talk with his occupational therapist about it and she said that there might be a sensation that triggers [him not to want to poo]. "Maybe he doesn't like the feeling of pushing it too hard that's why he tends to retain it rather than letting it go," she says. 

One time, the constipation was so bad that Zander kept vomiting and complaining of stomach ache, Glendale recalls. He was brought to the hospital for a CT scan but no amount of coaxing and subduing could calm Zander so doctors could do the procedure. 

"He was in and out of consciousness after being given medication to calm him and to stop his screaming. While I was with my son, my husband was on the phone talking to the doctors, nurses and techs asking them what the next steps are," she shares. 

Glendale remembers crying during that time and trying to keep it together despite the ups and downs of that day. 

'[Special needs kids] may not be expressive but we have to be considerate and careful with our words, actions, reactions and interactions with them.'

'My poop is complete'

Zander was brought to a bigger hospital and there, doctors were able to conclude that he has 'compacted fecal matter.'  "He just needed to let it out so he won't be throwing up and have stomach pains anymore," says Glendale. 

ADVERTISEMENT - CONTINUE READING BELOW

While Zander got well in the hospital, it's a different matter in the Coloma home where pooping continues to be a challenge for him. With his parents' complete and total support, Zander, despite all the crying and resistance, managed to successfully do it, and to his delight screamed "Mom, I did it! My poop is complete!". 

RELATED: 7 Filipino Celebrity Parents With Children On The Autism Spectrum Disorder

Glendale shares this story coming from a place of how most of us take so many things for granted and never give it a second thought. However, for kids on the autism spectrum, such experiences become milestones and a reason to celebrate for their parents. 

These days, for every successful episode in the toilet, Glendale says they give Zander a reward "so he will be encouraged and not be scared."

Did Glendale laugh when Zander announced his triumph? "We all laughed that day but we tried to catch ourselves and avoided being too loud because he might feel embarrassed," Glendale shares. 

Zander (left) and his sister pose for a photo. Zander can now use the toilet on his own but everyday "it takes a lot of bribing, practice, and crying," says his mom.

ADVERTISEMENT - CONTINUE READING BELOW

The tiniest details matter

Reflecting on the whole incident, Glendale wanted other parents to realize that they should give special attention to how children with special needs feel. "They may not be expressive but we have to be considerate and careful with our words, actions, reactions and interactions with them. 

'It's not about what you feel, but it's more about what [your child feels] that we [as parents] have to prioritize.'

Even the tiniest detail matters, can matter, and would matter," she says. She adds that issues like constipation may be taken lightly by most but in the case of kids with special needs, they should be taken seriously. "We can't just force them to eat this and that because the texture, the smell, the appearance, and the smell may be too much for them."

Empathy from parents make a world of difference in the life of children with special needs. As Glendale puts it, "It's not about what you feel, but it's more about what they feel that we [as parents] have to prioritize." 

She admits that it's never easy being a parent of a kid with special needs but keeping the faith is important, "We have to go on with the right heart, mindset, right attitude, and extra amount of faith. God is just around and His grace and love is more than enough for you to keep going every day," she concludes.

What other parents are reading

Celebrate your pregnancy milestones!


Enter your details below and receive weekly email guides on your baby's weight and height in cute illustration of Filipino fruits. PLUS get helpful tips from experts, freebies and more!

You're almost there! Check your inbox.


We sent a verification email. Can't find it? Check your spam, junk, and promotions folder.

Trending in Summit Network