Candy Pangilinan's Son With Autism And ADHD Graduates: 'Next Level Na Po Tayo'

"The journey continues," she writes on Instagram, and thanks all people who have been with her son Quentin's journey.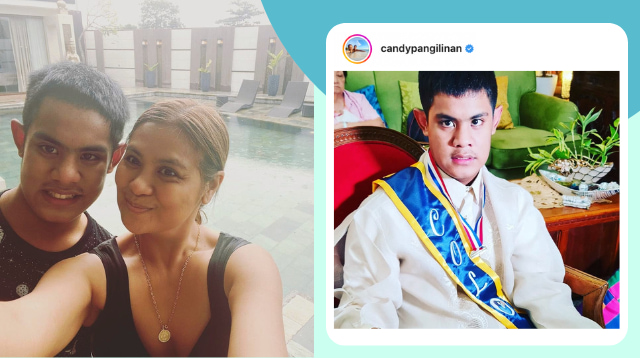 As they say it takes a village to raise a child and this is no more true than for Candy Pangilinan's special son, Quentin Alvarado, who recently graduated from Junior High.  Quentin is Candy's son with ex-husband Gilbert Alvarado. 

"Quentin graduates Grade 10!" Candy proudly wrote on her Instagram recently, accompanied by a photo of her 17 year old in a barong with a sablay. Known to many, Quentin is a neurodivergent child who is diagnosed with Attention Deficit Hyperactivity Disorder (ADHD) and autism.

Through the years, the comedienne-actress has been very open about her son's diagnosis not only to raise awareness about it but to make people in the same situation realize the importance of early intervention.

Raising Quentin singlehandedly wasn't easy for Candy as she had to learn how understand and handle Quentin's meltdowns that is a result of his limited ability to communicate and express how he feels verbally. 

Extraordinary support system

To have reached this point in Quentin's life is truly a feat for both mother and son and the single mom credits an extraordinary support system that has helped her son achieve his latest milestone. 

Quentin just recently graduated from Junior High.

PHOTO BY

INSTAGRAM /CANDYPANGILINAN

ADVERTISEMENT - CONTINUE READING BELOW

"Thank you to all our teachers from Grade 1 to present," she wrote.  "Dami po kayo. From teacher Amor to Teacher Frank. Thank you to all therapists from our first OT teacher Tisha, teacher Sean, Teacher Giselle, to Teacher Yani. Too many therapist to mention."

She also thanked her family who has helped her raise Quentin since he was young. "To every person who have joined us in our journey, my family, mom, Tita MM, my siblings Ate Marissa, Kuya Boboy, Kuya Phey, pamangkins Holli, Ehrlich and their children. Of course, Camille," she wrote.  

From Quentin's doctor, spiritual community, as well as her extended support system at home, Candy expressed her gratitude to them for always going the extra mile for her son. "To all caregivers, household help, driver…. To the Living Word Community … especially the youth who tirelessly and patiently included Quentin…Of course, to my doctor @fxdmd. Thank you. Ang daming dapat pasasalamatan pati mga guards na pinagbigyan kami sa pagwawala ni Quentin." 

RELATED: What Is Autism Spectrum Disorder? Its Range Of Symptoms Including Patterns of Behavior

Candy's spirituality has tide her over the biggest challenges in raising Quentin and for this she is always grateful. "To everyone we have encountered in one way or another, salamat. And to my spiritual mentor, thank you for the guidance and understanding. To God, OUR Father All Glory to You! Everything by Your Grace and Mercy," she posted. 

'You are not allowed to give up' 

For many parents in Candy's situation, perhaps the future of their child is what they often worry about. But worrying can only take one so far. As Candy wrote in her book titled Mommy Dear: Our Special Love which came out in 2017, "You can cry but you are not allowed to shout and give up.' 

ADVERTISEMENT - CONTINUE READING BELOW

Recommended Videos

With that philosophy, she wasted no time applying early intervention by enrolling Quentin is all the therapies needed for his development, from occupational, swimming, speech, and, more recently, voice therapy. She also made sure to expose Quentin socially and worked hard to find and build a safe community for his son where he can thrive and reach new goals. 

Taking off from Candy's colorful journey as a parent of a child with ADHD and on the spectrum, here are some tips that other parents may find helpful.

5 additional tips for parents of neurodivergent kids

1. Reaffirm the positive.

As seen in her vlog, Candy always has a ready affirmation for Quentin when he does something positive like following instructions to reinforce the good behavior.

But when doing so, it is important to be specific, according to an article WebMD "Be specific, so that they know exactly what you liked about their behavior. Find ways to reward them, either with extra playtime or a small prize like a sticker." 

Candy proudly shared her son's certificate online.

PHOTO BY

INSTAGRAM /CANDYPANGILINAN

ADVERTISEMENT - CONTINUE READING BELOW

2. Do not react on the negative behavior.

When a child on the spectrum starts to cry or throw a tantrum whether he does not get what he wants or cannot express himself fully, it is important not to react so as not to reinforce the behavior. 

RELATED: Don't Commit These 5 Mistakes That Make a Tantrum Worse

In an interview on 5 Share Ko Lang, a GMA 7 program hosted by psychologist, Dr. Anna Tuazon, Candy shares an incident when Quentin was physically hurting her by pulling her hair and biting her arm. Even when she was already crying in pain, Candy said she never reacted . "Ang rule sa buong bahay, pag nagwala si Quentin 'wag niyong pansinin." 

3. Set a routine.

Routine is very important to children who are on the spectrum. According to the same WebMD article, parents need to make sure that the child gets consistent guidance and interaction, so they can practice what they learn from therapy.

RELATED: This Teacher Created A Routine Schedule For Kids So You Don't Go Crazy, Mom

"This can make learning new skills and behaviors easier, and help them apply their knowledge in different situations." 

In the same Share Ko Lang program, Candy narrated how they had to quickly make a new routine for Quentin at the height of the pandemic and when face to face classes had to be cancelled.

She said that an idle mind and body for a child with ADHD and autism can send the brain to overthink and as a result the child will resort to tantrums.

ADVERTISEMENT - CONTINUE READING BELOW

Apart from school, therapy and exercise are always part of Quentin routine.

4. Engage your child socially.

Despite Quentin's unpredictable behavior where it is possible for him to have meltdowns at any time, Candy never saw this as a reason to keep his child from the public.  "Sinanay ko si Quentin to go out to develop his social skills," she shares.

This way, it is easier for the child to get used to the world outside and assimilate in different social settings such as the school. 

5. Build a safe, accepting community for you child.

Quentin reached his new milestone with the help of so many people around him as one can gather from Candy's IG post. Seeing her son being left out when he was younger pushed Candy to find a supportive environment that will accept him completely and, in the process, allow him to grow.

Share Ko Lang Host, Dr. Tuazon, has this to share: "When you find your tribe you will see [the child's] confidence, humor, and personality come out. The effort to fit in is not overshadowing everything else. He can just relax and be interested in things."

If parents can find that supportive community like Candy has, then everything will be easier for the child. It is Candy's wish for the public to know that children on the spectrum have talents and skills and can be taught if given the chance and opportunity.

"They can actually be part of the community," she says in the GMA 7 interview.  With her unconditional love for Quentin, this hardworking mom is showing how it's done and she can't help but be excited for Quentin's next goal: moving up to Senior High. 

ADVERTISEMENT - CONTINUE READING BELOW

"Next level na po tayo. The journey continues," she end her IG post, adding, "Quentin has taught me more than I have taught him. Thank you Quentin. Congratulations!"

Celebrate your pregnancy milestones!


Enter your details below and receive weekly email guides on your baby's weight and height in cute illustration of Filipino fruits. PLUS get helpful tips from experts, freebies and more!

You're almost there! Check your inbox.


We sent a verification email. Can't find it? Check your spam, junk, and promotions folder.

Trending in Summit Network