'My Son Maybe Different, But It's Never A Disability': Mom Shares Her Son's Autism Journey

Thank you for making our world a bit more exciting, says this mom of three and autism parent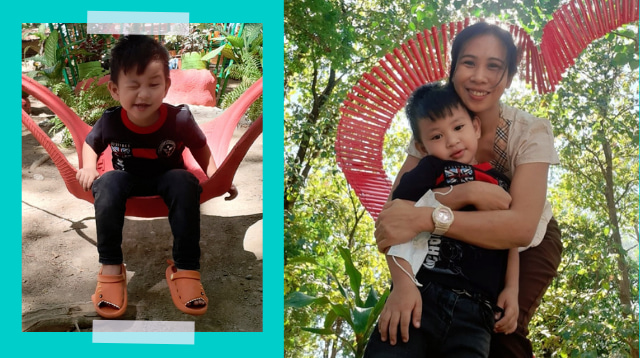 He loves things that spin, he is very sensitive to sound, and he is ultimately smart but he is confused with people's facial expressions. My four-year-old little is different but that doesn't makes him less of a son to me.

When I gave birth to Atticus, my husband said "he stood out among the babies in the nursery, he just looks different and more handsome." At first, I thought he just said that because he is the father of the child, but as our Atticus grew up, I just knew he is exceptional.

First signs

The first thing I noticed about my child is he is prone to infections. When I gave birth to him, he had to stay in the nursery due to an infection. He had rashes all over his body and he had to take a special milk formula for lactose intolerance.

I was a busy mom then. The hustles occupied me so much that I had little time for my child, I did not even have time to talk to and play with him. I am a public school teacher, and the face-to-face classes back then was draining all my energy. 

My husband was working in our bakery in those years, and I only have my father to look after my son. Atticus behaves when he watches television and that became his routine every day.

'I never heard him call me "Mommy"'

A few months later, frequent sickness and infections afflicted my son. Until he turned one year and seven months old and a doctor told us what she observed. She said my son had a speech delay and must be referred to a development pediatrician. I also noticed the same. 

ADVERTISEMENT - CONTINUE READING BELOW

My son is unlike other kids who can freely express their emotions without tantrums. Atticus had to reach for my hand and place it on any object or food that he wants. He never reaches things by himself. He has less eye contact and I never heard him call me "Mommy." 

He is good in memorizing songs and the alphabet and at the age of two, he could already read some words. But his conversational skill is very limited, he could barely complete a sentence.

Autism in Filipino children increases every year

We heeded the doctor's advice and visited a development pediatrician. We are fortunate enough that another patient canceled an appointment and we were accommodated right away. During the assessment, my Atticus did all the things instructed by the development pediatrician well. It was heartbreaking to receive his diagnosis: mild autism spectrum disorder.

Autism can have genetic or environmental risk factors according to Autism Speaks. It tends to run in families or could be the environmental factors that a mother encountered during pregnancy like advanced age or birth spacing. 

CONTINUE READING BELOW

Recommended Videos

It is a condition that roots in the brain development of the child and how the neurons communicate to each other.

UNTV reported in 2016 that Filipino children with autism increase every year. "As of 2015, 1 in 68. Maybe in the 1980s 1 in 10,000 before. But every year we are looking into higher prevalence rates of autism in children" said Dr. Mimi Avendaño, child neurologist and neurodevelopmental pediatrician. 

ALSO READ: Raising Two Sons With Autism: Small 'Champagne Moments' Give Us Strength

How mild autism may look like

Mild autism is unlike severe autism where kids are obviously incapable of doing things on their own. Children with mild autism are in between the too-normal-to-be-special and too-special-to-be-normal. 

You would never be able to tell of their condition through their looks, but their behavior especially with the crowd will simply show that they are different. 

Children with mild autism are commonly intelligent or even beyond intelligent. Yet, they are not capable of managing things like their emotions or how they react to stimuli. Some things are just unbearable for them and too much to deal with.

Some signs manifested like tiptoeing, lining up his toys, repeating words he hears, and his sensory sensitivity. He does not eat rice; he likes sticky and soft food with light flavors. He hums and enjoys the silence, and he panics when he hears loud noises. 

The presence of too many people around him bothers him so much that he would rather shut himself up in a room with someone he is comfortable with, like my father. Whenever something bothers him, it turns into meltdowns and that was always hard to manage.

ADVERTISEMENT - CONTINUE READING BELOW

READ: 6 Videos That Can Change the Way You See Autism

Pandemic meant no therapy

The pandemic became a big reason why Atticus could not attend therapy sessions. As a teacher, me and my husband researched some interventions. We altered children's rhyme shows with Blippi, a video vlog made for kids especially for those who have autism.

It was also a blessing that I gave birth to a baby sister whom he can play with and talk to. Exposing him to some kids of his age taught him to socialize instead of playing alone and shutting himself in a room. 

We also invested in some fidget toys and blocks. At first, he was bothered that he couldn't put the blocks together. He has less patience over things, but his big brother, Cayden, helps him to play with his toys and teaches him techniques to put things up together. 

Little by little he learned to do things on his own like opening the fridge and getting his own food, wearing his slippers, showering, washing his hands, and all sorts of things. He learned these through watching the children's videos and through the examples we show him at home.

'We used to go crazy over his meltdowns'

We limit the use of gadgets by going to our farmhouse where there is no wifi access. This allows him to look for things that may entertain him like playing with the sand, watering the plants, and running around the house with his siblings.

ADVERTISEMENT - CONTINUE READING BELOW

Whenever he has a meltdown, we just let him be. After a while, he would figure things out himself and will be fine then. We used to go crazy over his meltdowns and it used to drain our energy as well, but educating ourselves on how to raise a son with such condition also helped us manage things. I also joined an online support group for autism parents like myself.

READ: These Brothers With Autism Have Had Public Meltdowns: The Right Thing to Say if You Witness It

The pandemic gave us a blessing in disguise

It was a blessing-in-disguise that the pandemic gave us an opportunity to work from home so that we were able to give our children the attention and time they need to grow healthy both socially and physically. My husband who used to run a bakery and went abroad and fortunately found a job that allows him to work from home up to the present.

Maybe God allowed the pandemic to happen because he wants us to reset from the toxic busy lifestyle, just always hustling daily to earn a living. In that way, we may be able to prioritize the things that really matter and enjoy life a little more.

My son may be different from other kids but for me, it was never a disability. Mild autism is a special ability that makes our world a little bit more exciting than having all "normal" or just neurotypical beings. 

It is about time to break the stigma of autism and accept that God created people who see things differently and can do extraordinary things.

ADVERTISEMENT - CONTINUE READING BELOW

What other parents are reading

Celebrate your pregnancy milestones!


Enter your details below and receive weekly email guides on your baby's weight and height in cute illustration of Filipino fruits. PLUS get helpful tips from experts, freebies and more!

You're almost there! Check your inbox.


We sent a verification email. Can't find it? Check your spam, junk, and promotions folder.
Trending in Summit Network