'My Daughter Has Down Syndrome. I Thought It Was God's Punishment'

A well-known advocate for people with developmental disabilities candidly shares her own struggle to come to terms with her daughter's condition.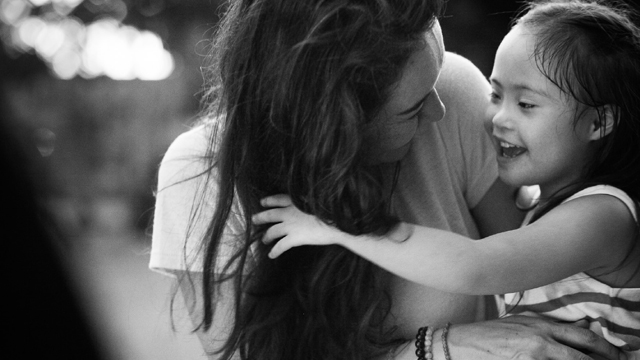 When the neonatal pediatrician voiced her "concerns over the marker for Down syndrome" after Evangelina was born, I thought I was receiving a punishment. I thought that somehow God was punishing me on the judgments I've passed on others when it came to their parenting choices. 

What I didn't know was He was giving me the greatest gift I could receive as a mother. Gelli, our nickname for Evangelina, is actually the only reason I finally learned to live in the moment and be fully present. Her birth has led me to accept that everyone is created in the beauty that God intended for each one of us. 

Waiting for baby 
Life before Gelli…was there even such a thing? Before she joined our family, life was much different in the sense that I was a stay-at-home mom who was still trying to find my way in a country (I moved here from New York) that constantly reminded me just how foreign I was. 

I would say my life then was a lot less full. I would dare say that I didn't have the understanding that I have now. Even as a teacher and someone who has worked with children and adults with special needs, I couldn't fully grasp the struggles or celebrations that one has when they are gifted with a child with an extra chromosome. I didn't buy into stereotypes, but I really had no idea. No amount of volunteer work or teaching could shift my paradigm the way it did when Gelli came into our lives.

ADVERTISEMENT - CONTINUE READING BELOW

What other parents are reading

Even conception was different with Gelli. My husband, Nino, wanted three kids, I wanted five, and so we met in the middle with a compromise of four. But, when we were ready for baby number four, she wasn't ready to join our family. We tried to get pregnant for four years, a struggle that I never experienced with my past three pregnancies.

After four years of trying, I gave up. It kind of felt like God was telling me something: You have three healthy children already -- no more na. I started giving away all the things I held onto for baby number four, from the strollers to the playpens. 

After I gave away my crib, I got pregnant the next month. 

She's finally here 
Unlike my previous pregnancies, this one was a little sketchy from the beginning. I was spotting, the doctor put me on baby aspirin, and I was told to take it easy although I was not prescribed bed rest. Because we waited so long for Gelli, I was extra cautious for the first trimester. I listened to my doctor, and I relished all of the pregnancy symptoms and side effects, knowing fully well that this would be my last baby and our family will be complete.

Once I passed the first trimester, it was smooth sailing. I was able to move around again, even go back to yoga. And I felt great. The kids were so excited for a baby brother or baby sister. I was praying for a little girl so that Gia would have a sister, and have the same experience that I have with my own sisters -- I couldn't imagine life without them. He answered our prayers when the sonogram said the baby would be a girl. 

CONTINUE READING BELOW

Recommended Videos


Two boys and two girls – perfect set, perfect match. Everyone was excited. We picked out colors for the nursery together. My son Diego named Gelli, but not after there were a bunch of names that were vetoed. 

We didn't know Gelli would have Down syndrome, so it was a shock. And I still feel guilty about the thoughts and feelings I had. As a mother, I just didn't know the joy she would bring to our lives. I searched blogs and websites, and I realized that what I was feeling was quite natural. But it still did not take away the guilt that I carry with me until now. 

When the doctor told me that she needed to have surgery to correct her duodenal atresia, I realized that, just as He gave her to me, He could also take her away. So I PRAYED. I prayed so very hard to be able to watch her grow. I promised Him I would not shed another tear if he just let me watch her grow. 

ADVERTISEMENT - CONTINUE READING BELOW

What other parents are reading

The extra chromosome
I remembered finding an article on the percentage of children with Down syndrome who grew up to develop Alzheimer's in their adulthood. This was devastating, and I stayed in bed for four days. I was so depressed, but it was at that moment that I decided to live a life that was more day-to-day. I wanted to be PRESENT. I started practicing yoga again and tried to be as present as possible in each and every moment by deepening my practice. I meditated. I even tried going vegetarian at some point in my life.

But nothing could help me learn how to be more present than Gelli's extra chromosome. She is the one who enabled me to start paying attention, to stop looking back, stop looking too far forward, live in the moment, and enjoy her and all of her accomplishments and milestones as they happened. 

Gelli was a little more than month old when I finally decided I was going to stop shedding tears of sadness. Before I got to that stage, though, I was crying all the time. I was crying because I was in shock. I was crying because I was mourning the child that I didn't have. I was crying because I was afraid for her future. Then there were times when I just couldn't explain why I was crying!

What other parents are reading

One day about three weeks after we brought Gelli home, I was nursing her on the sofa with Nino while we watched a bang-bang-shoot-'em-up action movie that starred Denzel Washington. This was not an emotional movie, by any means, trust me. But there I was, crying. 

Nino turned to me and said, "Again?" (That's how often it was for me.) I looked at him and said, "Please hold her. I promised I would not let one tear fall on her and I meant it." 

So I sat in the bathroom, and I cried hard, probably for a half hour or so. Eyes swollen. Snot running down my face. It was ugly. I sat and allowed myself one last cry. I was tired of being sad, tired of being scared. Tired. I just wanted to move on already and look at the good that would come of my daughter. 

And just before the movie was finished, I plopped myself sat on the sofa again, and asked for Nino to pass my baby girl to me. I looked at him and said, "I'm ok, now." 

I didn't cry out of sadness anymore after that. I still cry a lot, but my tears are different. They are of gratitude, happiness, and joy.

ADVERTISEMENT - CONTINUE READING BELOW


Michelle Ressa-Aventajado, who is the country director for Best Buddies Philippines, which advocates for people with intellectual and developmental disabilities, documents the journey of finding herself through motherhood, learning through her children, her students, and her adventures in Manila at www.mommanmanila.com. She is shown here with husband Nino and kids, Gia, Miguel (top row left), Diego and Gelli, who has discovered mommy's makeup."That is my biggest challenge now," Michelle jokingly shares.

What other parents are reading

Celebrate your pregnancy milestones!


Enter your details below and receive weekly email guides on your baby's weight and height in cute illustration of Filipino fruits. PLUS get helpful tips from experts, freebies and more!

You're almost there! Check your inbox.


We sent a verification email. Can't find it? Check your spam, junk, and promotions folder.

Trending in Summit Network