12 Fun Books to Get Kids to Read and Speak in Filipino (5 to 9 Years)

In celebration of Buwan ng Wika, here are fun titles that will spark your child's love for our native tongue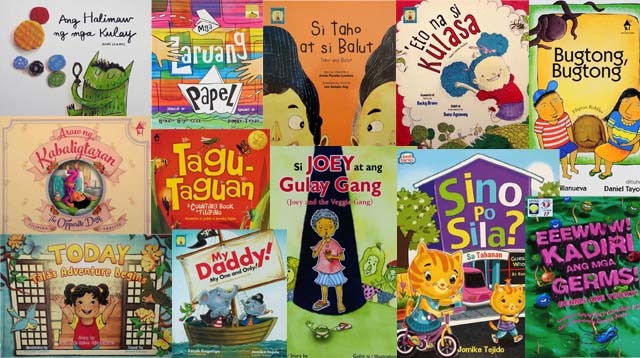 We always hear so much whining and groaning from our kids when it's time to read in Filipino. How about introducing fun Filipino books to ease their pain, actually make them look forward to finishing a story, and help them speak Filipino fluently? We promise you and your kids (5 to 9 years old) will love these books.   

1. Mga Laruang Papel (P75)
By Genaro Gojo Cruz with illustrations by Jomike Tejido


It's a story of a boy who has wonderful one-of-a-kind toys admired by all his friends. Where does he get his toys? He makes them himself, of course! A perfect way to get kids busy with their hands, Mga Laruang Papel (LG&M Corporation) shows them how to make paper toys with illustrated guides. It's a fun activity book that kids can do alone or with friends.

2. Joey and the Veggie Gang (P80)
By Beng Alba with illustrations by Kora Dandan-Albano



Joey never eats vegetables. One day, he falls into a magical world and meets talking vegetables and junk food. They all want to be his best friends, but he avoids the Veggie Gang and chooses to spend a fun-filled day at the carnival with the Junk Food Gang instead. Joey ends up feeling ill and guess who comes to save the day? If you want your kids to start eating vegetables, Joey and the Veggie Gang (OMF Literature Inc. for Hiyas) is the most effective book! It's been tried and tested by several mommies.

ADVERTISEMENT - CONTINUE READING BELOW

What other parents are reading
3. Eeew! Kadiri ang mga Germs! (P80)
By Luis P. Gatmaitan with illustrations by Rommel Joson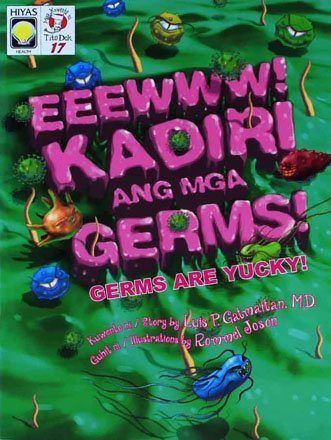 For kids who enjoy science and creepy yucky things, this book is mesmerizing! Learn all about germs -- what are they, why can't we see them, what do they look like, are there different types of germs. Eeew! Kadiri ang mga Germs! (OMF Literature Inc. for Hiyas) is #17 in the very popular Tito Dok series, which now has 21 titles. The author, Dr. Luis P. Gatmaitan, M.D., a.ka. Tito Dok, is famous for his children's books that make medical conditions easy for children to understand. Parents love the series because they also learn a lot!

4. 'Eto na si Kulasa (P84.75)
By Becky Bravo with illustrations by Domz Agsaway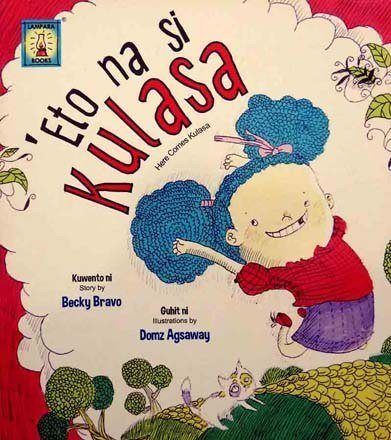 Kulasa is asked by her mama to quickly go to the sari-sari store to buy vinegar so she can cook adobo for lunch. Kulasa, however, gets sidetracked along the way. She chitchats with the neighbor, watches TV at the barbershop, reads komiks at a sidewalk stall, plays patintero with the kids and almost gets bitten by a dog! Little kids who are makulit will be able to relate with 'Eto na si Kulasa (Lampara Books), and they will read this book with a grin.


5. Si Tahu at Si Balut (P84.75)
By Annie Pacaña-Lumbao with illustrations by Leo Kempis-Ang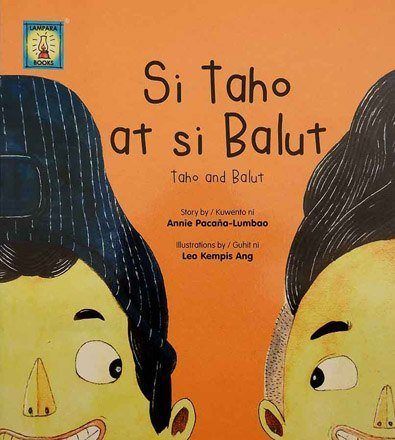 We're all accustomed to hearing taho and balut vendors peddle their wares in their big, bellowing voices, but have you ever wondered why they're the only vendors who do this? Also, why is taho sold in the morning and balut at night? Si Tahu at si Balut (Lampara Books) is a modern tale that is a fun read and teaches children the trials of friendship. What makes it fun? Calling out "Tahoooooooo!" and "Baluuuuuuuuut!" together while you're reading!
CONTINUE READING BELOW
Recommended Videos
What other parents are reading
6. My Daddy! My One and Only! (P84.75)
By Zarah Gagatiga with illustrations by Jomike Tejido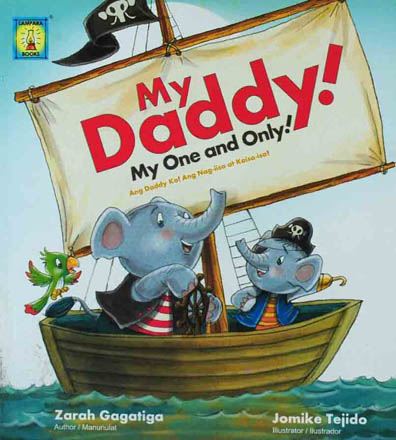 A little boy shares that his daddy doesn't have millions in the bank or a flashy sports car, but he takes excellent care of their family and he's always there for them. This is our favorite Daddy book, and we like reading it together with the kids. It's not necessarily hooray-fun, but it gives everyone a warm fuzzy feeling. My Daddy! My One and Only! (Lampara Books) is the perfect book for dads to read!


7. Bugtong, Bugtong (P150)
Compiled by Rene O. Villanueva with illustrations by Daniel Palma Tayona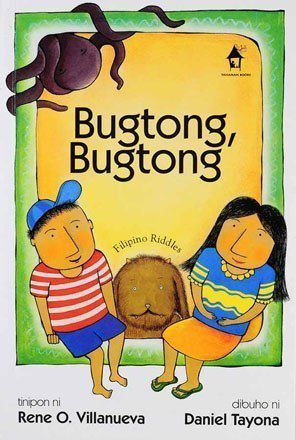 Do you remember these classic Filipino riddles? "Dalawang magkaibigan, laging nag-uunahan!" or "Lumilipad, hindi ibon; Bumabalik 'pag tinapon." We used to spend many hours just sitting around exchanging riddles when we were kids. Challenge your little ones now with Bugtong, Bugtong (Tahanan Books), which is filled with these classic brain teasers, they also make for a great family activity! Also check out these other books on Filipino riddles: Bugtong, Bugtong 2 (P150) and Aba! Ano ang Bunga? (P195).


8. Tagu-Taguan (P150)
Words and illustrations by Jomike Tejido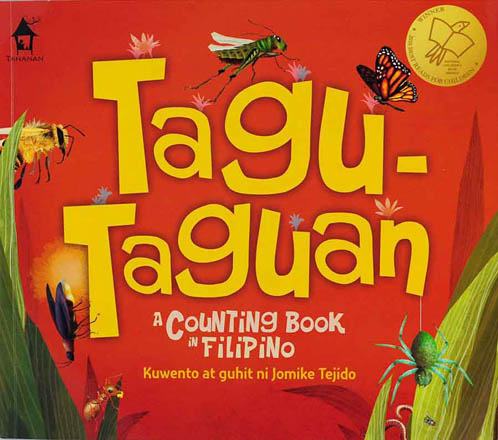 "Tagu-taguan, maliwanag ang buwan.
Ano'ng naririnig sa mga halamanan?
Isang Kuliglig na maliit,
Na kay galing umawit!"

Lyrical verses paired with vivid illustrations of flying and crawling garden insects make Tagu-Taguan (Tahanan Books) an entertaining read. The counting may be basic, but because it's written in Filipino only, the text is great for vocabulary-building.
ADVERTISEMENT - CONTINUE READING BELOW
What other parents are reading

9. Sino Po Sila? series, P150 each
Words and illustrations by Jomike Tejido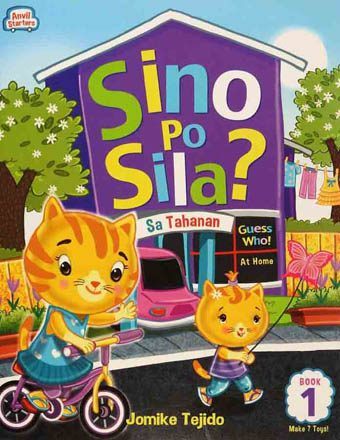 There are five books in this Sino Po Sila? (Anvil Publishing) series: Sa Tahanan, Sa Paaralan, Sa Bayan, Sa Pamayanan, Sa Daanan. This is a wonderful resource for teaching different roles in the community. The whole series is written like a guessing game, and the illustrations are big and bright, so it's great fun for little kids. Each book also includes paper toys of its characters so when you complete the series, you will have a total of 31 cute paper toys of everyone in your community!
10. Araw ng Kabaligtaran (P175)
Words and illustrations by Jomike Tejido


ADVERTISEMENT - CONTINUE READING BELOW
A little girl wakes up one morning and declares it, "The Opposite Day!" She greets everyone "Magandang gabi!" instead of "Magandang umaga!" She puts her uniform on backwards and even does all her school work the opposite way. What a quirky little girl! Araw ng Kabaligtaran (Tahanan Books) is a really fun way to learn new Filipino words!

11. Ang Halimaw ng mga Kulay (P399)
Words and illustrations by Anna Llenas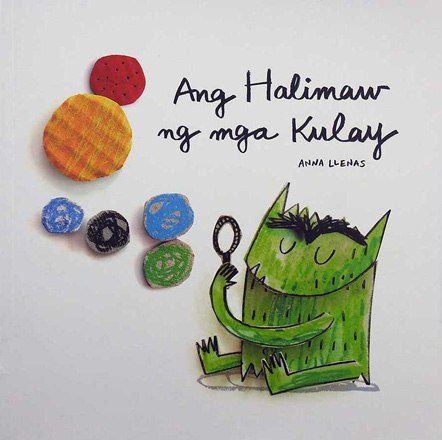 This book was translated into Filipino from Anna Llena's best-selling book from Spain. Ang Halimaw ng mga Kulay (Adarna House), which was launched at Fully Booked today, teaches young children about their different emotions. To help him distinguish his emotions, they are are identified by specific colors. Happiness is yellow, "Nakahahawa ang saya. Nagliliwanag ito tulad ng araw, kumikinang tulad ng mga tala." Calm is green, "Ang pagiging kalma ay tahimik tulad ng mga puno, magaan tulad ng dahong inililipad ng hangin." We think this book is absolutely brilliant! It is best paired with a coloring book with the same title, also by Anna Llenas (P149).

12. Today Tala's Adventure Begins (P545)
By Cris Maria Raissa Paje-Bayawa, MD with illustrations by Renante Ramirez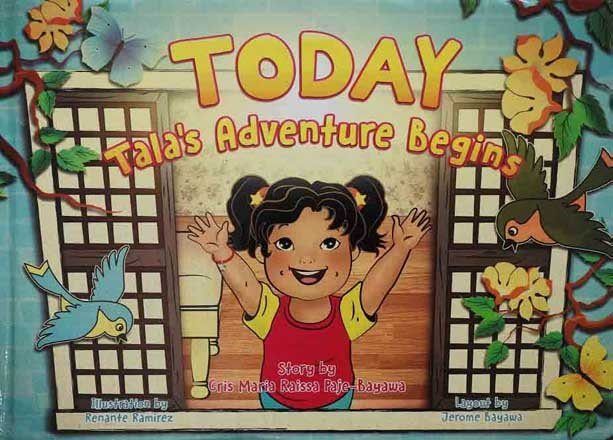 Tala's Adventure Begins (Missionbook Publishing, Inc) is a beautifully illustrated yoga book for kids and a great way to get them physically active. Today is also something you can do as a bonding activity, plus, it's great way to get physically active. Funny true story: We actually know a mommy who hides her toddler's copy because he always wants to read the book and do all the yoga poses together. Mommy gets so exhausted!
ADVERTISEMENT - CONTINUE READING BELOW
All books are available at Pumplepie Books & Happiness
What other parents are reading
Celebrate your pregnancy milestones!

Enter your details below and receive weekly email guides on your baby's weight and height in cute illustration of Filipino fruits. PLUS get helpful tips from experts, freebies and more!
You're almost there! Check your inbox.

We sent a verification email. Can't find it? Check your spam, junk, and promotions folder.

Trending in Summit Network