13 Surefire Ways to Keep Your Child Busy and Limit Her Screen Time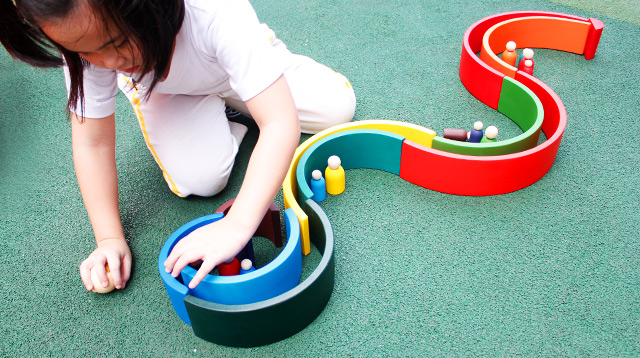 You're at a restaurant, stuck in traffic, or waiting for your turn at the doctor's clinic, and your child starts getting fussy and complaining that he's bored. It's easy to give a grouchy child a phone or tablet to keep him sitting still and quiet, but that's what you want to try to avoid.

"Let gadgets and screens be your last defense. Have these gadgets with you by all means — they are necessary especially now. [But] teach kids that there are other things they can play with," said Michelle Lichauco-Tambunting, co-founder and directress of Young Creative Minds Preschool. 

Bring a few of these along the next time you're headed out: 

1. A plastic envelope of arts and crafts materials



"I take a plastic envelope filled with crayons and paper. [My son] likes stickers and tape, so I have that there also. I have it with me when we go to a restaurant or if we're in the car or on a plane. I bring it first — that's my secret weapon. I have my phone and the tablet, but I try not to let it get to that point," said Michelle. 

2. A mini-buffet of kiddie snacks

ADVERTISEMENT - CONTINUE READING BELOW

One of the easiest ways to get your child to settle down? Get him munching! Kids can get grumpy when they're hungry so pack an assortment of yummy (but healthy!) goodies. Pack small containers filled with popcorn, sliced grapes, cheese squares, crackers, and more. For a treat, try Honest Junk's gummy bears that are sweetened with natural fruit juice, low in sugar, and preservative-free.

Find more locally made healthy to-go snacks for kids here: 
Look, They Exist: Healthy Gummy Bears and Potato Chips

What other parents are reading

3. Books 


Bring three books! "If the first book turns out to be boring, then you have the second and third. My eldest son grew up knowing that when we're going on a long car ride, he packs his bag with things he's chosen to keep him entertained and busy," shared Michelle.

Here are a few book recommendations:
Smart Parenting's Top 20 Filipino Children's Books of 2017
12 Fun Books to Get Kids to Read and Speak in Filipino (5 to 9 Years)
10 Pinoy Books to Jumpstart Your Baby's Learning

4. Open-ended toys



With open-ended toys, there are no rules how to play with them, and it's up to your child's imagination what they can become. One of our current favorites is the Classic Rainbow Set from the Manila Wooden Toys, a shop co-run by pediatrician Dr. Faith Buenaventura-Alcazaren. 

"The kids can put arcs together and turn it into a tunnel where another toy can pass. They can make a maze, a cave, a house — you will be surprised at how creative the children can be," Dr. Faith said.

See the other creative toys from Manila Wooden Toys here: 
Mom and Pediatrician Creates Wooden Toys for Child-Led Play

5. Read-aloud storybooks



If you haven't tried listening to audiobooks before, we recommend giving them a go. They're like storytime sessions with your little one, only this time, someone else is doing the reading — and is very good at it too! The story is also accompanied by music and sound effects. Give the one below titled The Magpie With Salt On Her Tail from the Circle Round podcast a listen.



See our favorite places to find free audiobooks for kids here:
3 Free Places for Audio Storybooks for Children 

ADVERTISEMENT - CONTINUE READING BELOW

Recommended Videos

What other parents are reading

6.  A busy board

A busy board has all kinds of household ware, like locks, switches, handles, and dials, for kids to tinker. Margaret Sarmenta, a DIY mom, calls it her son's "iPad." You can choose to make one for your child, or ask Margaret to make one for you. Yup, she takes orders! Check out her Instagram page at @moglycreations. 

See more of Margaret's incredible DIY creations (like a soft book, a car wash for toy cars, and more) here:
You Have to See the Toys This Mom Made for Her 3-Year-Old Son

7. Different colored clay (a.k.a. play dough)



Clay is always a hit with kids. You can buy some from the toy store or, better yet, make your own. The recipe below is from MarthaStewart.com and comes with lots of good reviews. "Worked out very well for us. Easy to make. Dough was a little sticky but improves with play. Inexpensive and I won't feel bad when it's accidentally left out or mixed with other colors," said one. 

ADVERTISEMENT - CONTINUE READING BELOW

2 cups flour
1 cup salt
1 tablespoon vegetable oil
2 1/2 teaspoons cream of tartar
2 cups cold water
Food coloring

Mix flour, salt, vegetable oil, cream of tartar and water in a saucepan over medium heat. Stir until thick. Divide and add drops of food coloring. Knead the dough to evenly color. Store in an airtight container.

Instructions on how to make easy DIY finger paint and bubbles here:
3 Affordable Craft Table Activities

8. A bring-along costume



Watch your kiddo perk up when you tell him you've packed him a costume in your bag. Pretend play isn't just fun for kids, it also boosts creativity and social, emotional, and language skills. Online bookstore Pumplepie carries Yumi & Mama "play apron" costumes that are easy to put on and pack! 

Find instructions on how to DIY a full set (mask, cape, and cuffs) superhero mask here:
Make a Superhero Costume for your Kid — No Sewing Required!

ADVERTISEMENT - CONTINUE READING BELOW

What other parents are reading

9. Printable activity sheets



Get your child occupied and learning at the same time. Worksheets are available in bookstores, but there are great places to find free ones online as well. Print and you're all set! Stash a few pages in your bag along with age-appropriate colorful writing materials. 

Find worksheets for:
Reading and writing
Counting and numbers
Getting your child ready to write

10. A science kit



Put together a science kit for your little explorer. In a bag, place tweezers for picking up specimens, a magnifying glass to inspect them (available in bookstores), a pill box for storing and collecting them, and a small notebook for jotting down (or pretending to jot down) his findings. Pack lab goggles (available in drug stores) and dad's white polo if you feel like bringing along a costume too. 

ADVERTISEMENT - CONTINUE READING BELOW

What other parents are reading

11. A subscription box just for kids

A subscription box for kids is a collection of hand-picked gadget-free activities for children contained in one cardboard box. The activities are usually themed, such as one about space, gardening, the sea, pirates, and more — you're bound to find one your kiddo will love. A few to choose from include GummyBox, Kindercraft, and Oli's Boxship. You can subscribe to get a box monthly or make a one-time purchase. 

Take a peek inside the subscription boxes mentioned above: 
3 Craft Subscription Boxes to Create Fun Projects With Your Kids 

12. A yoga guide

ADVERTISEMENT - CONTINUE READING BELOW

If your kiddo is the type who likes to keep moving (and can't sit still in his chair), this may be just what you need. Burn off your child's excess energy with an impromptu yoga session! TODAY Tala's Adventure Begins, written by pediatrician and yoga instructor Dr. Raissa Paje-Bayawa, is a storybook weaved with 14 yoga poses kids can copy. Find a bit of floor space and get your child posing! Find it for Php545 at MilkAndHoney.ph.

Read more about Dr. Raissa and her book here:
Pinay Pediatrician Writes Children's Book to Get Kids to Do Yoga

13.  Nothing — mom and dad are (often) enough!
Bond by singing, telling jokes, or just plain being silly! "When we let our kids use electronic devices in the car or the bus, [we miss out on] really good opportunities to talk to our children. You can be talking about what you're seeing and what your day was, and that language exposure is important to your child," speech-language pathologist Anthony D. Koutsoftas, Ph.D. told SmartParenting.com.ph. 

"We model so much for our children unconsciously. In the car, I have to put a pause button on myself and say, 'You know what, my son just got out school, maybe we can talk about that instead of me checking my email or Instagram feed.' We need to make an effort. If we want the digital world to work for us, we all need to learn to control it," said Michelle. Are you up for the challenge, mom?

Celebrate your pregnancy milestones!


Enter your details below and receive weekly email guides on your baby's weight and height in cute illustration of Filipino fruits. PLUS get helpful tips from experts, freebies and more!

You're almost there! Check your inbox.


We sent a verification email. Can't find it? Check your spam, junk, and promotions folder.

Trending in Summit Network