5 Reasons to Consider Homeschooling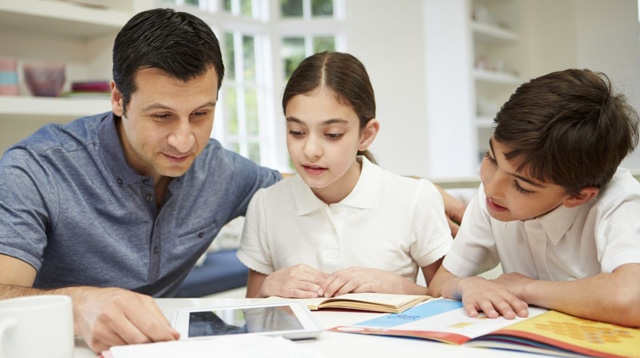 "Homeschooling is not for everyone" — this is a phrase you will often hear from most homeschooling parents. These same parents will most probably also tell non-homeschooling parents to at least explore homeschooling as an option for their children, and share why they think it is something worth digging deeper into.

Now, if you are a parent who is curious about homeschooling, here are some good reasons why homeschooling might be the educational path for your family:

1. You will have more time together with your kids.
While some parents might not consider this an entirely "good" thing, I'm sure most parents would jump at the opportunity to spend more time with their children. The homeschooling lifestyle will allow you to do this — and so much more!


2. Your kids will have more time to pursue their interests… and play!
If you have very young kids, especially of preschool age, homeschooling is certainly something you should seriously consider. It will allow your child to not be pressured to deal with formal academics at a young age, and you can incorporate more play in his or her learning.

In fact, many great minds in education agree that play is learning. Take, for example, scientist and Nobel Prize winner Albert Einstein, who once said, "Play is the highest form of research," and physician and educator Maria Montessori, who said, "Play is the work of the child."

What other parents are reading

3. Your family will have more freedom.
Without a tight schedule to keep — which involves waking up your child, preparing him/her for school, facing daily traffic jams to and from your child's school, homework and review time, etc. — you and your family will have more flexibility and freedom to plan out your days, weeks, and months. You can even take vacations in the middle of the school year — because you can take your homeschool lessons with you anywhere!


4. You can choose what kind of educational resources — books, equipment, field trips, etc. — to invest in.
Related to number 3, you — as your child's main teacher — will have the flexibility to choose what you will use to teach your child.

Some families may opt to use materials recommended by homeschool providers, i.e. institutions that provide support, training, and resources to homeschoolers. Others may choose to use materials solely from the Internet, or purchase books and educational tools from abroad.

When it comes to field trips, you also have the freedom to choose where to go with your child, and what kind of educational experience to immerse him/her in. Some homeschoolers even go on international "field trips" like to the Great Wall of China, or to the Singapore Zoo — the world literally becomes your "classroom" when you homeschool!
 

5. You will be the primary influence in your child's life, especially when it comes to values and faith.
While this can — and should — hold true even if you're not a homeschooling parent, the fact that other people outside your home can hold more influence on your child is very much possible. People like your child's teachers, classmates, and even the manong on the school bus or manang in the school canteen can have an influence on your child — which may not necessarily be a "bad" thing.

However, in many instances, these influences may not be aligned with your values and with how you intend to raise your child. More than anyone else, you, his parent, are his "first and best teacher," as parent educators Mariel Uyquiengco and Sanne Unson of The Learning Basket say.

Homeschooling, then, provides you with more time and opportunities to shape your child according to your preferred values and faith. Many homeschooling parents actually cite this as their number one reason for homeschooling.



What other parents are reading
Of course, these reasons for considering homeschooling form just the "tip of the iceberg" — there are certainly more reasons that come to mind.

Thus, if you're thinking about homeschooling, it would probably be better to learn about it from different homeschooling veterans and parents — particularly at the Philippine Homeschool Conference 2015, happening on October 17.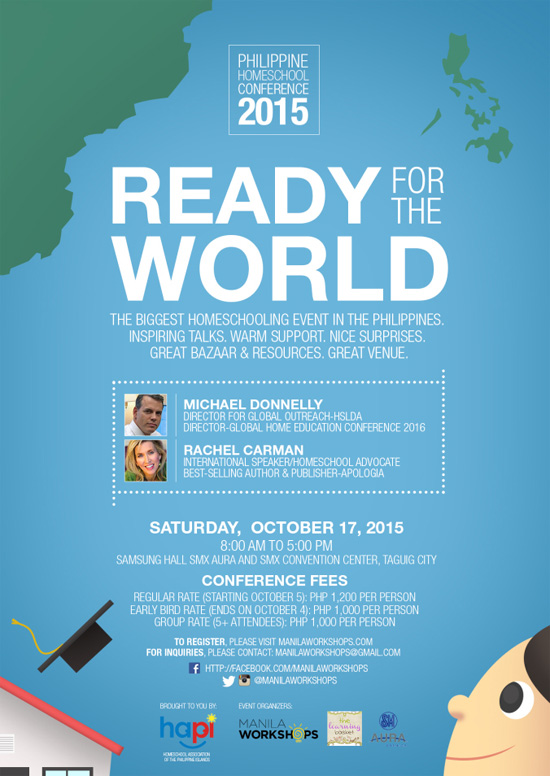 ADVERTISEMENT - CONTINUE READING BELOW
Dubbed "Ready For The World," the conference will feature talks from international speakers Michael Donnelly of the U.S.-based Home School Defense Legal Association, Rachael and Davis Carman of the bestselling Apologia Series, local personalities Chinkee Tan, Edric and Joy Mendoza, and homeschooling advocates Ched Arzadon and Tina Rodriguez.

Besides the talks, participants will also have the chance to visit the booths on display at the Conference Exposition Area, which will comprise mostly of books, learning materials, and academic enrichment opportunities. There will also be arts and crafts workshops for kids.

The Philippine Homeschool Conference is being organized by HAPI (Homeschool Association of the Philippine Islands), The Learning Basket and Manila Workshops. For more details, including fees, talk topics, and the registration procedure, please visit ManilaWorkshops.com.



Trending in Summit Network