To Nap or Not? 5 Answers to Common Preschooler Bedtime Dilemmas

Afraid of the dark? Sleeps too late? Here's what you can do, mom.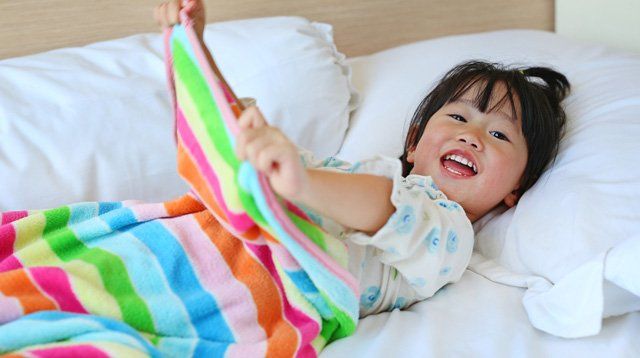 Growing kids need a good night's rest. "Proper sleep impacts the immune system and is critical in weight regulation, promotes cognitive development by building memory and supports learning, among many other benefits," said Dr. Agnes Tirona-Remulla, head of the Sleep Lab at Asian Hospital and Medical Center in Muntinlupa.

Parents are aware of this, which is why it can be frustrating if your child is having trouble falling asleep. To help you out, here are tips on how to handle common bedtime dilemmas in preschoolers:

Dilemma #1: Doesn't want to nap
So, your child just had her lunch after coming home from preschool, she should have an afternoon nap to recharge, right? Yes, but only if she wants to. Avoid forcing naps on preschoolers who don't want it. You'll just be taking away from your child's sleep at night, said Dr. Tirona-Remulla.

According to sleep recommendations, children 3 to 5 years old need 10 to 13 hours of sleep in a day, including naps. But, those age 6 and above don't need to nap anymore. Getting 9 to 12 hours of sleep at night is already enough. 

What other parents are reading

Dilemma #2: Sleeps too late or refuses to sleep at bedtime
You need a bedtime routine, and you need to keep at it until it becomes a habit. Start with the most energetic activity and progress to the most calming, said Dr. Tirona-Remulla. The routine can start with a warm bath, she says, that increases baby's body temperature, helping him to relax. Then move on to a bedtime story and end with a good night kiss. Dr. Tirona-Remulla stressed that for a routine to be effective there has to be more than one activity. Keep your child away from screens and avoid rousing activities at least an hour before bed as well, said Mayo Clinic. 

Dilemma #3: Afraid of the dark
"The dark can be seriously creepy to a 4-year-old, thanks to a surge in cognitive development and imagination around that age," sleep researcher Jonathan Kushnir, Ph.D., told Parenting. It's a common fear that kids will outgrow but there are ways to deal with it to help your child feel more at ease.  

First, be sensitive, patient and calm. Avoid getting angry or frustrated at your child. "Don't tease him or try to talk him out of it. This can prolong the fear as well as compromise his trust in you," said Claire Lerner, a child development specialist, in a column for Parents.  

Sleeping with a night light and a stuffed toy may lessen your child's fears and help him fall asleep faster. Together, assign your child's favorite stuffed toy the role of "protector" that will be able to keep the monsters at bay, advised Lerner.  

ADVERTISEMENT - CONTINUE READING BELOW

What other parents are reading

Dilemma #4: Wakes up too early
It's not necessarily a problem if your child wakes up too early in the morning as long as she's getting the recommended amount of sleep. But, if your little early riser is causing her -- and you -- to lose sleep, then it may be time to find a solution. 

If you have an alarm clock, tell your child that the alarm is for her, too. The alarm tells everyone in the family when it's time to get out of bed. "If she wakes earlier, she may play with her toys in bed or browse through a book," advised the American Academy of Pediatrics' HealthyChildren. She may not, however, turn on the lights or be loud. "If you follow this schedule for several weeks, your child's sleep pattern should shift so she'll fall back asleep after her early morning waking or remain sleeping until the alarm goes off."  

Dilemma #5: Wakes up screaming at night
A night terror can be alarming for a parent to witness. This is when you notice your child, who was previously peacefully sleeping in bed, suddenly sit upright, shout or scream, act scared, or even thrash around. Like sleep walking, your child isn't really awake when he has a night terror. It's not like a nightmare -- your child won't remember it in the morning.

The best thing to do when your child is having a night terror is to just wait it out. You can speak calmly to your child but don't try to wake him, said sleep specialist Dr. Keith Aguilera, head of the Comprehensive Sleep Disorder at St. Luke's Medical Center. This will pass. If your child's night terrors are recurring and causing him to lose sleep every night, Dr. Aguilera advised parents to consult a sleep doctor. 

CONTINUE READING BELOW

Recommended Videos

What other parents are reading

Celebrate your pregnancy milestones!


Enter your details below and receive weekly email guides on your baby's weight and height in cute illustration of Filipino fruits. PLUS get helpful tips from experts, freebies and more!

You're almost there! Check your inbox.


We sent a verification email. Can't find it? Check your spam, junk, and promotions folder.

Trending in Summit Network