Be Prepared to Handle! 7 Types of Moms You'll Meet at School

Know anyone who fit these descriptions? Here's a guide to handle each one.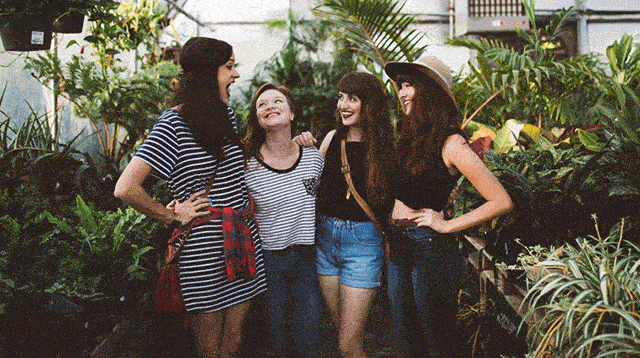 You've probably met one before: the mom who obsesses over her child's test scores and constantly compares them with others', the one who is always quick to share a bit of gossip even when no one really cares, or the one who drags other moms to the fanciest coffee shop regardless of who is watching her weight -- or her wallet.

Is interaction absolutely necessary among moms whose kids are in the same class or school? Moms have differing opinions on this. Some prefer to keep to themselves, while others like belonging to a clique. The pros and cons vary.

For Anita Suarez*, whose son has spent most of his grade-school years in the same school, being with a group of moms works to her advantage. "When our kids are absent, it's easy to catch up on homework. We can also ask each other about school requirements and activities," she says.

There are new moms, like Cynthia Goco*, however, who are apprehensive about getting too close to other moms at school. She says, "I don't mind having very limited interaction with the other moms in my child's school, because then I don't get tangled in a web of tsismis and intriga."

What other parents are reading

Whatever level of mom-to-mom interaction you share with others, you may still find yourself in situations where you feel as if you're skating on thin ice. Read on as mom-teachers share how to handle real-life situations involving other moms -- without getting on anyone's bad side, of course.

1. The grade-conscious mom
"There's a mom in my group who keeps comparing her child's grades with my son's. I don't want any competition! I also don't want our kids to think they should be outdoing each other."

ADVERTISEMENT - CONTINUE READING BELOW

What to do:
Try to study her situation, says schoolteacher and mom Dawn Vera Cruz. Does she come from a family of achievers? Is that why grades are so important to her? "This will make you understand her better," says Vera Cruz.

What not to do:
Don't feel like you have to explain yourself or justofy your son's grades. According to Marah Vasquez-Estuesta, administrator and part-owner of Mindbuilders Preschool in Las Pinas City, it is important to drive the point that "each child has a different level of development and is gifted in different ways."

2. Early birds and the bees
"My son's bus mate likes talking about the birds and the bees with him. I haven't even brought up that topic with my son yet! I want these conversations to stop, but I don't want to take the drastic measure of pulling out my son. Is it appropriate to approach the child's mom?"

What to do:
Attend to your child first, says Vera Cruz. Find out how the conversation went with his classmate, and watch for his reaction. Be readily available to answer any questions he might have. Keep your answers simple and straight to the point.

What not to do:
Don't confront the classmate's mom in front of other people. If you are comfortable with her, then it's okay to talk to her about it. Vera Cruz says you should be careful with your words when letting her know what her son has been discussing with yours.

What other parents are reading

3. Can't keep up with the Santoses.
"I've become good friends with a few moms of my child's classmates. They like shopping, hanging out at pricey cafes, and collecting designer bags, whereas I don't. How do I turn down their invitations without making them feel as if 'wala akong pakisama'?"

CONTINUE READING BELOW

Recommended Videos

What to do:
Have the courage to voice out your concern, says Vasquez-Estuesta. "To lessen discomfort, be flexible depending on the level of friendship you have formed with the group," she adds.

What not to do:
Do not feel obligated to join them every single time. According to Vera Cruz, you can set aside a schedule for hanging out with them, say, once every two weeks, and let them know that's the only time you are free. You also need not buy anything when you're with them. You can say, "I'll just keep you company this time."

4. Daddy's different.
"A classmate once told my daughter, 'Maybe my dad doesn't love me because he doesn't play with me -- not like your daddy.' How do I let the mom know without overstepping boundaries?"

What to do:
Consider this an opportunity to teach your daughter about empathy. "This is an important life skill that can help you understand and show concern for others," Vasquez-Estuesta adds.

What not to do:
Don't magnify the situation; simply focus on the positive. Have your daughter mention to her classmate that there are many ways that daddies show their love, advises Vera Cruz. Your daughter can remind her classmate about the time her dad attended a school activity, or when he helped her with a project.

What other parents are reading

5. The know-it-all mom
"Every time I share something with a group of moms at school, there's this mom who keeps saying she's been there, done that. Other moms are beginning to notice, too. How do I tell her off in a subtle way?"

ADVERTISEMENT - CONTINUE READING BELOW

What to do:
Understand that she is probably striving to gain acceptance in the group, Vera Cruz explains. Acknowledge her statement and then slowly steer the conversation to a different direction.

What not to do:
Don't try to outdo or question her, as the conversation is bound to go in circles. "Try to be open-minded and open-hearted. And always be tactful," says Vasquez-Estuesta.

6. Gossip gal
"One of the moms at my kids' school likes to gossip. I don't have time for it! Who really cares if one mom has a big crush on that handsome single dad? Or which mom just splurged (again!) on an epensive designer bag? How can I make her stop?"

What to do:
Use your better judgment in determining what is your business and what is not. Respect for privacy is an important factor in dealing with other moms, according to Vasquez-Estuesta. However, if you think it is a critical issue that affects the welfare of the students, approach the school authorities.

What not to do:
Don't encourage her. Saying "Really?" or "No way!" or contributing to gossip is not the way to make her stop, says Vera Cruz. "Try to end the conversation right away to give the message that you are not interested in that kind of talk," she adds.

7. Critical mom
"A full-time mom at my daughter's school frequently makes judgmental remarks about other moms who work nine to five. (May time pa kaya sya sa anak nya? Bakit iniiwan lang niya sa yaya?') I work, too, and I feel offended all the time."

ADVERTISEMENT - CONTINUE READING BELOW

What to do:
Respect her opinion, says Vasquez-Estuesta, as people have different views. This shouldn't stop you from speaking your mind, but hopefully you would also gain back the respect you deserve.

What not to do:
Don't take it personally. "All moms have the best intentions for their children, and you are no different," assures Vera Cruz.

What other parents are reading

Celebrate your pregnancy milestones!


Enter your details below and receive weekly email guides on your baby's weight and height in cute illustration of Filipino fruits. PLUS get helpful tips from experts, freebies and more!

You're almost there! Check your inbox.


We sent a verification email. Can't find it? Check your spam, junk, and promotions folder.

Trending in Summit Network