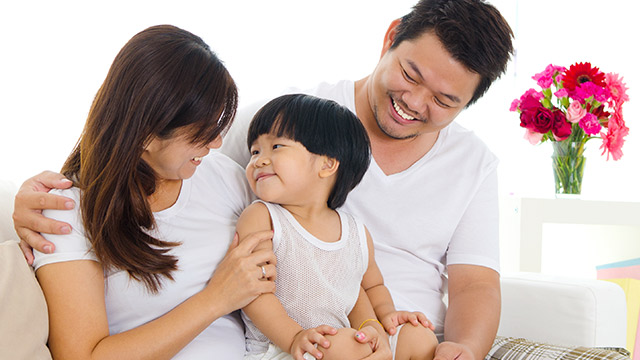 Raising and caring for children is no walk in the park. Balancing home life and work responsibilities is a struggle even for the most organized of parents. But parenting during a pandemic? No mom or dad could have foreseen or prepared for the host of challenges this would entail.
The question then, in most parents' minds is this: How do we help our kids deal with this new reality, and at the same time support their emotional, mental, and physical development?
These and more were the focus of the recent Similac GainSchool "kidMMUNITY Live" discussions that aired on Smart Parenting's Facebook page. In these online videos, moms Rissa Mananaquil-Trillo, Bianca Santiago-Reinoso, and Christiana Collings-Canlas took turns seeking pediatric experts' advice about parenting in the "new normal."
Below are some of the doctors' most important insights:
1. Practice 'Team Parenting' by presenting a united front.
Dr. Joseph Regalado, a pediatric psychologist, pointed out that couples shouldn't just share the parenting load, they also need to agree on how they will actually raise their children.
"The key here is for parents not to even think one is better than the other," he explained. "It is very important for the mom and the dad to talk about whatever differences they have in terms of approach, at their perception of a particular situation."
Dr. Regalado said this helps make sure the child doesn't confuse authority at home, or worse, grow up manipulating his or her parents. "It's important that they see that authority is conjugal."
2. Create a safe environment to build your child's self-esteem and support his interests to boost confidence.
Self-esteem starts with the environment, Dr. Regalado said, explaining that parents need to create an "atmosphere of acceptance and love, and an affectionate environment, so the child feels he is a person that's worth loving."
The language you use is also essential. Kids who hear supportive and encouraging words feel that "there is value in what they want to do." Appreciate their efforts more than the result.
The psychologist noted that encouraging kids to pursue their interests is a reliable way to help them develop confidence. Art, music, sports are where kids can find their happiness, fulfillment, and "their soul."
He said children need to learn that they can thrive and excel in areas beyond academics.
3. Communicate honestly with your child, especially when managing his anxiety.
There is no one way to encourage kids to open up about their feelings. "Always remember the number of kids you have is [equal to] the number of personalities you have to deal with," Dr. Regalado explained.
You cannot put kids in a box, he added. "They have different temperaments and personalities, so you have to customize the approach. Each child should feel important."
Conversations with kids need to be open and without judgment. "The child should feel like you're really interested in their feelings or their experiences," he said.
Dr. Regalado also brought up how anxiety in children is triggered by life-changing events — be it a loss in the family, movement like changing homes or schools, or a yaya leaving. "These changes in routines are actually stressful points, which, as adults, we shouldn't be taking for granted. These are big stuff for children."
The doctor explained that parents may need to involve their kids when making life-changing decisions. "They are no longer infants. You have to talk to them. They have to be part of the decision-making process."
4. Never force your child to learn at home, instead make it fun and exciting!
Dr. Joselyn Eusebio, a developmental and behavioral pediatrician, said parents need to take care not to force their kids to learn, explaining that it is "not conducive for learning. In fact, they will resent it. [Learning] should not be rigid; there should be space [for them to breathe]."
"You also have to come up with different approaches," she said, adding that having a variety of activities also helps. Dancing, arts and crafts, gardening, cooking are just some of the creative ways kids can be productive at home.
Kids also learn if you can capture their interest. "What you're teaching your child, what you're making him do as an activity should be enjoyable, that he is interested in," she said. "After all, learning should be fun."
Dr. Eusebio also enumerated some guidelines for setting up a space for learning at home:
It needs to be well-ventilated.
It needs to be well-lit.
There should be minimal distractions.
The child should be comfortable.
If you're concerned that you don't have the means or confidence to facilitate your child's learning, Dr. Eusebio has this to say: "This is really the time for parents to be challenged, to be innovative, to be creative."
Parents are their kids' first teachers, she said, and what matters is coming up with an effective learning method that suits both parent and child.
5. Support social and productive screen time.
Dr. Eusebio advised parents to maximize technology use when it comes to their child's learning, saying that kids can apply or do in real life what they learned from watching an online video.
"Watching should be educational and, at the same time, should be applied for [kids] to better remember things," she said.
For Dr. Regalado's part, supervised screen time helps kids socialize and bond with children their age. He encouraged parents to use social media to connect kids with their cousins, classmates, and friends.
Video chats, for example, "help them share their feelings, maybe even help reassure each other," he said. "Your kids will be able to feel a sense of unity and community."
6. Integrate physical activity into the family's daily routine.
Dr. Kristine Gutierrez, a pediatric immunologist, said: "It's important that we stand up, to move, to dance, to groove together with our kids because [physical activity is] important not only for immunity but for overall health."
Physical activity and exercise aren't interchangeable. However, the doctor said, exercise is structured, while physical activity has to do with movements associated with daily living. The doctor said, "around 160 minutes per day of physical activity is good for [kids]."
According to her, parents should consider a couple of things when it comes to age-appropriate physical activities at home:
Do it in a safe environment.
Set a good example. Kids need to see that you, too, are doing physical activities.
Make things fun and enjoyable.
Dr. Gutierrez also underscored the importance of integrating physical activities into the family's daily routine as kids thrive with structure.
Now, there's no more excuse not to do physical activities at home. "There's no traffic that we're stuck in. Therefore that time, we can put in certain routines that we haven't done before, and part of that would be exercise or physical activity," she said.
7. Prioritize nutrition to strengthen a child's immune system.
According to Dr. Gutierrez, a healthy lifestyle, of which physical activity is one part of, is really the key to building a child's immunity. "Healthy lifestyle starts with your diet, proper sleep, and proper physical activity."
"A big chunk of [it] is eating the right kind of food," she said, explaining that this is where "Pinggang Pinoy" comes in. "Pinggang Pinoy" is the healthy food plate model created by Filipino health experts to illustrate the recommended food proportions per meal and per age group.
"[It] is something that I truly stress with all my patients," Dr. Gutierrez said. "Imagine a plate: half of it should be made up of fruits and vegetables, one-fourth carbohydrates, one-fourth should be your protein source, and, of course, a glass of milk to go with it."
The immunologist says all of these are important to encourage the growth of the healthy gut microbiome or the good bacteria in the stomach. According to her, 70 percent of a human's immune system could be found in the gut.
Found in the diet are nutrients like prebiotics, which are food for good bacteria. "If we let these good bacteria thrive and prosper, then it can translate to very good immunity in the long term," she added.
Dr. Regalado also gave this helpful tip: Balance your kids' meals with milk.
"Milk isn't just calcium, protein, or iron. The choice [of milk] is very important," he said, explaining that parents should look for nutrients like 2'-FL HMO (or human milk oligosaccharides) and nucleotides.
"It helps you build up the immune system. [2'-FL HMO] is actually an immune-nourishing prebiotic, so it enhances the growth of good bacteria," he explained. And together with nucleotides, they strengthen and build the body's immunity.
Watch Episode 1 here, Episode 2 here, and Episode 3 here.
The "kidMMUNITY Live" series was organized by Similac GainSchool to provide expert and professional parenting advice to moms and dads with kids 3 years old and above.
Similac GainSchool tapped both healthcare professionals and parents to form kidMMUNITY, a community of experts that can help provide informative and practical advice about children's health — particularly, their immune system — and overall well-being.
For more information about how you can boost your child's immune system and protect their overall health and well-being, visit the official Similac website and follow Alagang Abbott on Facebook.
In compliance with the Philippine Medical Association's Code of Conduct, the doctors featured in this article are not endorsing or promoting any brand or product.