Kids With Anxiety Complain of Stomach Pain and Headaches Frequently

This is what anxiety looks like in a child.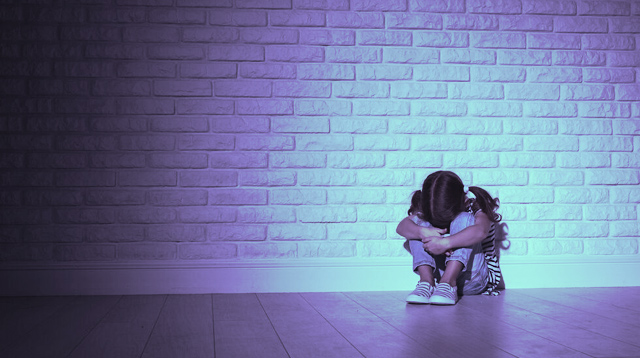 It might not be unusual for your child to be a little shy, quiet or fearful. But what to do when your usually mild-mannered kid suddenly snaps at you and throws his bedroom into disarray? Or if your otherwise cheerful daughter clings to you and cries every time you drop her off at school? A tantrum or two is not unexpected behavior so you might be surprised to know that these situations could also mean that your child is experiencing anxiety.

In recent years, anxiety disorders have been on the rise among children. In the U.S., one out of eight children is troubled by anxiety, according to the Anxiety and Depression Association of America. However, the more difficult part is pinpointing whether the child is suffering from the condition or not. Because anxiety is often characterized by a number of negative behaviors, parents and teachers can address the behavior issue but not know that anxiety is behind it.

Kids are also not aware that what they're feeling is anxiety. At a young age, they still might not be able to communicate their true feelings. They might not even know whether what's "going on in their heads" is out of the ordinary so they wouldn't think of reaching out to their parents or asking for help.

What other parents are reading

What anxiety looks like in a child

The thing you should take note of is that anxiety doesn't only show up in a child's behavior — the condition can manifest as physical expressions of symptoms. Here some signs to look out for:

ADVERTISEMENT - CONTINUE READING BELOW

Psychosomatic symptoms

Anxiety may induce physical illness in the form of frequent stomachaches, unexplained muscle aches and pains, and headaches. "It's also important to watch for complaints of chest pain, racing heart, difficulty breathing, dizziness, and difficulty swallowing," child and adolescent psychotherapist and parenting educator Katie Hurley writes in The Washington Post. "These can all be symptomatic of a panic attack.

An article by The Mighty compiled various phrases people with anxiety used as kids and later on realized were a code for "I'm anxious." One of them was "I have a headache." 

"I used the excuse of feeling ill plenty of times to avoid going to school. I didn't realize I had anxiety at the time, but everything makes sense when I look back on it now. I wasn't just being 'lazy' back then," wrote Ada T.

"It was easier to explain that something physical was going on as opposed to something that was invisible," said Joanna L.

What other parents are reading

Anger and mood swings

There are a number of reasons why kids experience meltdowns — exhaustion and a feeling of being overwhelmed are on top of the list. Long, frequent meltdowns that are caused by anger and irritability may be a cause for concern. "Child anxiety often looks like intense anger and a complete lack of emotional regulation," says Hurley.

Sadness

If your children are extra clingy, sad, and prone to burst into tears without explanation, they may be suffering from anxiety.

"I didn't realize I had anxiety and my parents didn't either," said Kylie L to The Mighty. "They just thought I was being dramatic when I would burst into tears crying, 'What is wrong with me?' I was a chatterbox, so my silence was a sign my anxiety was in full swing."

"I was very anxious about being abandoned as a child. I believed people would leave me if I wasn't good enough, and it would be my fault," said Jennifer P.

CONTINUE READING BELOW

Recommended Videos

What other parents are reading

Isolation

Anxious children prefer to be alone, often avoiding social interaction after school hours. They prefer to go home right away because their house makes them feel safer.

Poor concentration.

Another sign is if your child finds it difficult to focus in class or delays school work when at home. Anxious children are great at procrastinating and tend to avoid challenges.

Exhaustion and inability to sleep.

If your child used to be active but suddenly becomes tired all the time, he may be suffering from anxiety.

"When I was a kid, I experience sleep disturbances for a very long time. The whole process of going to school, getting through the day, trying not to be bullied and coming home was always mentally rehearsed the night before," said Julie A. to The Mighty.

School refusal

Children with anxiety feel like school is a burden and would often think of ways to skip it. It can feel like an exercise in survival, according to Hurley, and is often the first red flag that will clue parents that there is something going on with their kids.

What other parents are reading

What triggers anxiety

Anxiety can be created by a stressful home environment, like parents setting unrealistic expectations. It can also be fueled by academic pressure, social issues like being bullied, and loss — a parents' separation or a death of a loved one can be devastating to a child.

Gender biases play a role, too. "Anxious boys are also taught to suppress or hide their fears (because they have to 'man up') while anxious girls may be overindulged and overprotected," says psychologist and guidance counselor Stella Formosa. Neither of them learns constructive, helpful ways of dealing with their emotions.

ADVERTISEMENT - CONTINUE READING BELOW

Helping kids cope with anxiety

Though childhood anxiety is a cause for concern, it is also treatable, especially if parents can spot the signs early on. The first step is to seek for help — Hurley advises to consult with a pediatrician to rule out or diagnose medical issues. They can then refer you to mental health practitioner that specializes in working with children. In terms of therapy, a recent study, published in the journal Clinical Child And Adolescent Psychology, says Cognitive Behavioral Therapy (CBT) may be the most effective.

CBT aims to "change patterns of thinking or behavior that are behind people's difficulties," according to Psych Central. With kids, it can help them have a more realistic version of situations and teach them how to cope with their anxious thoughts.

What other parents are reading

At home, parents can help their children by teaching positive stress coping mechanisms. Take it one step at a time — if he withdraws in large groups, get him to engage with others through smaller activities, and then slowly move on to a bigger crowd when he feels more capable.

"These experiences give him emotional armor," said Formosa. Next time he's afraid, you can say, 'But remember, before you were scared of this, and now it's not so bad.'"

And the most important thing is to be there for him. Encourage him to open up and to talk to you about his feelings. The feeling of anxiety is overwhelming to a child and unspoken fears are even harder to fight. But if your child knows that he can count on you for emotional support, then he can also find the courage to manage his symptoms, cope, and take control of his feelings.

ADVERTISEMENT - CONTINUE READING BELOW

What other parents are reading

Celebrate your pregnancy milestones!


Enter your details below and receive weekly email guides on your baby's weight and height in cute illustration of Filipino fruits. PLUS get helpful tips from experts, freebies and more!

You're almost there! Check your inbox.


We sent a verification email. Can't find it? Check your spam, junk, and promotions folder.

Trending in Summit Network