Reduce Gadget Overuse for the Whole Family! Play These Games at Home or at the Park

Instead of staying indoors staring at a screen, why not play some fun backyard games as a family?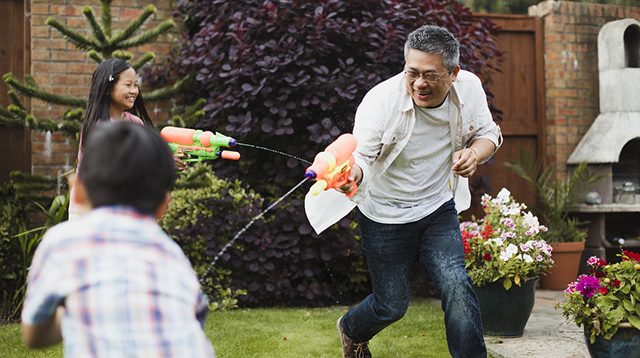 We don't realize how much time passes when we — kids and grown-ups alike — are in front of the TV or mobile phones. We are often on our couches, surfing and playing, inside our homes instead of outside playing a backyard game. As studies have found, when kids, especially those under 5 years old, spend too much time in front of screens, they get less sleep and could experience speech delays and derailed development of their fine motor skills.

To combat those harmful effects, experts recommend sufficient physical activity for children. Dr. Fiona Bull, program manager for surveillance and population-based prevention of noncommunicable diseases at the World Health Organization, points out that when children get enough physical activity, their physical and mental health is improved and they are less likely to develop childhood obesity and other associated diseases later on.

Similarly, adults have much to gain from staying physically active. A recent article on SmartParenting.com.ph discusses a study which found that adults who engage in physical activity as simple as walking every day are more likely to live longer.

All these show how essential physical activity is for people of all ages.

Backyard games to play with the family

How do you get the kids to go outside for some physical activity: play backyard games as a whole family! Here are 12 examples of backyard games that you can play at home or at the park. They don't require too much prep, plus they guarantee lots of bonding and exercise for everyone!

ADVERTISEMENT - CONTINUE READING BELOW

Slippery Water Balloon Toss

What you need: Balloons, dish soap, water

How to play: First, fill the balloons with water. Divide the players into two lines and have each one lather their hands with dish soap. They have to toss the water balloons back and forth without them bursting. The player who manages to his or her water balloon intact the longest wins!

DIY Bottle Bowling

What you need: Empty water bottles, a tennis ball, paint (optional)

How to play: Gather your empty bottles. If you have the time or are feeling extra creative, you can paint them so that they look like actual bowling pins. Set up your DIY pins in an equilateral triangle pattern. Each player gets two turns to roll the tennis ball and try to knock all the pins down. Depending on the ages of the players, you can adjust the distance between them and the pins (for instance, younger players can start at a closer range, while older players can start a bit farther). To find out who wins, you may designate a certain number of points depending on the number of pins knocked down.

Candy Balloon Relay

What you need: Balloons, candies (make sure they are not choking hazards for young kids)

How to play: Divide the players into two teams and give each person a balloon with a piece of candy inside it. Set a designated spot where each player needs to go to pop their balloons. Once the players pop their balloons, they need to eat and swallow their candy before they can go back to their group and tag the next player. The team that finishes popping their candy balloons first wins!

CONTINUE READING BELOW

Recommended Videos

What other parents are reading

Outdoor Obstacle Course

What you need: A wide space, different objects that can be turned into "obstacles" (such as old tires, play sets, hula hoops, and more)

How to play: Scan the space you have to gauge how many obstacles you will need to set up. Maybe you can gather old tires the players need to walk through, arrange a quick rope course, or prepare games that involve throwing objects into containers situated a short distance away. Divide the players into at least two teams and see which team finishes the course first.

Water Balloon Tag

What you need: Balloons, water, food coloring (optional)

How to play: Fill the balloons with water. If you want to spice things up, you can add a few drops of food coloring to the water (just make sure that the players are all wearing clothes that can be dirtied). Assign someone to be the "taya." That person then has to throw her balloon at someone else. Whoever gets hit with the colored water will be the next "taya." The person who manages to finish the game without having been tagged wins.

DIY Giant Jenga

What you need: 2x4 pieces of wood, paint, sandpaper

How to play: Have your 2x4 pieces of wood cut into forty-eight 10 ½ inch-sized pieces. Sand each piece to make them smooth. To make things more fun, paint the edges of the wooden parts in different colors. The number of colors can depend on you or even on the number of people playing. Once you've prepared your DIY Jenga pieces, set them up into one tall tower and let the game commence. Take things up a notch by assigning each player a specific color of wood they are allowed to take out of the tower.

ADVERTISEMENT - CONTINUE READING BELOW

Water Balloon Dodge Ball

What you need: Balloons

How to play: Instead of actual balls or other hard objects, you can just fill some balloons with water and use that for your game. The great thing about this alternative version is that it will not hurt anyone; it will just get them wet!

Blanket Race

What you need: Blankets, chairs

How to play: Divide the players into teams of two. Using the chairs, set up designated spots that the teams need to go around during the race. One player will sit on the blanket, while the other player has to pull the sheet forward, around the designated spot, and back to their original position. The team that finishes first wins!

Hula Hoop Competition

What you need: Hula hoops

How to play: All the players need to do is hula hoop for as long as they possibly can. To make everyone more motivated, blast on some energetic music they can dance along to. The player who can hula hoop the longest wins the game!

Balloon Dart Game

What you need: Balloons, a big board, darts

How to play: Fill the balloons with water and designate each balloon with a specific number of points. Adhere the balloons to the board and set it up a certain distance away from the players. Each player gets a chance to try to shoot their darts at the balloons. Whoever scores the most points wins the game.

DIY Ring Toss Game

What you need: Bottles, plastic rings, paint (optional)

ADVERTISEMENT - CONTINUE READING BELOW

How to play: Gather your old or unused bottles. You may paint them in whatever color you want just to spice things up. Set the bottles up a certain distance away from the players. Give the players three rings each, which would mean that they have three chances to toss their rings and try to get them on even one bottle. If they can do so, they can win a prize!

Water Cup Race

What you need: Cups, strings, water guns

How to play: Cut out holes in the bottoms of your cups, and string one up on each string. Hang up the strings (the number of strings you need can depend on the number of players that will be participating). Using their water gun, each player has to squirt water into their cup to make it move forward on the string. The player who finishes first wins the game.

What other parents are reading

Celebrate your pregnancy milestones!


Enter your details below and receive weekly email guides on your baby's weight and height in cute illustration of Filipino fruits. PLUS get helpful tips from experts, freebies and more!

You're almost there! Check your inbox.


We sent a verification email. Can't find it? Check your spam, junk, and promotions folder.
Trending in Summit Network