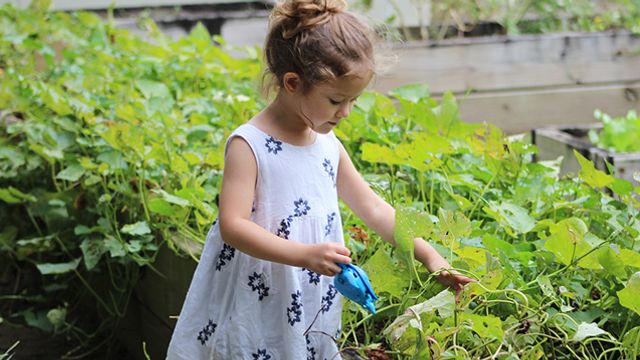 It is not uncommon for kids to pick up on certain interests as they grow, whether those are animals, dinosaurs, vehicles, or bugs! And while you zone out at some point as your little one goes on and on about her favorite topic, experts say there is plenty of good reason to let her continue exploring.
According to a study performed by researchers from the University of Wisconsin and Indiana University, a child's intense interests may actually present plenty of advantages for her cognitive development. Specifically, those interests can cause "increased knowledge and persistence, heightened attention, and deeper levels of processing" in children.
One possible way to explain these effects is by looking at how children act when they become interested in a certain topic. Scary Mommy writes, "When a child is truly interested in something, they will seek ways to learn and play so they can absorb as much information as possible." A child may make use of different resources such as digital media and various toys, or even ask her parents to read books out loud to her to get answers to her many questions about that topic.
A child who is encouraged to pursue her interests is also given a valuable opportunity to improve her skills in language and creative thinking, which can help immensely in building her ability to solve problems and navigate social situations. Eventually, when she feels like she has already mastered that topic, she gets a sense of confidence within herself, which may lead to her feeling even more motivated to explore the world around her.
Later on, when the time comes for the child to go to school, she can reap the benefits of her intense interests. According to the same study, there is a high correlation between intense interests and deep-level indicators of understanding, like the ability to elaborate and to give correct responses to questions about comprehension. CNN also refers to other studies that have claimed that older children with intense interests tend to have above-average intelligence.
Kids generally develop intense interests between the ages of 2 and 6, which happens to coincide with the peak ages of imagination-based play (ages 3 to 5). However, don't be surprised if your child eventually stops pursuing that intense interest after a while. By the time she begins elementary school and experiences a more rigid, curriculum-based kind of learning, her intense interest may begin to wane, since this is the time when kids are expected to learn about a variety of different subjects all at once, therefore leaving less room for her to focus on a specific interest.
The researchers of the study explain why the transition to formal schooling may be one reason why intense interests are not maintained. "After the preschool years end, the child's home life becomes enmeshed with the cultures of school and neighbourhood and new play and recreation possibilities abound."
Another possible factor why kids eventually outgrow their intense interests when they reach formal school is the fact they interact with a lot of other kids who may not be as fascinated with bugs or dinosaurs.
Of course, we know that it will be false to say that nothing can be gained from encouraging your child to pursue her preschool interests. You are not sure she will become palaeontologist, but her love for dinosaurs now will help bolster her cognitive development and foster skills that she will benefit from as she grows up.
Encourage your child's intense interests by enrolling her in workshops and classes. Visit locations that can help supplement her interests such as museums and libraries. As long as that interest is not dangerous or unhealthy, let your little one explore!