Join the next Smart Parenting Giveaway and get a chance to win exciting prizes!
Join Now
How One Mom's Bright Idea Got Her Kids to Read, Write, and Share Their Feelings!

It's an excellent way to encourage your child to open up and connect when the days are too busy.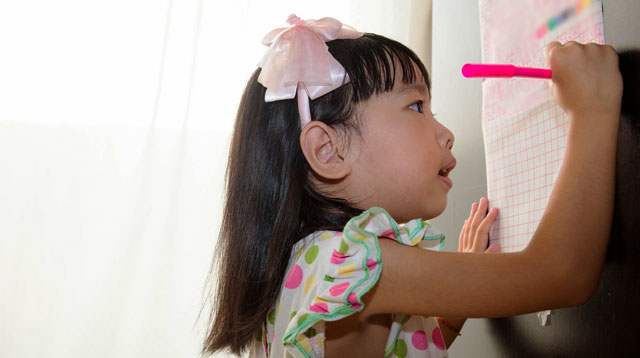 The way we navigate our fast-paced lives as parents has an impact on our relationship with our kids. And because we want it to be a positive experience, we have conversations with our child — we try our best to ask the right questions. But more importantly, she feels she can talk to us anytime and with any means. 

One mom had this genius idea how to connect with your child. Michelle Woo hoped her 6-year-old would accomplish a few pages of the math and reading workbooks her grandmother bought her. But the mom of two and Lifehacker's parenting editor did not want to push her preschooler.

Instead, Michelle tried an experiment. She tore out a page from a workbook and taped it on the side of their kitchen island to see if her daughter, Maggie, notices it and what she would do about it.

Guess what? Maggie responded on the same night Michelle put up the page. "Without any prompting, she quietly got a pen, sat on the floor and completed the worksheet," Michelle shared in her piece. "And that was that! I didn't say 'Good job!' or anything at all."

ADVERTISEMENT - CONTINUE READING BELOW

Michelle then put up another worksheet, and her daughter answered it. It happened over and over again.

Since then, that side of their kitchen island has become what Michelle calls the "noticing wall." She describes it as "a zero-pressure space for us to write notes to each other, ask questions, jot down fun things we learned, and make plans." And there is no pressure or a deadline for answering — her daughter can respond in her own time and if she wants to.

ADVERTISEMENT - CONTINUE READING BELOW

Michelle and Maggie have also used the noticing wall for practicing writing letters after Michelle found out her daughter sometimes write the letter "p" backward. 

"If we're talking about learning, the noticing wall has become a way for me to engage my daughter in purposeful reading," Michelle shared. (It's similar to the mom who indulged her kid's obsession with graphic novels just so he could practice and be better at reading. Read more here.)

The noticing wall, however, has evolved to become Michelle's window to her daughter's thoughts and feelings. The other things on their noticing wall range from love notes and apology letters to conversation prompts on games they want to play or activities they want to do.

"I get excited to look at the wall every day, and I think she does, too. I hope we'll always find ways to write back and forth to each other about anything and everything, without judgment," Michelle shared.

ADVERTISEMENT - CONTINUE READING BELOW

If you're creating one for your home, first ensure that it's on a space everyone in the family sees more than once daily, and your child can easily reach the notes you put up. If you have more than one child, Michelle suggests asking questions everyone can relate to or use labels to target a sibling.

Also, "don't talk about the noticing wall or at least don't talk about it too much," Michelle added. Part of its effectiveness is its non-requirement and non-judgy nature (unless an alarming issue comes up that warrant an intervention).

"Let it just sit there and be a quiet place for thoughts, hopes, and curiosities."

More from Smart Parenting

Get real and practical parenting advice