Apply These Rules to Discipline Your Kids and Give Yourself a Break

These rules on discipline can benefit you and your child.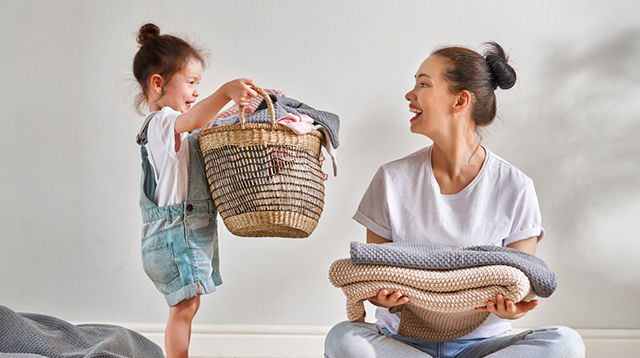 As a parent, the idea of self-care can seems too hard to attain because you're wondering do you even have time to do it. These rules may seem impractical, but they can help you make sure that your kids grow up responsbily while also allowing you the opportunity for a break.

1. Work only until a certain time every day

You might be thinking: "How will I be able to manage to stick to that rule?" Yes, it might look even more challenging to do, but it also brings a lot of benefits. Aside from helping guarantee more me-time for you, it can also help begin a healthier routine for your growing kids, who need adequate sleep every night.

The Parent Journal writes that following this rule can also foster a consciousness of time in your children and even in your spouse. They can help you make sure that all the things that need to be done for the day have already been finished by the time your deadline rolls in. The key to seeing the success of this rule, though, is to be as consistent as you can in following it yourself.

What other parents are reading

2. Engage the kids to work with you

Your kids need to understand that you need time to work, so involve them in the decision and make sure you follow through on your end. This way, you acknowledge their desire to spend time with you and you do make time for it. Enforcing this rule at home can make way for a different kind of bonding between you and your child, while also teaching them to be responsible and considerate.

ADVERTISEMENT - CONTINUE READING BELOW

3. Don't give in quickly when they throw a tantrum 

Whether it's about something they want you to buy them in the mall, or a toy they're fighting over with their sibling, or an activity you won't let them do, kids seem to think that throwing fits will get you to soften up and relent. Though it can be very tempting to go that direction, giving your child what they want can quickly turn into overindulging them, and possibly lead to fostering a sense of entitlement and a "spoiled" attitude in them. Standing your ground conveys to them that throwing tantrums won't get them what they want.

Responding calmly to your child's tantrums is a great way for you model self-control to them.

4. Remain calm and understanding when your child acts rudely

Maybe they scream, whine, or throw objects around, or simply act in a disrespectful manner. No parent is perfect, so sometimes when kids act out, moms and dads can get carried away by their emotions and get angry themselves. But instead of resolving the situation, this kind of response can only add more fuel to the fire, and make your child think that it's okay to misbehave when you're frustrated. Worse, yelling at your kids might inflict emotional and psychological pain on them, whether you do it accidentally or otherwise.

CONTINUE READING BELOW

Recommended Videos

Taking the time to think carefully first will help ease the tension and allow you the chance to figure out the appropriate response to the problem. So, when your child is yelling at you, take a deep breath, then counter them by saying, in a level tone, "I don't understand you when you talk that way." You can also use statements that show that you recognize your child's frustration, such as "I know you feel upset," then use that to encourage them to talk things out with you in a restrained manner.

Responding this way will probably make your child more upset at first, but will eventually let them figure out that to settle an issue, they will need to calm down first. This is also a way that you can model self-control to your child — very important, because children learn a lot from what they see their parents behave.

5. Use the "taken away" pile to teach your kids how to clean up

Do your kids leave their toys strewn all over the floor after they finish playing? Respond to this by taking all those toys yourself, but instead, place them in a "taken away" pile. (Before you put this in play, make sure your child understands the consequences before it happens or else you will have a meltdown.) Set a specific amount of time that needs to pass before they can get those toys back, or maybe give them a chore to finish in exchange. Finally, inform them that unless they learn to put their toys back where they belong after using them, the same consequence will happen. The payback: You teach them to be responsible enough to clean up after themselves, plus your list of tasks to finish decreases.

ADVERTISEMENT - CONTINUE READING BELOW

What other parents are reading

6. Let your kids be bored

One thing kids may often complain about is that they feel bored, because they don't have anything to do or play with. Handling this can be a pain to parents, because there is only so much toys and games can do to keep your child occupied, and that period of time can pass all too quickly.

So instead of adding your child's boredom to your already-long list of things to stress about, why not teach them to find a way to entertain themselves? You can start by filling a jar with small pieces of paper containing different kinds of activities your child can do, and then eventually, encourage them to think of what would be fun for them to do by themselves. Learning to be creative is something that will benefit them even when they grow up.

7. Show your kids there is time and a place for everything

While kids should definitely be encouraged to play as much as they can, and even to make noise and mess around, sometimes it can all get too much. After all, how can you expect to get some quiet time if your kids are constantly screaming all over the house? So while your kids' noise level may be out of your control, what you can do is tell them that though you are perfectly happy with being their audience or playmate, after a while, they should go off to another area in your house where they can make as much noise as they want. This way, you are able to give them the attention they need, but also get the chance to have at least a semblance of peace and quiet.

ADVERTISEMENT - CONTINUE READING BELOW

What other parents are reading

Celebrate your pregnancy milestones!


Enter your details below and receive weekly email guides on your baby's weight and height in cute illustration of Filipino fruits. PLUS get helpful tips from experts, freebies and more!

You're almost there! Check your inbox.


We sent a verification email. Can't find it? Check your spam, junk, and promotions folder.
Trending in Summit Network