Parents Are Being Warned Of Screen Addiction Amid Pandemic: How To Fight It

Experts warn the impact when parents decide to take away screen time from their kids.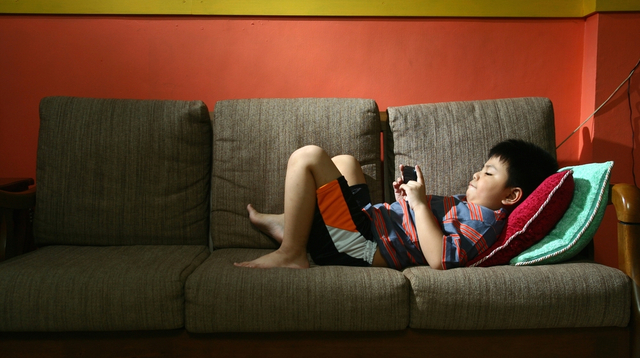 Co-parents, do you feel it, too? The Covid Parenting Guilt Trip? That sinking feeling in your gut tells you that you're probably failing at parenting in a pandemic.

Raising kids was hard enough before COVID — we've always had the "naggy feels" about what we could be doing better. But now, under the microscope of COVID, all our fears and failings feel so magnified.

The COVID Effect

One of our major parenting stressors is worrying over gadget use or overuse. I can't believe that it was just a year ago when my children would only use the one iPad we had exclusively on weekends.

That few hours on gadgets a week changed into what researchers are now calling "The COVID Effect," or the steep increase in children's screen time during the pandemic.

Because kids can't go outside, we have eased up on screen time for video games and age-appropriate shows on YoutTube or Netflix. Screen use has also increased because of online classes and socialization like "virtual playdates."

Technology helped many kids cope with quarantine by giving them a channel to socialize.

For my kids, chat groups and online games are where they get to "hang out" with friends. Afternoons are spent plugged into their devices, laughing loudly, shouting happily, or quietly talking to their friends.

My daughter became close to a new classmate with whom she chats while making digital drawings. Her classmate is so talented at graphic design that she has helped my 9-year-old improve her own work.

Impact of gadget use amid the pandemic 

While our kids have become quite adept at navigating the different tools or apps, it makes me wonder about the possible negative effects.

ADVERTISEMENT - CONTINUE READING BELOW

When kids are in an online class, they can have multiple tabs open or other gadgets running that keep them from being fully present in class. In my experience as a teacher, it's not only during class time. Some kids play games with Youtube in the background while talking to friends and scrolling on another app while — well, you get the picture.

As a parent, it worries me that they might not be savoring the moment but instead scrambling to fill it in with too much noise or avoid dealing with unpleasant thoughts or feelings.

Online schooling also has added some pressure on parents who have to monitor their children's attendance and check if their kids are actually paying attention.

Some schools require parents to sit with their children, while others use paid apps so teachers can monitor student screens. Some are coming up with requests for second cameras or mirrors so teachers can see what's on their students' screens.

But a reality of online schooling is that more and more teachers have to ask parents to monitor students' submissions and participation.

Many parents who worry about screens' effect on their children's eyesight.

Another consequence of the lockdown was physical activities declined as screen hours climbed to as high as 40 hours a week for some children. Parents are now beginning to worry about how this is affecting their children. Children are missing out on sports and hobbies and their benefits.

Added to the list of things parents need to worry about: How to keep our children away from inappropriate content. Whether it's videos on YouTube, expletive language on online games, or violent themes on online challenges, many parents are starting to feel they can't control these things or don't want to fight with their children over these matters.

CONTINUE READING BELOW

Recommended Videos

Are kids heading for screen addiction?

On top of it all, research warns parents things like anxiety, depression, obesity, and aggression can be associated with gadget overuse or screen addiction.

As children use their devices more and more, it will be increasingly difficult for parents to separate them. Some experts tell parents to be ready for what could possibly be device addiction.

Do phones come with them to the dining table?

Have you noticed how grumpy children get when you ask them to put their gadgets away? What are the first and last things they do each day?

When we finally decide to take the gadgets away, our children may experience physical and behavioral reactions, like an "epic withdrawal," as an addiction specialist puts in The New York Times.

What parents can do now to fight screen dependency 

However, I prefer to look at the light at the end of the tunnel. If there's one thing we've learned about children's brains, it's that they are malleable and can still change.

Now that we are settling into a new year and having survived so many months of quarantine, we can start helping our children (and ourselves) take charge.

Give the kids a new routine that includes an agreement between both parties about reasonable gadget use, including the length of time and what children can do when their screens are taken away.

We must help children find outlets that are exciting to them. Some will want to be more physically active (perhaps go scooting or biking), while others might like to learn an instrument or skill (sewing or painting).

ADVERTISEMENT - CONTINUE READING BELOW

Other children will love spending time with their parents and siblings playing (charades, Pictionary, cards) or learning non-gadget games (Chess, Scrabble, Monopoly).

Another way to help children manage their time is to have a Wifi cut-off, which means shutting down the internet at a specific time for all family members (kid or grown-up).

Bedtime routines and sleep schedules will improve after a short adjustment period, not just for the kids but the parents, too.

So while parents are stressing whether gadgets are ruining our children and we are the accomplices, we should remember that it's not too late to do something.

Gadgets are not necessarily evil, but we should challenge ourselves as parents to take matters into our hands. It is up to us to teach them how to use gadgets responsibly and discover and enjoy the world away from screens.

Barbara Server-Veloso is known as Teacher Thumby in her preschool, Toddlers Unlimited, and Ms. Thumby in her grade school, Thinkers Unlimited, Alabang. She is also a partner in Spark Discovery Center in Jupiter Street, Makati, where she teaches the Baby and Me Class. Teacher Thumby has a Master's degree from the University of the Philippines in Family Life and Child Development. She has been teaching since 1993. She is also the mother of Lucas and Verena.

What other parents are reading

Celebrate your pregnancy milestones!


Enter your details below and receive weekly email guides on your baby's weight and height in cute illustration of Filipino fruits. PLUS get helpful tips from experts, freebies and more!

You're almost there! Check your inbox.


We sent a verification email. Can't find it? Check your spam, junk, and promotions folder.
Trending in Summit Network