Start Their Day Right! Quick, Easy, And Healthy Breakfast Ideas For Your Kids

Take advantage of the most important meal of the day.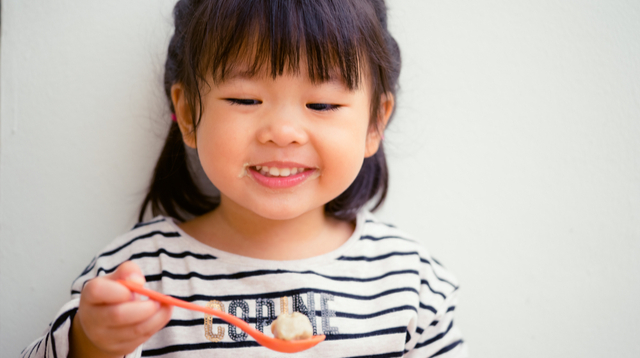 You already know that "breakfast is the most important meal of the day," and you might have found yourself repeating this to your child as you coax them to take the first bite or finish their meal. Preparing a healthy breakfast for kids can be a real challenge, but we've got some ideas to get you started.

What is a healthy breakfast?

Breakfast is a meal taken in the morning. Since it is your first meal, whatever you have will help your body function thoughout the day.

Think of your body as a phone. Every time we eat, we charge our bodies (yes, it's not when we sleep, because sleeping is for repairing!). Do you think a phone that was not charged can last a whole day and be at optimum performance? No. It's the same with our bodies — if we don't eat a healthy meal, we will not be able to fucntion well.

This is especially true for your still developing kids. They have a whole day of growing up ahead of them! They need to be charged starting at breakfast.

What should kids eat first thing in the morning?

A healthy breakfast contains fruits, vegetables, grains, protein from meats, and dairy. That's called "The Five," which are the key to a healthy and balanced meal. (Read more here.)

Each one of these 'elements' help in completing the daily nutrients needed by your kids. Everything they consumed from yesterday's healthy dinner has already been used to repair whatever needs to be done as they sleep. They need their fresh batch of go, grow, and glow in the morning.

ADVERTISEMENT - CONTINUE READING BELOW

Check out these easy to crazy breakfast ideas from Kidshealth.org!

eggs
French toast, waffles, or pancakes (try wheat or whole-grain varieties)
cold cereal and milk
hot cereal, such as oatmeal or cream of wheat (try putting dried fruit or nuts on top)
whole-grain toast, bagel, or English muffin with cheese
yogurt with fruit or nuts
fruit smoothie, such as a strawberry smoothie
banana dog (peanut butter, a banana, and raisins in a long whole-grain bun)
breakfast taco (scrambled eggs and shredded cheese on a tortilla, topped with salsa)
country cottage cheese (apple butter mixed with cottage cheese)
fruit and cream cheese sandwich (use strawberries or other fresh fruit)
sandwich — grilled cheese, peanut butter and jelly

How do I get my child to eat a healthy breakfast?

"Healthy" can sound intimidating and hard to prepare. But mommies and daddies, it's all in the mind! It takes practice and patience with yourself — take one small step at a time.

Here are some tips from moms to get your child to eat the food that your prepare.

Let your child get used to the natural taste of vegetables
Involve them in meal preparations
Give them options
Eat what they eat
Be patient and creative

More healthy and easy breakfast options

Filipinos are used to a diet of rice starting in the morning. But if you have a toddler, they will not always need that heavy meal. Here are five easy-peasy breakfast options from Rene Rose Rodrigo, a US-certified holistic nutrition coach. (Read the full recipes here.)

CONTINUE READING BELOW

Recommended Videos

According to Rene Rose most of these meals are quite light, so feel free to add plain yogurt, whole wheat bread, or other healthy options depending on how much your child eats.

1. Hard-boiled egg with avocado mash

According to Rene Rose, "I like to add some mashed avocado in a bowl and serve it next to the egg to lighten up the meal. My son likes to mix the eggs in with the avocado!"

2. Saba and rolled oats

Rene Rose suggests adding warm almond milk and a sprinkle of cinnamon to make it a filling meal that can fuel your toddler for the rest of the morning.

3. A bowl of fruit

You can add plain yogurt or honey to give it a pop of flavor and texture. According to Rene Rose, adding yogurt gives the meal a vitamin C and probiotics boost. "If my son is just having the fruit, I like to add whole wheat toast with almond butter or organic peanut butter to make sure he's really full," she adds.

4. Spinach and mushroom omelet

You can add pandesal to make it a more filling meal. Here are the instructions.

Ingredients:

2 large eggs
A half cup of washed and chopped spinach
1 or 2 mushrooms finely chopped

Instructions

Lightly grease cooking pan with butter or cooking oil of choice (we use grass-fed butter). When the pan is hot, add mushrooms and cook until golden.
Add spinach and cook for 30 seconds (we try to keep the spinach as raw as possible.
Beat eggs and add to pan. Add some fresh cracked pepper and serve!

ADVERTISEMENT - CONTINUE READING BELOW

5. Homemade granola

You can add plain yogurt and nuts and seeds, which contain healthy fats to help a growing brain. Here are the instructions.

Ingredients:

2 cups of sliced almonds
1 cup sunflower seeds
1 cup pecans
1 cup chopped walnuts
1 cup of coconut flakes
1/2 of honey
6 tablespoons of coconut oil
1 teaspoon vanilla extract
1 teaspoon of cinnamon
1/2 ground ginger
1/2 salt
1 cup of raisins or any dried fruit

Instructions

Preheat oven to 275'F. Grease pan.
Combine all nuts, seeds, and coconut into bowl.
Over low heat, combine honey and coconut oil or heat on high for 90 seconds in the microwave.
Remove from heat and mix in vanilla, cinnamon, ginger, and salt. Pour this over the nut/seed mixture and mix well.
Spread mixture onto prepared baking sheet. Bake for 45 minutes until golden brown. Stir every 15 minutes to keep granola from burning.
Once golden brown, remove from oven and cool. Add dried fruit after cooled.

What are your child's favorite breakfast recipes? Share it in the comments!

Get more quick and easy breakfast ideas from moms here.

Celebrate your pregnancy milestones!


Enter your details below and receive weekly email guides on your baby's weight and height in cute illustration of Filipino fruits. PLUS get helpful tips from experts, freebies and more!

You're almost there! Check your inbox.


We sent a verification email. Can't find it? Check your spam, junk, and promotions folder.

Trending in Summit Network