How Can Your Child Learn to Read? Buying Her Books Isn't Enough

My 7-year-old girl now prefers books over toys.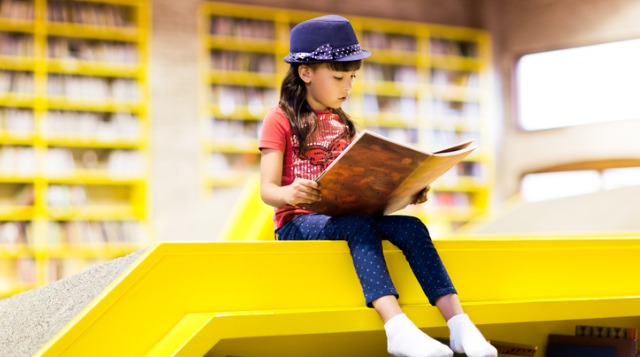 I grew up with books, so it was only natural that I wanted my daughter, Adriana, to love books as much as I did. Thankfully, Adriana got the bug.  

My daughter owns more books than we can count, and she's read every single one of them. Spending her lunch break in the library with her classmate counts as a special treat. Our toy budget is zero because she never asks for toys. She always asks for books, and when the price is right, we are happy to oblige. 

So how did I end up with a daughter who preferred books over toys? First of all, Adriana didn't read on her own until she was 5 years old. But I've been reading to her out loud from the day she was born, and we've been reading together every day ever since. That's it. She's 7 now, but she still occasionally asks me to read to her before bed (because moms are the best!).

What other parents are reading

I've seen her benefit significantly from her passion for books. Here's eight of them:   

#1 My daughter has an extensive vocabulary. 
When we read together, and we come across words she doesn't know, she asks for the definition and manages to retain them and use them effectively. 

Her wide vocabulary range is the primary reason why she progressed to reading independently by the time she was 5. By then, she already had a huge word bank, so she quickly recognized the words in written form. She was reading illustrated chapter books a few months after she learned how to read.  

#2 Reading honed her language skills. 
Adriana started verbally communicating before she turned a year old, and she's still improving at an impressive rate. 

At 7, she understands and correctly uses metaphors, sarcasm, and irony after they are explained to her. Because of all the books we've read through the years, her grasp of the English language is well beyond her years. She also speaks Filipino, a bit of Hiligaynon and is doing surprisingly well with Mandarin.

ADVERTISEMENT - CONTINUE READING BELOW

What other parents are reading

#3 She does well in school.
Having been exposed to diverse books, she comfortably eased into the academic requirements of a big school. She is now a first grader in a traditional school that advocates reading, so she feels right at home. We also expand our home library based on new topics that interest her such as Philippine history and art. 

#4 Her comprehension skills is beyond her age. 
After we read a book together, we discuss what we liked or did not like about the story. I ask Adriana casual questions to check whether she understood the series of events. It got to the point that she thinks that it's ridiculous that I even ask! 

I can say with confidence that her comprehension skills are well above average and manifests in her day-to-day activities.

What other parents are reading

#5 She has developed sharp analytical skills.
Sometimes I have a dilemma, and I ask Adriana for her opinion, and she usually comes up with surprisingly original and practical solutions. 

Reading is far from a passive activity. The brain has to work hard to process information. For young children, reading becomes an effective exercise when they read WITH an adult. 

#6 It has sparked her interest in various subjects. 
Reading has opened up Adriana's world beyond the four corners of our home. She has yet to visit a foreign country, but she's already read many beautiful and exotic cultures. She knows children's tales from different continents and legends from across the Philippines. 

She's explored different fields of science. Thanks to her book of insects, the bugs in our backyard are her current interest. She also has books on monsters, computers, and the classics.

CONTINUE READING BELOW

Recommended Videos

What other parents are reading

No, Adriana doesn't just sit in a corner and read all day. On the contrary, she's a very active girl who loves playing outdoors with her friends; she is always excited to learn a new sport. 

With books, there are no limits to what you can offer your child.

#7 She has a healthy amount of curiosity.   
Books have taught Adriana to ask questions and seek answers. With K-12 plus college, I'm hoping that this curiosity sustains her and becomes her foundation for learning. 

#8 She learns empathy through her books. 
Books allow Adriana to immerse in emotions she would not commonly experience. Books can cover the entire gamut of emotions — fear, anger, sadness, joy, exasperation, loneliness, despair, hunger, anger, envy, shame, trust, courage. Reading about characters with these emotions trains her to recognize them in real life and enables her to empathize. 

Reading has significant benefits for young children. For babies and toddlers, reading WITH your child is when the magic happens. That special bond that you share is what makes all the difference for your little one. They grow up too quickly; soon you'll be the one begging them to let you read them a story (I do that sometimes). 
Enjoy the early years, we wish you many, many wonderful years of reading together!

What other parents are reading

 

Celebrate your pregnancy milestones!


Enter your details below and receive weekly email guides on your baby's weight and height in cute illustration of Filipino fruits. PLUS get helpful tips from experts, freebies and more!

You're almost there! Check your inbox.


We sent a verification email. Can't find it? Check your spam, junk, and promotions folder.

Trending in Summit Network