What to Do When Your Child Thinks Saying Curse and Gross Words Is Funny

"Telling a child that a word is 'bad' just increases his fascination with it."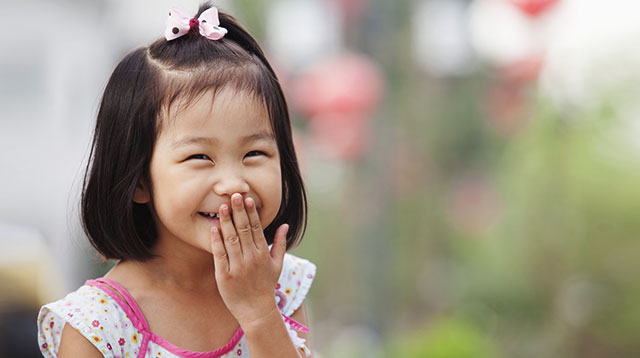 Big fat cock. Sorry, did we shock you? Because those three words appeared in a textbook for preschoolers (see the proof here). While the inappropriateness is subject for another article, there's a moment of shock and disorientation when you hear your child say it, along with curse words and potty talk (like poop or pwet). If this happened to you recently, stay calm. 

"If you overreact to a certain word, it can make your child even more intrigued about using it," said Erin Boyd-Soisson, Ph.D., associate professor of human development and family science at Messiah College, to Parents Magazine. Here's what to do instead:

Curse words

Step #1: If it's the first time, try to ignore it. 
Getting any emotion out of you, whether shock or anger, is good enough reason for your child to keep saying that word again. "Even if they don't know what it means, preschoolers understand that they these words are emotionally charged," said Timothy Jay, Ph.D., author of What to Do When Kids Talk Dirty. 

What other parents are reading

Step #2: Say something about it the next time.
"Telling a child that a word is 'bad' just increases his fascination with it," said Dr. Laura Markham, a psychologist and a parenting expert, in an article on her website Aha! Parenting. 

Instead, explain that it's a "rude" word that people use when they're angry and can't figure out how to express their feelings. When said to someone, it's used to make that person feel bad. 

Find other words together that can replace the rude word. Cartoon characters do this a lot. For example, Spongebob Squarepants says "barnacles," "fish sticks," and "tartar sauce" when he's frustrated. In the Smurf movies, the little blue creatures replace curse words with "smurf" (e.g.,"Great smurf!" and "Where the smurf are we?"). 

Step #3: Remind him when he forgets.
"Don't forbid its use, which you can't enforce anyway," said Dr. Markham. "Remind him that that word is rude and mean because it makes people uncomfortable and that we don't use rude, mean words around others."

Sometimes, kids use curse words to get what they want. When your child does this, make sure you don't give in, so you don't reinforce the behavior, said BabyCenter. And watch what you say. Whenever you slip up (it's okay!), "briefly acknowledge it ('I should not have used that word') and carry on as if it didn't happen," said clinical child psychologist Edward Christophersen, Ph.D.

ADVERTISEMENT - CONTINUE READING BELOW

What other parents are reading

Potty talk

Step #1: Keep calm
Potty talk like "poop," "butt," and "utot" can be irresistible to younger preschoolers, especially if they've just started potty training. "It's just funny," said Robert Zeitlin, a psychologist and author of Laugh More, Yell Less: A Guide to Raising Kick-Ass Kids, to Fatherly. 

Giving out punishments when your child says potty words should be avoided, said Parents advisor Michele Borba, Ed.D. "They may make your child feel ashamed and stop her from mentioning anything bathroom-related. It's important to let her know that her body and its functions are normal and she can talk to you and ask questions."

(Note: It's your call to say when potty talk borders on cursing, like tae which is Filipino for poop, but it can be used a rude word.)

What other parents are reading

Step #2: Explain when these words are okay to say and when they're not
Saying potty words is part of your child's way of understanding how the world works. She'll find out that she'll get laughs from grown-ups at home when she exclaims, "Ay baho, amoy utot!" At the same time, your child will soon find out there are things that can be done at home but can't be done in school or on the playground. 

So, explain to her when the potty talk is okay and when it's not. "You want to keep it simple and on their level," said Zeitlin. If your child uses potty talk at the table, for example, Zeitlin suggested commenting on your child's sense of humor but also telling him that it's not the right place for it. 

You can also "direct them to something else that's silly or funny, appropriate for the context," said Fatherly. "Along with this, of course, is ignoring the potty talk when there's no reason to get on their case about it. That's simply another way parents can help kids figure out the boundaries."

Step #3: Try not to kill the fun all the time
"For us to try to squeeze the funny out of it, is perhaps a hopeless endeavor," said Zeitlin. If it's at home and it's not at the dinner table, it's okay to loosen up a little. And, Meghan Leahy, a certified parenting coach who also writes for The Washington Post, agreed. "If you cannot beat them, join them!"

CONTINUE READING BELOW

Recommended Videos

Celebrate your pregnancy milestones!


Enter your details below and receive weekly email guides on your baby's weight and height in cute illustration of Filipino fruits. PLUS get helpful tips from experts, freebies and more!

You're almost there! Check your inbox.


We sent a verification email. Can't find it? Check your spam, junk, and promotions folder.
Trending in Summit Network