The Best Ways to Get Your Child's Teacher to Listen to You, According to a Teacher

Teacher pens a letter listing the things anyone in her profession would appreciate from parents.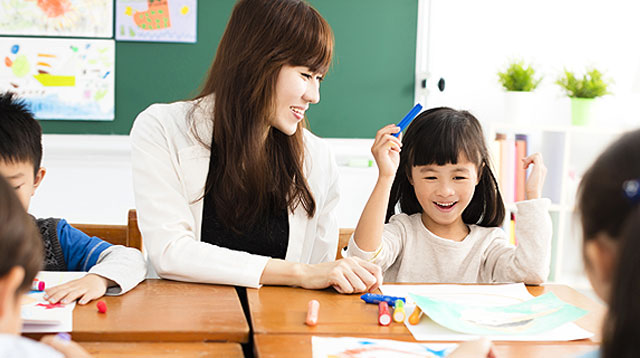 Dear parents of my students,

Hi! We're both working towards making your child thrive in school. To see this into fruition, I'd like us to work together! I know stuff about education, child psychology, and development, among other school things. You know your child inside-out, bottom-top, all the way' round!

Together, our knowledge, experience, and insights combined, we can do so much to support your kids.

Here are some things I appreciate as your child's teacher

I know it's not always easy to past your fears and doubt when it comes to your kids. But ultimately, we are both making sure that everything we do works for the children and, of course, for ourselves. How do we make our partnership effective and strong?

How to talk to your child's teacher

Share with me what you want for your child and your family. What is important to you that your child gets in school? What is something you're already nurturing at home that you want to be supported even more in school?

I find it very useful also to know what you do at home that sparks your child and engages them. When we talk, we are building a bridge for your child to cross from home to school and back. Schedule a meeting with me. If you have specific things you want to talk about, send them to me. I like to be prepared, too, when I speak with parents.

Although you might want to talk about academics, for the most part, let's also talk about soft skills — listening, communicating, problem-solving, self-regulating, and expressing empathy, and other social skills. Yes, we do have a curriculum to teach, but most of the class time is actually spent in training these soft skills. The earlier we show these, the more children are better off later in life.

ADVERTISEMENT - CONTINUE READING BELOW

If you are a first-time parent and aren't sure on what to talk about, we can start off with getting to know each other — your family set up and lifestyle, my teaching style, and your child's interests and quirks, and we'll take it from there! There's no requirement to these parent-teacher meetings but mutual respect and curiosity.

How to hear your child's teacher

Allow me to share with you how your child shows up outside of your home. I may say things that are consistent with your observation. I understand that sometimes, I would say things that might surprise you.

Together, let's examine the different facets of your child. Remember that it's at this stage in their life when they experience life at the fullest. They take risks and gather experiences, which shape their personality, ideas, and thoughts. Let's celebrate this time and plan together on encouraging behavior that we like and diminishing those that we see are not helpful to their well-being.

As much as we'd both like to individualize your child's education all the way through, we are limited by the school system and structure, the diversity of students needs in a class, and our own personal resources. We can simply do our best in ensuring we have done everything we could together, to support their learning and growth.

If individualized instruction is fundamental to you, let me know, and perhaps I can recommend resources and other systems of education that suit your child and your family.

CONTINUE READING BELOW

Recommended Videos

What to ask your child's teacher

I'm here to respond to you the best way I can. I know sometimes, I may be in my teacher-brain and say things that might not make sense to you, but ask away! I'm more than happy to explain.

There might be times when you hear words that make you uncomfortable. I want you to know that it is not my intention. When you're in that position, you can say things to me like, "What do you mean by that?" "Can you give me an example?" "Why do you think my child's behaving that way?" "I do not fully understand, can you say that differently?" If we keep being curious, we can keep moving forward.

Let your child's teacher in

If there is something significant — changes, disruptions, strong emotions – that has happened involving your child and your family, please share it with me as much as you are willing.

Teachers understand that the children we have are not just students, they are individuals that have lives and are impacted by things around them. If your child shares what he/she feels about the class or me, give it to me. This feedback is critical because it informs my decisions in class and responds to individual children when necessary. This will surely make me a more effective teacher for everyone.

Follow up your child's teacher

"Teachers make more minute-to-minute decisions than brain surgeons," says a quote attributed to Dr. Tina Boogren, an educational writer and researcher. It is so true! 

ADVERTISEMENT - CONTINUE READING BELOW

I really appreciate a follow-up note or email after our previous conversation. Note that 15 other parents are probably doing the same. Please space these notes reasonably as well, and I'll have to ask you to use your best judgment. How urgent is the matter? Which would be better — follow me up via email or in person? 

You are the best partners I have. When children know that we are a team, they do better academically, emotionally, and socially. Not to mention they attend school more regularly because they're happy to be there. If I can have a relationship with each and every one of you, I can focus on being the best teacher for your child.

With warmth and smiles,

Teacher Anna

Born to a family of teachers, Anna Rhea Manuel is a reading advocate and a children's book author with a degree in Language Education with a minor in Special Education, and a Master's in Reading Education. Her work and latest book, Leo's Pet Bug, focuses on empathy, which she believes keeps us connected and thriving.

What other parents are reading

Celebrate your pregnancy milestones!


Enter your details below and receive weekly email guides on your baby's weight and height in cute illustration of Filipino fruits. PLUS get helpful tips from experts, freebies and more!

You're almost there! Check your inbox.


We sent a verification email. Can't find it? Check your spam, junk, and promotions folder.
Trending in Summit Network