Tell Me No Lice: 'Kuto-quette' for Moms

How to talk to other parents about head lice and prevent an infestation from happening.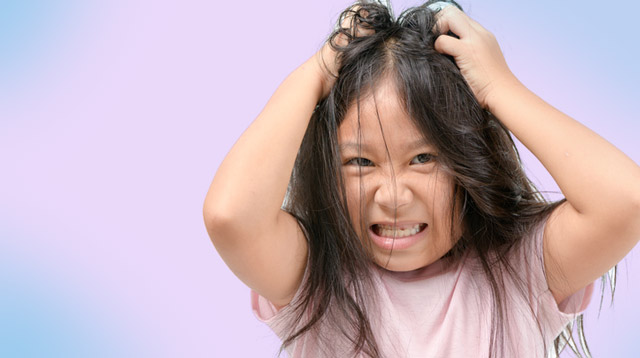 All parents probably have a 'lice story' to tell and what they remember most is the 'horror' they felt upon learning that their child has them. "But we practice good hygiene," is the usual defense, followed by "Who infected my child with lice?" Most parents find themselves in sticky situations once they suspect that their child may have caught it from a playmate or classmate. "How do I tell his/her mom that her child might have them, too?"

Christine Garingan-Pascua, mom to three girls, knows only too well what this situation feels like. "I was very stressed [upon learning that my children had lice] because I knew how fast the contamination would be. We had to have our girls sport short hair," she recalls.

At one point she attempted to tell the mom of her children's playmate that her daughter might have lice too but found it hard to navigate the best way to do so. "I started a conversation about head lice and told her that I suspected that it was from a classmate who had lice. When I sensed that she was in denial, I did not pursue the topic and just changed it," says Garingan-Pascua.

For Jam Apao, mom to two boys, she dealt with the situation by talking to the teacher "so they can also check his classmates."  Her hunch was right. "Yes, it was from one of [the classmates]," she says and adds, "I only talked to the teacher then she relayed to the parent," she recalls.

ADVERTISEMENT - CONTINUE READING BELOW

What other parents are reading

Having lice doesn't necessarily mean bad hygiene

In the Philippines, having lice is sometimes associated with bad hygiene or dirty surroundings, thus the stigma and embarrassment a parent may feel when his or her child has it. It is also for the same reason that telling another mom may be very difficult. Having lice infestation isn't necessarily a sign of poor personal hygiene or an unclean living environment because "head lice don't carry bacterial or viral infectious diseases," according to Mayo Clinic.

Lice infestation, also known as pediculosis capitis, is a condition wherein the parasites live on your child's hair and feed on their blood through the scalp. They can lay tiny eggs called nits that stick to the hair shaft. These nits hatch for eight to nine days and turn into a nymph. In the next 12 days, these nymphs become an adult louse. The fact that lice carry the color of hair and nits are very tiny makes it usually hard to stop its spread.

While there are a good number of over-the-counter medications to use as a treatment, it is best to nip the problem in the bud by finding out the source.  Lice commonly spread through head-to-head contact and shared items such as combs, hats, scarves, towels, and even headphones.

The usual culprit will be your child's playmate or classmate but how do you tell his or her parents? Here lies (pardon the pun) the tricky part.

What other parents are reading

The role of schools in preventing lice infestation

CONTINUE READING BELOW

Recommended Videos

It would be a relief for parents to know that some schools have measures in place to help prevent further spreading of lice from one classmate to another. For the Child Study Center, the preschool unit of Miriam College, containing the spread of lice in school happens yearly. They know the importance of their role in informing parents at the earliest time possible. The unit's Administrative Officer, Cherry Torres, says that it can be awkward to tell parents that their child may have lice but it is necessary. "They need to be aware so something can be done about it," she says.

The first step for the school is to have the children checked individually at the clinic especially during the Annual Physical exam. When there are pupils confirmed to have lice, the clinic then comes up with a circular that the Administrative Officer distributes to the parents.

The circular is addressed to all parents and contains information such as the symptoms of lice infestation, how it is spread, the myths surrounding it, and finally the possible treatment. Such an approach not only lessens the awkwardness of having to talk to another parent whose child may have lice but alerts and prompts them to personally check if their kids have them.

One distinct and commendable part of their circular is helping parents understand and stop prejudices associated with having lice by including this important line: "Head lice infest persons from all socioeconomic levels, without regard for age, race, sex or standards of personal hygiene."

ADVERTISEMENT - CONTINUE READING BELOW

What other parents are reading

Kuto-quette for moms

Outside of school, moms like Garingan-Pascua and Apao say it's important to be more pro-active in finding solutions to stop the spread because having lice affects the day-to-day activities and study time of the child. "Talk to his teacher and make sure they will resolve the problem,' Apao advises. "Creating awareness and pushing for caution is the key," says Garingan-Pascua.

If it requires telling another parent, there is no harm in trying. Here are  mom-suggested Kuto-quette tips that just might do the trick:

 Start a conversation on the topic and diffuse awkwardness by informing the mom that your own daughter/son had lice. "It is always nice to choose your words correctly especially when it is something that needs improvement. Instead of blaming her kid for having lice, show empathy by using positive language like sharing a personal experience of a similar situation," says Apao.
Make caution the core of the conversation and avoid the art of 'parinig'. "Approach the conversation in such a way that your concern is to be cautious because kids play a lot with each other and the spreading of lice can result from such contact," says Garingan-Pascua.
Share with her the effective way of getting rid of head lice based on your own experience.
If you suspect that the child got it in school, tell the class adviser so something can be done about it at the soonest time possible.

Want to know how to get rid of head lice once and for all? Click here for the best treatment methods.

ADVERTISEMENT - CONTINUE READING BELOW

What other parents are reading

Celebrate your pregnancy milestones!


Enter your details below and receive weekly email guides on your baby's weight and height in cute illustration of Filipino fruits. PLUS get helpful tips from experts, freebies and more!

You're almost there! Check your inbox.


We sent a verification email. Can't find it? Check your spam, junk, and promotions folder.
Trending in Summit Network